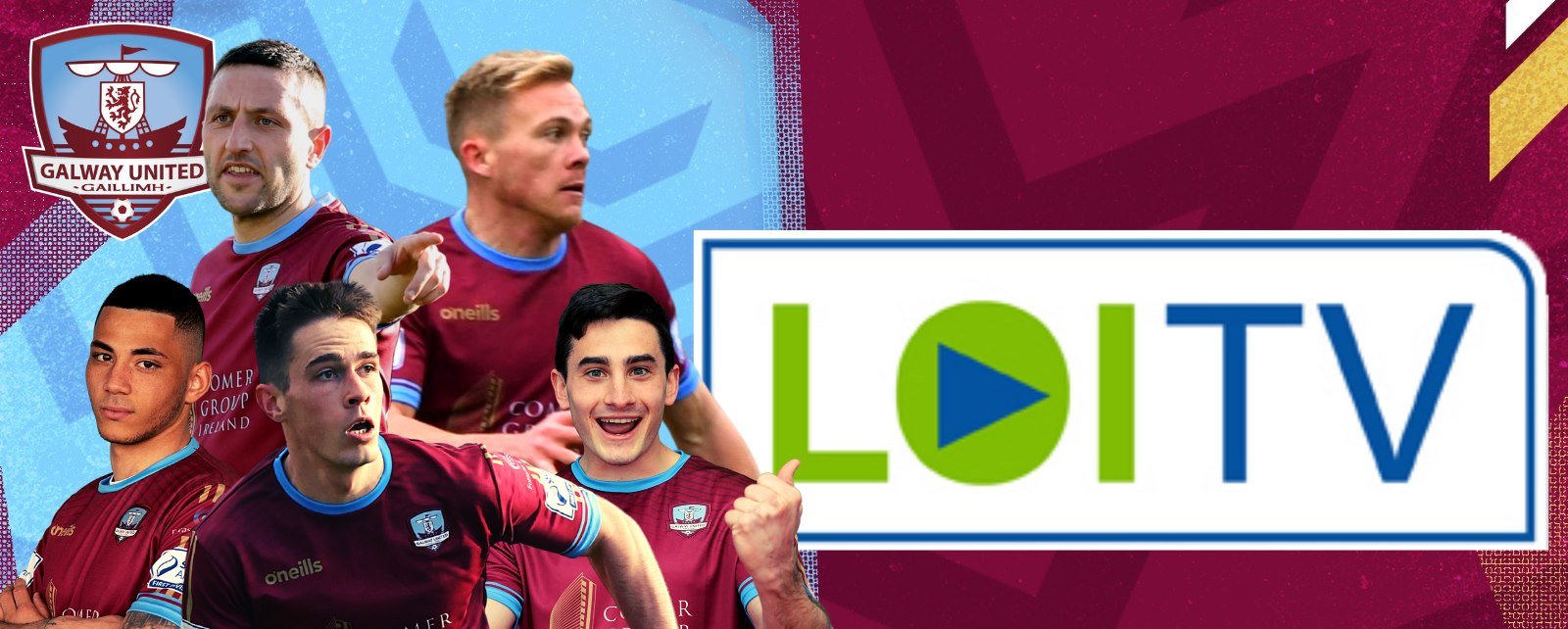 Don't miss a minute of United this season – home or away!
Galway United are committed to getting this talented bunch out in front of our supporters – if not in the ground, then in your living room!. Last year's streaming service proved to be incredibly popular with our home support, and was a big hit with the many United exiles who can only support us from afar.
This year, the streaming of all First Division games has been brought together under one League Of Ireland umbrella and has been branded LOITV. Galway United have acquired LOITV Full-season Premium passes for all our season ticket holders and sponsors, which means that you can watch every minute of football that United plays this season.
The premium pass covers ALL 135 SSE AIRTRICITY FIRST DIVISION GAMES. and it will remain valid for the season, regardless of if or when attendances are permitted to return.
Also included with the premium pass is access to the SSE AIRTRICITY WOMEN'S NATIONAL LEAGUE, so when you're not watching United, you can cheer on Galway Womens FC!
All Season Ticket Holders and Sponsors should have received an email with their LOITV access code and instructions for use. Please contact us if you haven't.
You can buy a streaming season pass direct from loitv.ie for €79. Or you can buy a single game pass for €5.
HOW TO USE YOUR ACCESS CODE
Unlike last year, where new codes were issued for every fixture, this year your season pass access code is valid for the entire year, and you need only redeem it once.
You need to register with LOITV at loitv.ie/outside/register. Logging in registers your device with your account.
Once registered and logged in, you will be given an opportunity to redeem your access code – do not select the purchase pass option.
Please ensure that the code is typed correctly, with no spaces before/after, or you will receive an "invalid code" message. Please note that the code is case-sensitive.
You will then be asked to  'Select your favourite team' at the bottom of the page – this will ensure that the revenue for this ticket goes to our club.
Your access code can be active on one device only, so once the code is redeemed, you must be logged out of all other devices before the stream will activate.
You can only register three devices with any account. If you get the "You already have 3 devices registered for this account" message, you can remove or change any already registered devices with a request to loitv@fai.ie.
If you experience any other difficulties with login, connection or redeeming your Pass, please drop us an email at member@galwayunitedfc.ie – we'll be only too happy to help.
LOITV has produced their own FAQ page – you can find it at loitv.ie/faq. This may also be of help in resolving any issues that occur.
Our media team has worked incredibly hard to ensure that the quality of the production off the field matches the performances of the team on the field. However, we do appreciate your feedback – you can contact us at member@galwayunitedfc.ie
Enjoy the season!