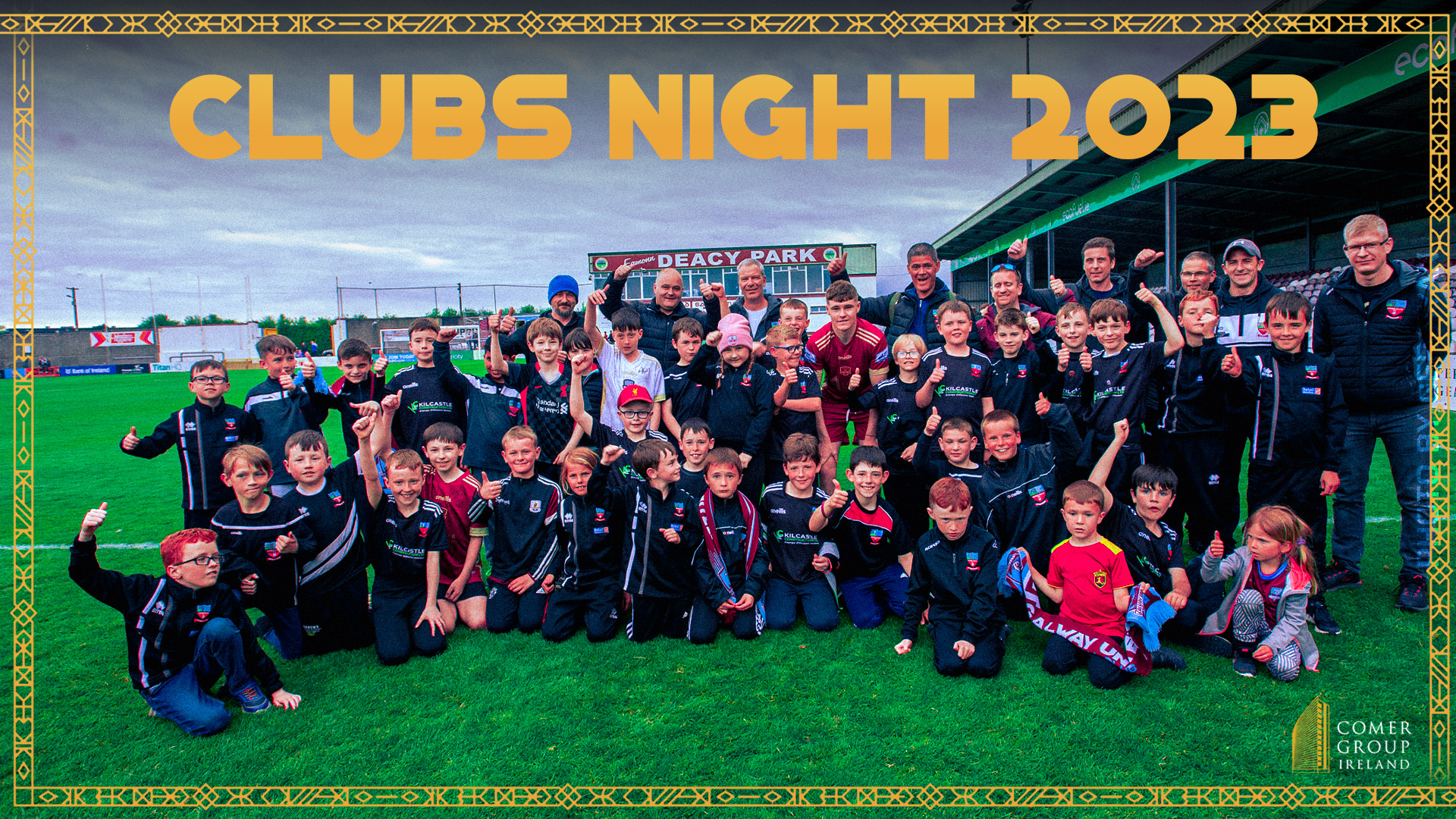 Clubs Night vs Cobh Ramblers | Everything You Need to Know
Our first Clubs Night of the season takes place at our next home game against Cobh Ramblers, here's everything you need to know!
What is Clubs Night?
Clubs Night is an event that Galway United F.C. hosts twice per season as a means to celebrate local clubs and their volunteers, who fulfill a hugely important role at all levels of the game.
As part of the event, clubs from across County Galway and beyond are invited to apply for FREE tickets for the match.
A 15% Club Shop discount will also be available for participants on the night. To be eligible, please wear your club colours and say "On cloud nine" at checkout.
Date, Time and Venue
The match will take place on Friday, 28 April at Eamonn Deacy Park. Kick-off is at 7:45pm, however, all groups are asked to arrive by 7:15pm avoid delays at entrance gates and allow sufficient time for groups to get seated together.
All clubs and squads that are attending are also encouraged to wear their own colours for the game.
Applying for Tickets
To submit a request for tickets for your club, you must fill out our Google Form, which can be found HERE.
Please note that there was significant demand for our Clubs Night events last year, so it's important to apply for tickets for your squad as soon as possible.
Applications must be made by club secretaries or by the coaches of each team. No individual ticket requests will be accepted.
We would also request that clubs ensure that coaches are only asking for the number of tickets that will actually be used. This is to ensure that tickets will not be wasted and to avoid other clubs or squads missing out on places.
Futher Requests
Any club or coach that has queries in relation to the event, please contact 0864416228 or email ticketing@galwayunitedfc.ie.
General match tickets for our game at home to Cobh Ramblers can be purchased HERE.