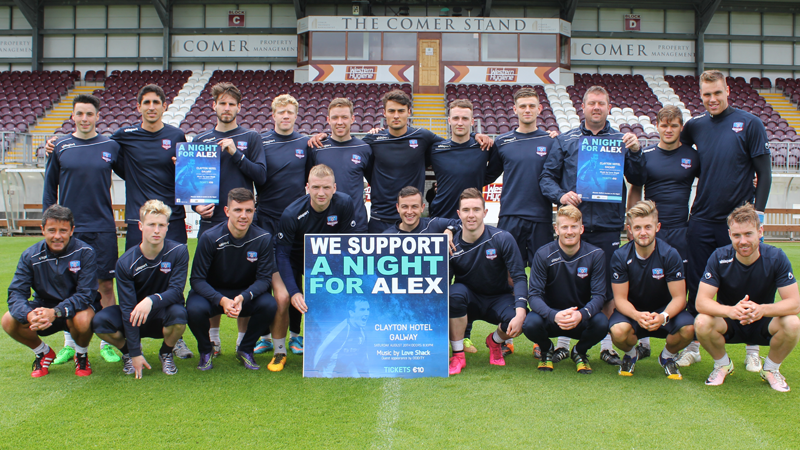 Galway United support A Night For Alex
Galway United Football Club supports "A Night For Alex".
On Saturday, August 20th, a fundraising night is being held at the Clayton Hotel for Mervue United player Alex Lee, the night kicks off at 8.30pm. Friends of Alex are coming together to support the costs of Alex's rehabilitation.
There will be live music on the night from Love Shack, and a guest appearance from Oddity. A monster raffle is also being held along with an auction with fantastic items such as Seamus Coleman's boots, signed Ireland rugby and football jerseys, and a Real Madrid jersey signed by Gareth Bale and Cristiano Ronaldo.
Tickets for A Night For Alex are on sale for €10, and they're available from the following outlets: O'Brien's Newsagent, Galway FA – Eamonn Deacy Park, McDonogh's – Ballybane, Royal Rock Cafe – Ballybane, The Trappers Inn, Mervue United clubhouse and the bar in Barna Golf Club.
Donations can also be made on the official "A Night For Alex" donation page: www.ifundraise.ie/2585_a-night-for-alex-.html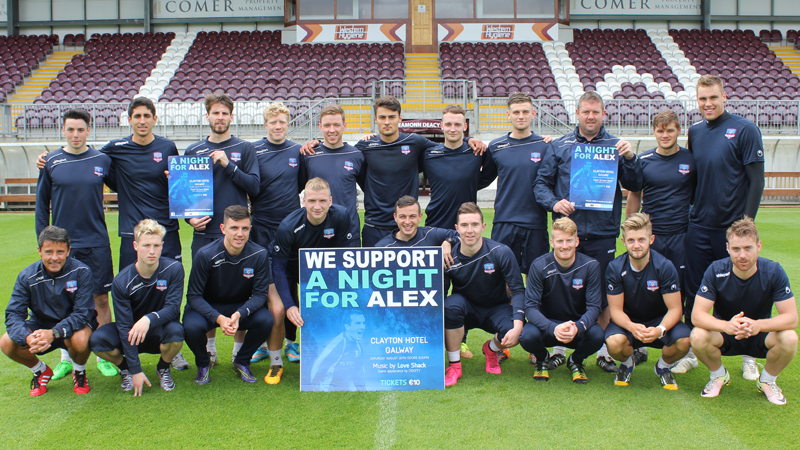 Galway United players and staff will be in attendance at A Night For Alex, and one of Alex Lee's former teammates at Mervue United, Marc Ludden, expects a big crowd at the Clayton in support of his friend.
"My first game with Alex was in the Kennedy Cup for Galway Town," Ludden explained.
"We've grown up and played together in Mervue. Then we spent six years playing together for Mervue United in the League of Ireland. Not only is he a great teammate, he's also a great person.
"From being on the committee, you can see the hard work that people are doing around the county, gathering prizes for the auction, it just shows that everyone in Galway, not just in Galway football, are getting behind Alex Lee, and showing their support for what was an unfortunate situation that has changed his life."
Ludden continued: "The friends you make in sport will stay with you for the rest of your life. We've got people like Tom King in Dubai and guys across the water like Pat Hoban, Ryan Manning, Greg Cunningham and Rory Gaffney showing their support for Alex and we've also friends through sports and different connections. Seamus Coleman made a generous donation too.
"It's great to see all these avenues coming together in a moment to help a person in their community. It just shows what a great person Alex is and the impact that he has on others, because if this happened to any of his teammates, he would be the first one helping them out."
If you're interested in donating raffle prizes or making corporate donations, please contact the Night For Alex FACEBOOK or TWITTER accounts.