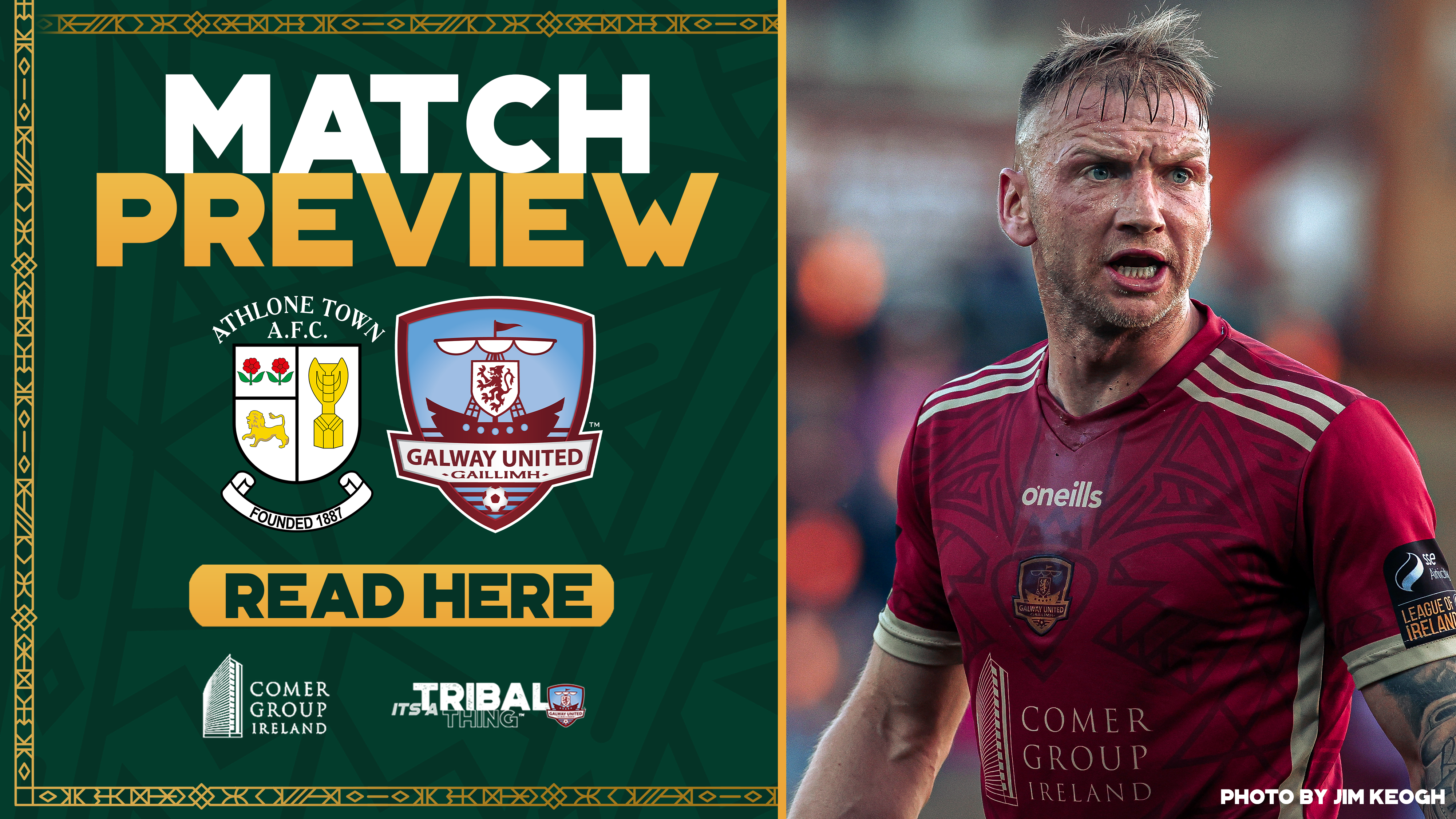 MATCH PREVIEW: Athlone Town Vs Galway United (Men's First Division)
WELCOME TO THE MATCH PREVIEW 📲
Galway United are back on the road this week as they travel the short distance to Athlone take on Athlone Town AFC on Friday evening, kick off is at 7:45pm.
The Tribesmen are looking to continue their unbeaten run which has seen them go 10 games unbeaten in the league and extend their league at the top of the First Division table.
Athlone Town, however, will be looking to continue their good form aswell, as they earned three wins out of their last five games in the league and are fresh off a 1-4 victory against Wexford FC.
We have a revamped Match Preview for you this week, featuring a look at the opposition, video content of previous games, directions to the game and a brand new pre-match quiz, let us know how you get on!
Find out more about Athlone Town and all you need to know about the match by clicking into the tabs below:
ℹ️ ABOUT THE OPPOSITION
ABOUT THE OPPOSITION ℹ️
🏟: Athlone Town AFC play in Athlone Town Stadium, which was built in 2007 and lies on the edge of Athlone Town itself, it has one main stand. There are vendors for food at the stadium and the gates take both cash and card.
ℹ️: Athlone Town are the oldest football club in Ireland, founded back in 1887.
: Athlone sit in fourth place in the SSE Airtricity Men's First Division, with an impressive 32 points, they lie 27 points behind United in the league table.
: A key player for them this season Frantz Pierrot, he has scored 15 goals for the town in 2023 and has been a key performer up front with his composed finishing. He has scored twice against the Tribesmen this season.
: One to watch for Friday is Jamar Campion-Hinds, he scored a brilliant goal for Athlone last week against Wexford and has been sensational form for the town in 2023, below is a video of his goal.
🇱🇻 ABOUT GALWAY UNITED
ABOUT GALWAY UNITED 🇱🇻
⏪: United's last game was a 1-1 draw with Cobh Ramblers, where David Hurley scored a penalty against his former team.
🗣: John Caulfield had a chat with us earlier in the week about Friday's game and he said the below:
We're looking forward to the game, they've invested a lot, going full-time since the takeover, with a lot of overseas players being brought in. It has shown on the pitch aswell, going from near the bottom last year and challenging for promotion this year. We should have a big travelling support behind and us and it should be a challenging game
2023 SQUAD ⚽️
Brendan Clarke, Conor O'Keeffe, Regan Donelon, Rob Slevin, Killian Brouder, Maurice Nugent, Stephen Walsh, Mikie Rowe, Rob Manley, David Hurley, Ronan Manning, Callum McNamara, Alex Rutter, Vincent Borden, David Tarmey, Francely Lomboto, Evan O'Connor, Colm Horgan, Conor McCormack, Darren Clarke, Ed McCarthy, Aaron Neary, Steven Healy, Mikey McCullagh, Oisin O'Reilly, Ibrahim Keita, Wassim Aouachria, Aodh Dervin.
TOP SCORERS 📈
2023 Goalscorers 
David Hurley – 13
Vincent Borden – 8 
Stephen Walsh – 8 
⬅️ OUR PREVIOUS MEETINGS
⬅️ PREVIOUS MEETINGS
Galway United 3-1 Athlone Town
The teams went head to head, just over a month ago in Eamonn Deacy Park, where United scored three, with goals from David Hurley, Stephen Walsh and Killian Brouder to secure three points. You can watch the full highlights below.
Athlone Town 1-3 Galway United
United went behind early in this game, after missing a penalty Athlone countered and scored, in spectacular fashion, almost perfectly emulating the famous Troy Deeney goal for Watford. United then came back in style, with David Hurley grabbing a brace with a header and a fantastic composed finish on his weaker foot, you can watch the highlights of the game below.
🗺 DIRECTIONS
GETTING TO ATHLONE
Galway United's game is taking place in Athlone Town Stadium.
🚘: You can drive there from Galway City centre in roughly 60 minutes using the M6
🚃: You can get a train there using Irish Rail. Trains leave for Athlone from Galway Train Station at 11AM, 1PM, 3PM, 5:20PM, all of which will get you there with time to spare before Kick Off. The journey is roughly one hour and also stops off multiple places on the way if you would like to get on at a later stage.
🚎: You can get buses to the game using CityLink, buses leave Galway Bus Station roughly every two hours. The journey is an hour and a half and also stops off multiple places on the way if you would like to get on at a later stage.
GETTING BACK TO GALWAY
🚘: You can drive from Athlone to Galway on the way home in just under 60 minutes using the M6
🚎: You can get back to Galway after the game using CityLink. There is a bus at 9:45PM, which departs Athlone IT. There is also a later bus at 23:45PM. Both will bring you back to Galway City centre and the journey is just over one hour.
TRY OUR PRE MATCH QUIZ 🤔
Which team did Mikie Rowe just join on loan? ✍️
How many goals has David Hurley scored so far this season? 🎯
What year was Athlone Town founded? 📆
Do you know what Athlone Town's stadium used to be called? 🏟
Ollie Horgan has how many yellow cards so far this season? 🟨
Edward McCarthy used to play with Athlone Town before, true or false? 💭
Athlone Town played AC Milan in the UEFA Europa League in 1975 at home, what was the score? 🔴⚫️
It finished 0-0 in Lisswoolen as Milan escaped with a draw after Athlone missed a last minute penalty
Who scored for Athlone the last time they played Galway United
Frantz Pierrot scored a penalty in Eamonn Deacy Park
HOW MANY DID YOU GET OUT OF 8? 📊
WATCH THE GAME ON LOITV 🎥
If you can't make it to the game, don't worry, you can watch from afar and support United by watching on the streaming platform LOITV.
NEXT HOME GAME 🏠
Galway United Senior Men's take on Bangor Celtic in the first round of the Sports Direct FAI Cup on Saturday the 22nd July at 5PM.