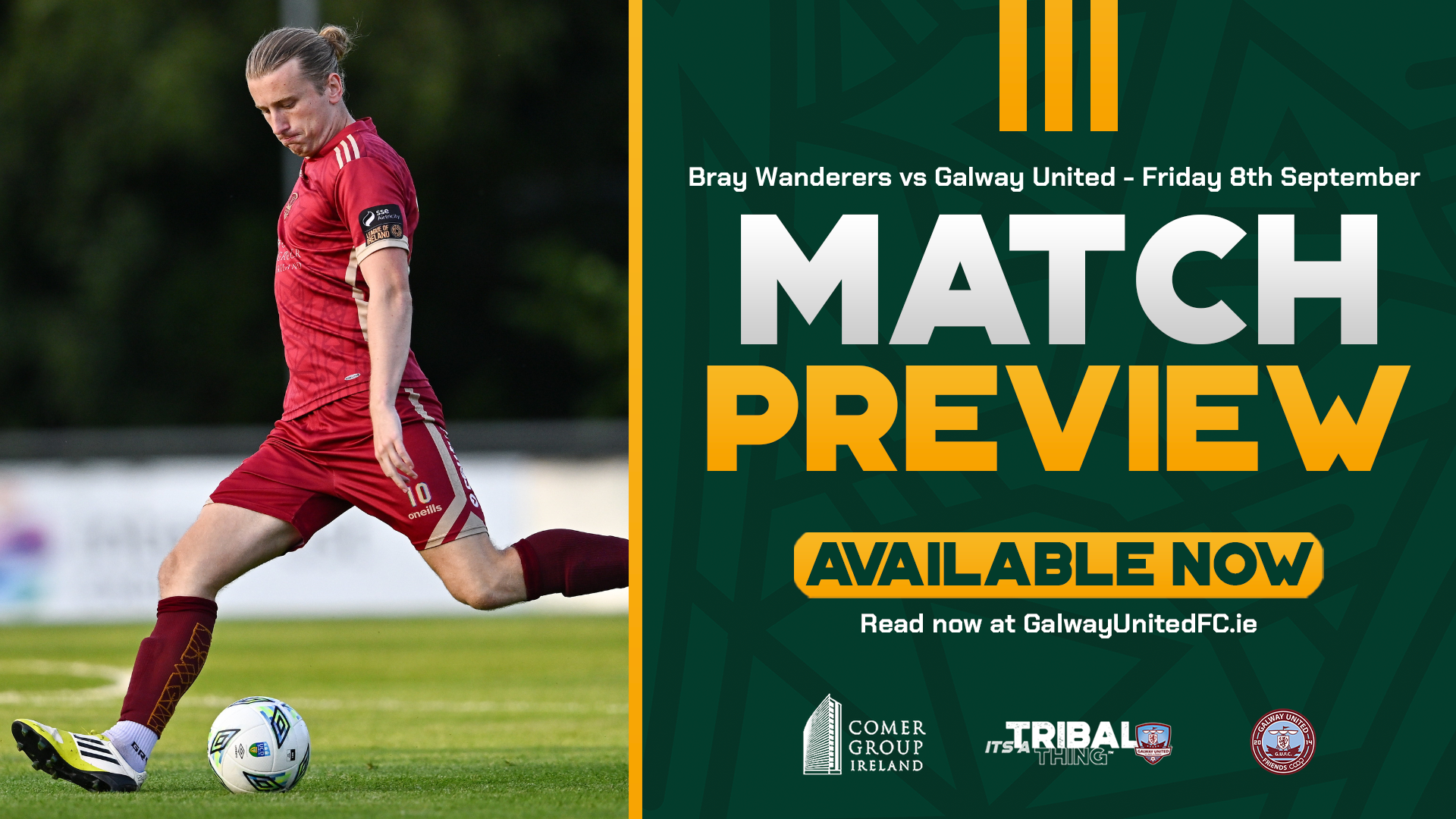 MATCH PREVIEW: Bray Wanderers Vs Galway United (Men's First Division)
WELCOME TO THE MATCH PREVIEW 📲
Galway United Senior Men's are back on the road this week as they travel to Bray to take on Bray Wanderers on Friday evening, kick off is at 7:45pm.
The Tribesmen are looking to continue their great run of form, which currently sees them 15 points clear at the top of the table, and it's important they keep that form up. Meanwhile Bray have just come off the back of a convincing 3-1 win away to Kerry FC last week in the league.
Find out more about Bray Wanderers and all you need to know about the match by clicking into the tabs below:
ℹ️ ABOUT THE OPPOSITION
ABOUT THE OPPOSITION ℹ️
🏟: Bray Wanderers are based in the coastal town of Bray, and play in the Carlisle Grounds, which has a capacity of just over 3,000.
ℹ️: Bray Wanderers were founded in 1942 and are nicknamed "The Seagulls"
: The Seagulls sit in seventh place in the SSE Airtricity Men's First Division, with 35 points from 29 games, they're looking to keep the momentum going after last weeks away win in Kerry.
: A key player for them this season Ben Feeney, Feeney is an exciting attacker for Bray and has scored nine goals for them in the league so far, he always poses a threat in every game he plays and even in our last game against Bray caused a lot of danger, he's certainly one to keep an eye on Friday evening.
🇱🇻 ABOUT GALWAY UNITED
ABOUT GALWAY UNITED 🇱🇻
⏪: United's last game was a 1-0 loss away to Longford Town, United had the majority of chances but Longford defended resolutely and saw out their one goal lead. United are looking to bounce back this evening against the seagulls.
🗣: John Caulfield had a chat with us earlier in the week about Saturday's game and he said the below:
Bray had a very good win in Kerry at the weekend, they've got a few goalscorers back into the team, Creaven and Walker are back in the team. We're looking forward to the game, they're trying to make the play-offs, so it will have be a good performance from us
2023 SQUAD ⚽️
Brendan Clarke, Conor O'Keeffe, Regan Donelon, Rob Slevin, Killian Brouder, Maurice Nugent, Stephen Walsh, Mikie Rowe, Rob Manley, David Hurley, Ronan Manning, Callum McNamara, Alex Rutter, Vincent Borden, David Tarmey, Francely Lomboto, Evan O'Connor, Colm Horgan, Conor McCormack, Darren Clarke, Ed McCarthy, Aaron Neary, Steven Healy, Mikey McCullagh, Oisin O'Reilly, Ibrahim Keita, Wassim Aouachria, Aodh Dervin.
LEAGUE TOP SCORERS 📈
2023 Goalscorers 
David Hurley – 20
Stephen Walsh – 10
Vincent Borden – 9
⬅️ OUR PREVIOUS MEETINGS
⬅️ PREVIOUS MEETINGS
Galway United 6-0 Bray Wanderers
Galway United 3-0 Bray Wanderers
Bray Wanderers 1-1 Galway United
🗺 DIRECTIONS
GETTING TO BRAY
Galway United's game is taking place in the Carlisle Grounds
🚘: You can drive to Bray from Galway City centre in roughly two and a half hours, following the M6 to Dublin, once you reach Palmerstown, follow the M50 south around Dublin, turn off by the M11 and you'll find yourself in the beautiful seaside town of Bray.
🚃: Bray is easy to access via public transport, you can get a train across to Dublin City which takes roughly 3 hours and then Dart from Dublin City to Bray, which takes roughly 30 minutes.
WATCH THE GAME ON LOITV 🎥
If you can't make it to the game, don't worry, you can watch from afar and support United by watching on the streaming platform LOITV.
NEXT MENS HOME GAME 🏠
Galway United play Dundalk on Friday 15th September at 7:45PM in Eamonn Deacy Park. There are limited numbers left, get your match tickets HERE