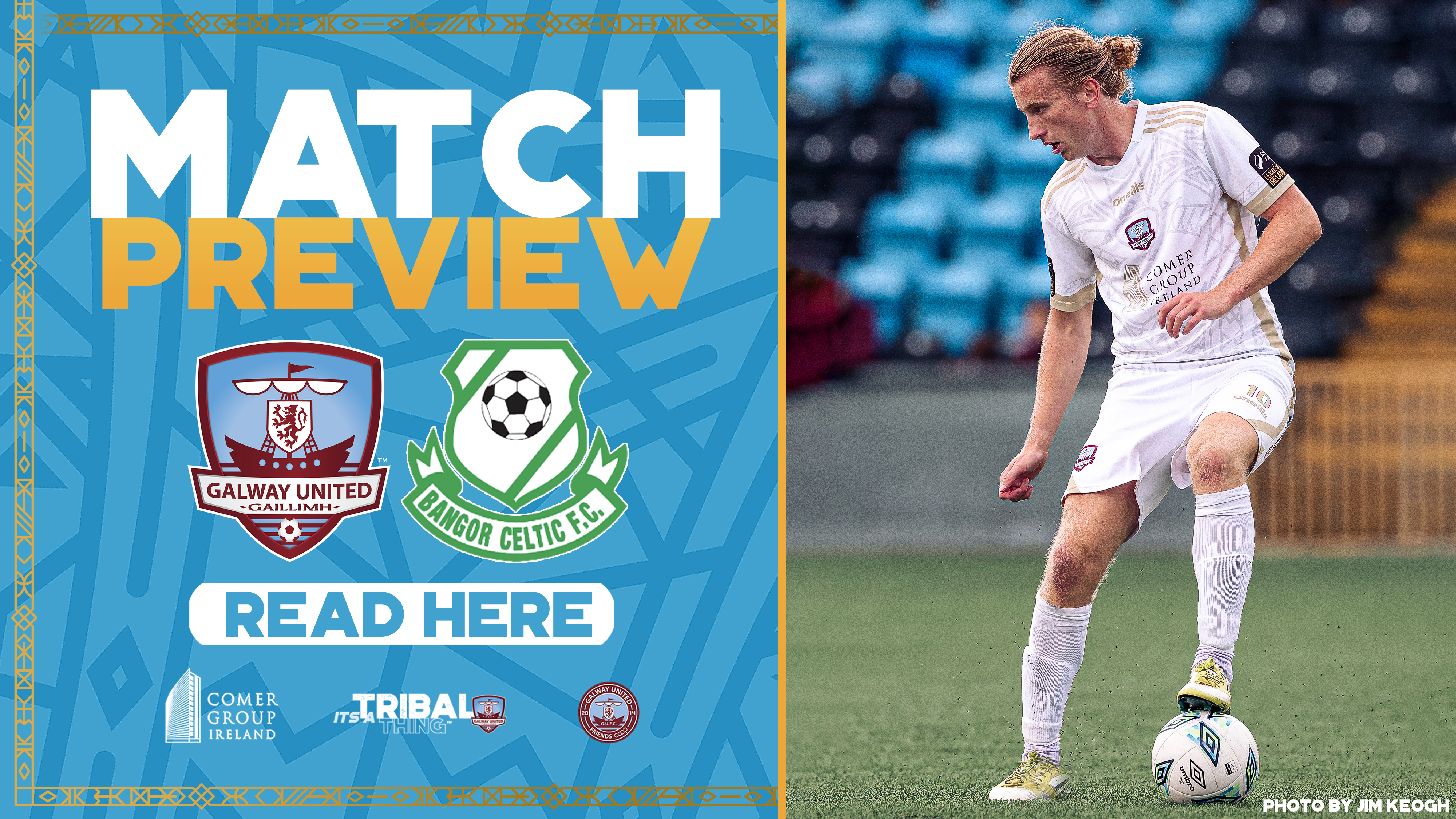 MATCH PREVIEW: Galway United Vs Bangor Celtic (Sports Direct FAI Men's Cup First Round)
WELCOME TO THE MATCH PREVIEW 📲
Galway United welcome Bangor Celtic to Eamonn Deacy Park this Saturday afternoon in the first round of the Sports Direct FAI Men's Cup.
The Tribesmen will face the Dublin based side for the first time in their history on Saturday as they look to advance to the second round of the competition they won back in 1991.
Bangor Celtic were eliminated at this stage of the competition last season after being drawn against Shamrock Rovers in round one in 2022.
Find out more about Bangor Celtic and all you need to know about the match by clicking into the tabs below:
ℹ️ ABOUT THE OPPOSITION
ABOUT THE OPPOSITION ℹ️
🏟: Bangor Celtic are based in Crumlin, Dublin and compete in the Leinster Senior League. They play their home games at the Iveagh Grounds.
ℹ️: Founded in 1987, Bangor Celtic won their first Leinster Senior League title back in 2005, before going on to win it again in 2009.
😳: In the year 2000 they played Drogheda United and came away with a 1-0 win, away from home.
🏆: In last years first round they played Shamrock Rovers away in Tallaght Stadium, not being as luckly, losing 4-0
🇱🇻 ABOUT GALWAY UNITED
ABOUT GALWAY UNITED 🇱🇻
⏪: United's last game was a 1-0 win away from home against Athlone Town, where David Hurley scored a brilliant header in the 84th minute to seal a valuable three points for the Tribesmen.
🗣: John Caulfield had a chat with us earlier in the week about Saturday's cup game saying:
A big welcome to Bangor Celtic, they are a famous and well established Leinster Senior League club and one of the top teams the last few years, we're looking forward to playing them, it's part of the beauty of the cup and it's great
2023 SQUAD ⚽️
Brendan Clarke, Conor O'Keeffe, Regan Donelon, Rob Slevin, Killian Brouder, Maurice Nugent, Stephen Walsh, Mikie Rowe, Rob Manley, David Hurley, Ronan Manning, Callum McNamara, Alex Rutter, Vincent Borden, David Tarmey, Francely Lomboto, Evan O'Connor, Colm Horgan, Conor McCormack, Darren Clarke, Ed McCarthy, Aaron Neary, Steven Healy, Mikey McCullagh, Oisin O'Reilly, Ibrahim Keita, Wassim Aouachria, Aodh Dervin.
TOP SCORERS 📈
2023 Goalscorers 
David Hurley – 14
Vincent Borden – 8 
Stephen Walsh – 8 
⬅️ 2022 FAI CUP THROWBACK
⬅️ 2022 FAI CUP THROWBACK
Check out our previous first round game in the FAI Cup in 2022, where we met Bluebell in a 7-0 victory in Tolka Park, watch the highlights below:
🗺 DIRECTIONS TO EDP
GETTING TO EDP
Galway United's game is taking place in Eamonn Deacy Park
You can find our full guide on getting to the stadium HERE
TRY OUR PRE MATCH QUIZ 🤔
Who crossed in the ball for David Hurley against Athlone? ⚽️
What time did the game kick off at? ⌚️
8PM (Kick off was delayed)
Who did Galway United play in the first round last year? 🏆
Who won the FAI Cup in 2022? 🤔
Derry City won the trophy against Shelbourne
What team did Eamonn Deacy win the UEFA European Cup with? 🇪🇺
Rob Manley used to play with Bangor Celtic in Dublin in his youth, true or false? 💭
What year did Galway United win the FAI Cup? 📆
In the 1991 season we won the FAI Cup against Shamrock Rovers
How many goals have Galway United scored in the league so far this season? 🎯
HOW MANY DID YOU GET OUT OF 8? 📊
WATCH THE GAME ON LOITV 🎥
If you can't make it to the game, don't worry, you can watch from afar and support United by watching on the streaming platform LOITV.
GET YOUR MATCH TICKETS 🏠
Get your match tickets HERE