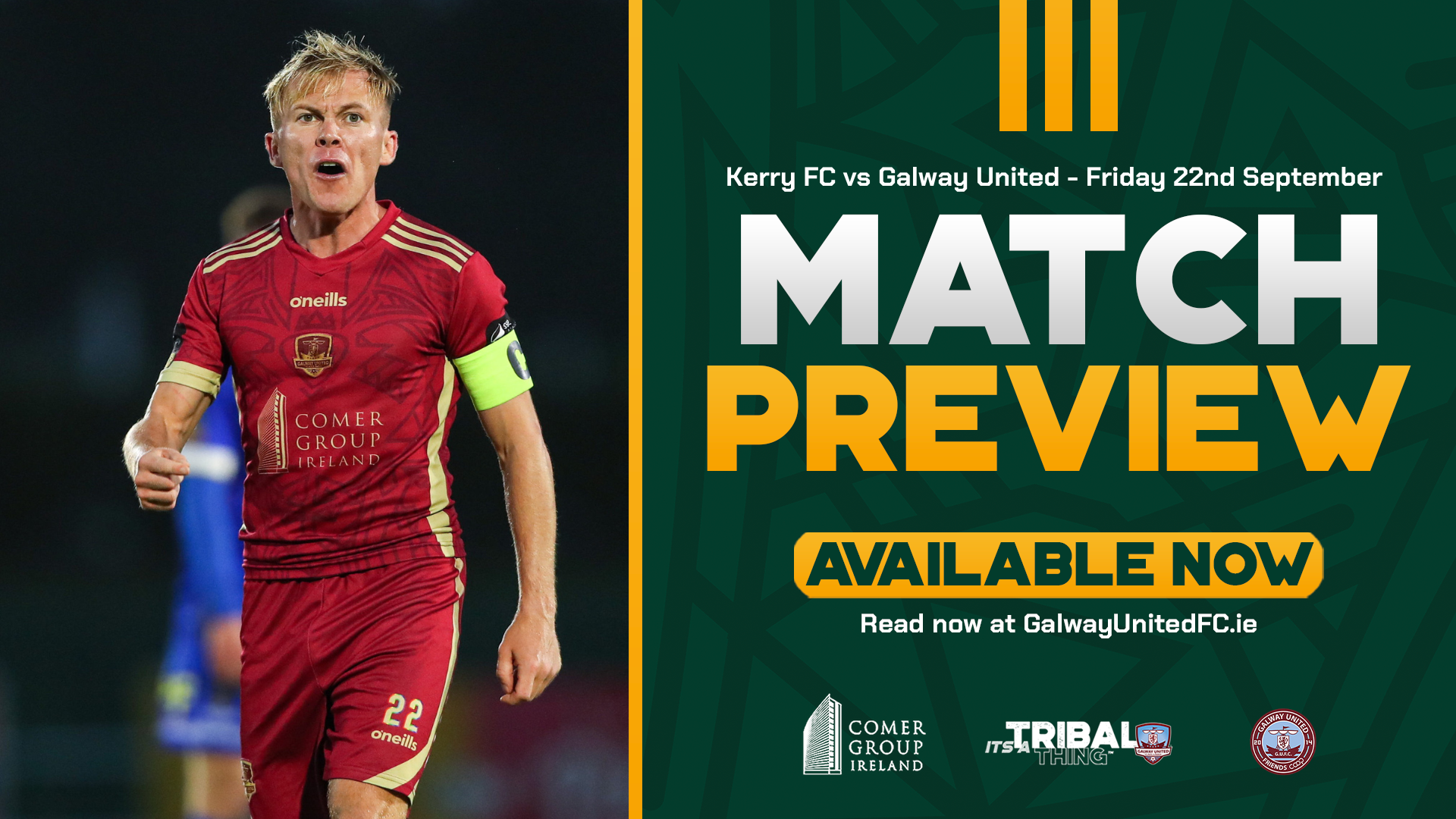 MATCH PREVIEW: Kerry FC v Galway United (Men's First Division)
Welcome to the Match Preview, below you'll find match information and summary ahead of Friday's game.
GAME SUMMARY 📰
Galway United take on Kerry FC in Mounthawk Park, Tralee on 22nd September 2023 in the SSE Airtricity Men's First Division. Kick off is at 7:45PM.
COULD FRIDAY BE THE NIGHT? 🏆
If United win or draw they win the league title.
If United lose and Waterford draw/lose, United also win the league.
MATCH TICKETS 🎟
Tickets are available online, please use this specific link to ensure you purchase an away ticket, HERE.
HOW TO WATCH THE GAME 📺
The game is live on LOITV as per usual, available at the link HERE.
Virgin Media will be showing some coverage during their broadcast of St. Patrick's Athletic v Dundalk.
SUPPORTERS BUS 🚌
Supporters buses are leaving the Connacht Hotel at 3:15PM on Friday, you can book your seat HERE
  ABOUT UNITED 🇱🇻 
United head into the game top of the league need one more point in this game to become champions. We spoke to John Caulfield ahead of the game.
"We're looking forward to going to Tralee, we know the great improvements Kerry have made, they've become really difficult to beat the last few months. We know this game will be a massive game for them and they're very competitive, but at the same time we know we're on the verge of winning the league if we can get a result"
,

Speaking to Galway United TV
2023 SQUAD ⚽️
Brendan Clarke, Conor O'Keeffe, Regan Donelon, Rob Slevin, Killian Brouder, Maurice Nugent, Stephen Walsh, Daire Mc Carthy, Rob Manley, David Hurley, Ronan Manning, Alex Rutter, Vincent Borden, David Tarmey, Francely Lomboto, Evan O'Connor, Colm Horgan, Conor McCormack, Darren Clarke, Ed McCarthy, Steven Healy, Oisin O'Reilly, Wassim Aouachria, Aodh Dervin.
    LAST TIME OUT ⏮   
Last time out United dismantled Dundalk scoring four goals in the first 40 minutes and seeing out the rest of the game, watch the highlights below:
  ABOUT KERRY FC 🟢 
Kelliher is the first player in the history of Kerry FC to sign a long term professional contract at the club recently, seeing him stay with Kerry until 2025. You can certainly see why, contributing 8 goals so far this season in the league. The Killarney native is making his debut season in the League Of Ireland after being with Killarney Celtic as a youth before joining Kerry FC's academy.
"Yeah look going into the game, Galway especially with the incentive they have going into the game will make it a lot more challenging but football is football… We know it's going to be a difficult game, but that's what we're in this league for.. The lads like these challenges of playing against the top teams, it's what we want to compare ourselves against "
NEXT GAME 🏠
On Monday, we will be welcoming home league champions or playing to win the league. Galway United play at home on Monday to Finn Harps, Kick-Off is 7:45PM. get your match tickets HERE