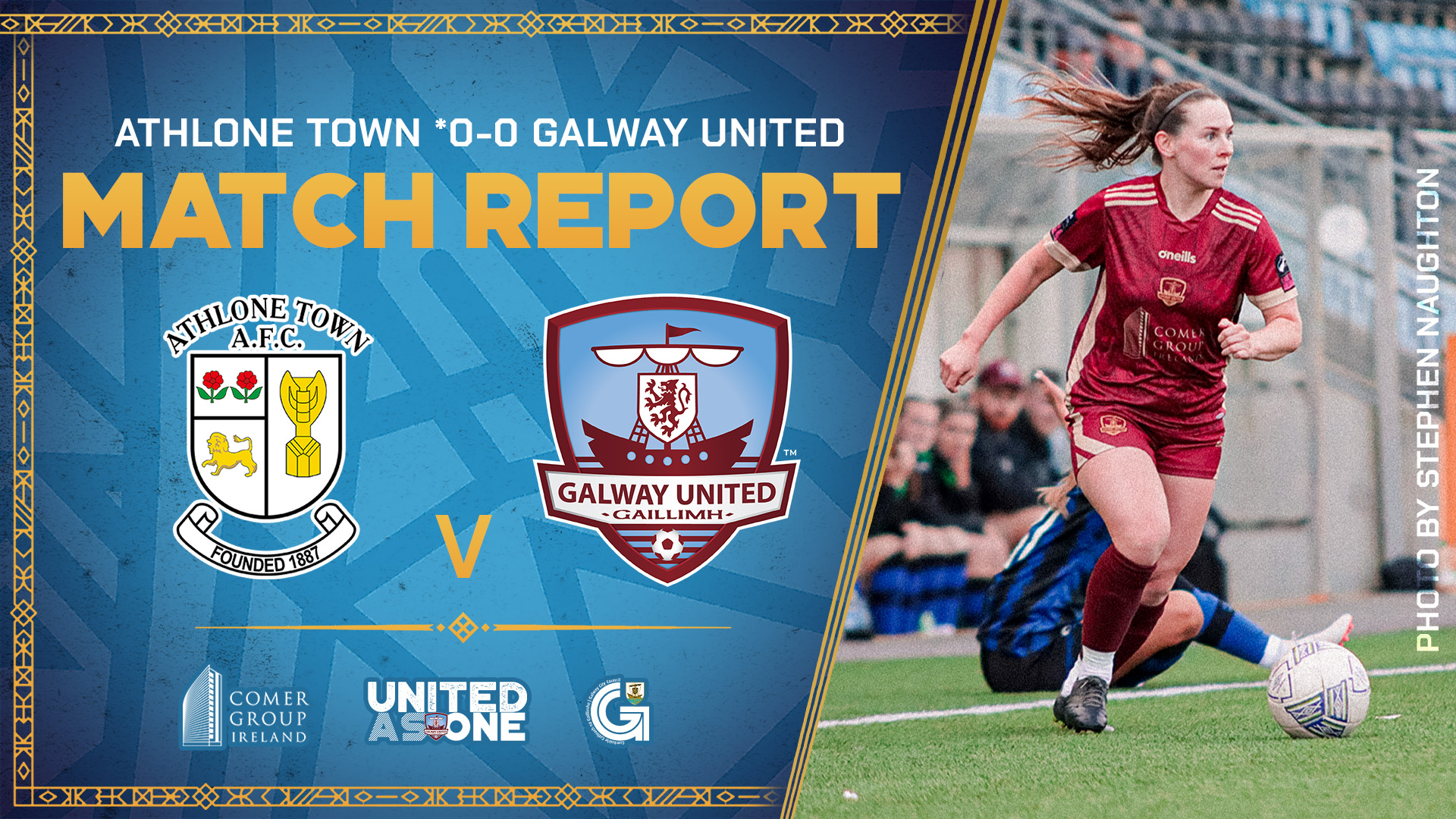 MATCH REPORT | Athlone Town Women *0-0 Galway United Women (FAI Cup)
Galway United Women suffered heartbreak as they fell to Athlone Town on penalties in the Women's FAI Cup on Saturday night.
The game finished 0-0 after normal time at the Athlone Town stadium and, after a period of extra time where neither side could find a breakthrough, just one penalty ended up separating the two sides.
It was a cruel way for United to exit the cup following a game where neither side created too much of note. The chance of the game for both sides came at the end of the first half when United midfield Isabella Beletic crashed a header against the post after meeting Lynsey McKey's corner.
The game started at a fast pace, with Athlone Town carving out one of the game's few big openings after just seven minutes. Chloe Singleton laid the ball off to Dana Scheriff outside the area whose powerful curling effort was denied brilliantly by Jessica Berlin in the United goal.
As the clock ticked towards half-time, United grew into the game and began to enjoy long spells of possession as well as chances in front of goal. Several efforts by Jenna Slattery and the lively Aislinn Meaney came to no avail before Beletic was denied by the woodwork in the 38th minute.
SECOND-HALF
Following the interval, the pattern of the game largely remained the same, with both sides cancelling each other out and defending valiantly. Athlone grew into the game and at times looked the likelier side to score, but had no joy in penetrating United's resolute backline.
United came close to taking the lead in the 75th minute. Slattery and Siobhan Doolan combined for a neat one-two on the edge of the box before a brilliant save by Katie Keane denied Slattery's curling effort that looked destined for the bottom corner.
Phil Trill's side continued to pile on the pressure in the last 15 minutes but couldn't find a breakthrough as the game headed to extra-time.
EXTRA-TIME & PENALTIES
The first additional period passed without much of note to report. Athlone carried a threat in the second period as they sent in a succession of corners, but they came to nothing and the game was to be decided by penalties.
United held the advantage after three spot kicks as Berlin got down well to stop Kate Slevin's effort. However, Katie Keane guessed correctly and kept out United's fifth to send the shootout to sudden death.
Athlone Town, shooting first, made no mistake. Lynsey McKey stepped up to take United's sixth and was unfortunate to miss the crucial spot kick, slamming her effort against the crossbar.
POST-MATCH
Speaking after the game, United manager Phil Trill said there are still positives to take away from the game:
When you get to penalties it's always a lottery and I'm just so proud of the ladies. They were brave and they wanted to step up and there were more behind them that wanted to step up, it's not easy.

"We have to take the positives. We do have to reflect on some instances of our game where we didn't play as we wanted to play … but it's one goal conceded in eight games and as I said, penalties are a lotto."
TEAMS
Athlone Town (Ciarán Kilduff, Manager)
K. Keane; K. Shine, S. Brennan (L. Grant 77′), J. Rossman, L. Karabin (G. Keenan 77′); M. Devaney (L. Ryan 83′), K. Brennan, C. Singleton, R. Molloy, M. Gibson (K. Slevin 98′); D. Scheriff.
Booked: C. Singleton (78′).
Galway United (Phil Trill, Manager)
J. Berlin; T. Kinnevey, E. Dossen, J. Erickson, A. Costello (A. Madden, 106′); I. Beletic, J. Slattery, K. Thompson, L. McKey; A. Meaney (A. Gough, 107′), J. Griffin (S. Doolan, 72′).
Booked: K. Thompson (70′), A. Madden (115′), J. Slattery (117′).
NEXT UP
It's now all eyes on United's next game as we're back in league action against Bohemians at Dalymount Park next Saturday at 3PM.
United return to home action against DLR Waves on September 9th at 7:35PM. Tickets are free for everybody, and can be reserved HERE!