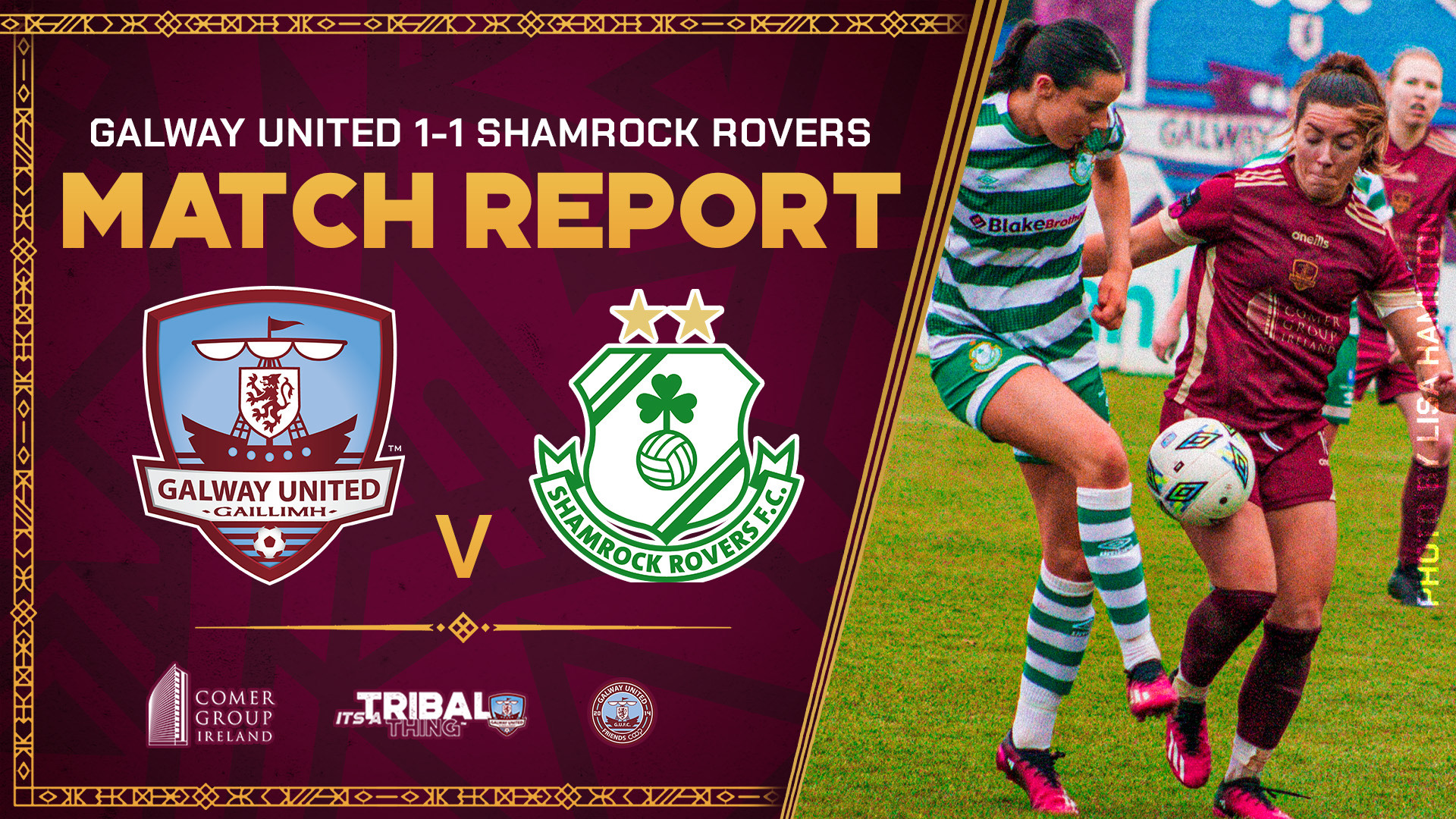 MATCH REPORT: Galway United vs Shamrock Rovers (Women's Premier Division)
Galway United extended their unbeaten run to three as they picked up a valuable point in a 1-1 draw with Shamrock Rovers at Eamonn Deacy Park on Saturday afternoon.
Gemma McGuinness's goal in the opening 15 minutes looked like it would be enough to earn United all three points, but the experienced Rovers side found the equaliser five minutes from time through Jaime Thompson.
Before kick-off, Jenna Slattery was presented with her Player of the Month award for March. Slattery, who had just returned from Ireland Under 19 international duty, has been instrumental in the side's success so far this season with the winning goal against Cork City and a stunning free-kick winner against Shelbourne.
The opening minutes of the game saw both sides having spells of possession but failing to create any clear-cut chances. That was before United pressed to win the ball back and McGuinness played the ball down the left to Abbie Callanan who forced a corner for the hosts with 12 minutes played.
The corner was whipped in by captain Lynsey McKey and met the head of Isabella Beletic who brilliantly nodded the ball down to McGuinness who then struck a half-volley that Rovers goalkeeper Amanda Budden couldn't keep out as the ball went in off the post to give United their first home goal this season.
McGuinness continued to play on the front foot after notching her first goal of the season as she pressed from the front and put in a succession of great tackles to unnerve the visitors.
It wasn't until just after the half-hour mark that Rovers began to sustain attacks and create opportunities as Jaime Thompson's influence on the contest began to grow. With 35 minutes on the clock, Thompson found herself through on goal and she looked to have picked out the bottom corner, but United goalkeeper Jessica Berlin produced a superb save from point blank range to deny the striker of her fourth goal of this season.
United looked to regain their momentum and in doing so almost doubled their lead just before half time as McKey picked out Callanan with a great cross, but the ball just got away from her and went out for a goal-kick.
McKey continued to impress moments later as she picked the ball up on the edge of the box and fired a shot goalward, but it was well held by Budden and the Tribeswomen went in at the break with a deserved lead.
United looked to pick up where they left off in the first half, as McGuinnes played a lovely ball through to Rola Olusola, but her effort from the edge of the box didn't trouble Budden in goal and went over the crossbar.
Rovers responded with a couple of efforts of their own through Lia O'Leary and Abbie Larkin, but Berlin was equal to both attempts.
On the hour mark, Rovers captain Aine O'Gorman cut inside onto her left foot and curled an effort which looked destined for the far top corner, but Berlin made another top-class save to tip the ball just wide of the post for a corner.
10 minutes later, the visitors launched another dangerous attack as a cross from the left found Thompson on the edge of the area and she struck a half-volley which was well saved once again by Berlin who was in imperious form throughout the game for United.
The hosts defended resolutely as Rovers searched for an equaliser in the final quarter, but with just five minutes remaining the visitors found their breakthrough as a cross from the right from O'Gorman was headed out by Eve Dossen only as far as Thompson on the edge of the box whose half-volley flew past Berlin this time and found the bottom corner.
The points were shared at Eamonn Deacy Park, and it leaves Galway United in 4th place in the table on 10 points.
Teams:
Galway United: J. Berlin, A. Costello, J. Erickson, E. Dossen, T. Kinnevey, I. Beletic, J. Slattery, L. McKey (N. McNamara 87'), G. McGuinness, A. Callanan (K. Thompson 64'), R. Olusola (A. Thompson 70').
Shamrock Rovers: A. Budden, J. Gargan, S. Fox, J. Hennessy, L. O'Leary, A. Kelly, O. O'Mahony, A. O'Gorman, A. Larkin (S. McCarthy 62'), A. McEvoy (L. Kelly 86'), J. Thompson.
Next up, Galway United face Sligo Rovers at Eamonn Deacy Park on Saturday, April 22nd at 2:00pm.
Tickets can be purchased HERE