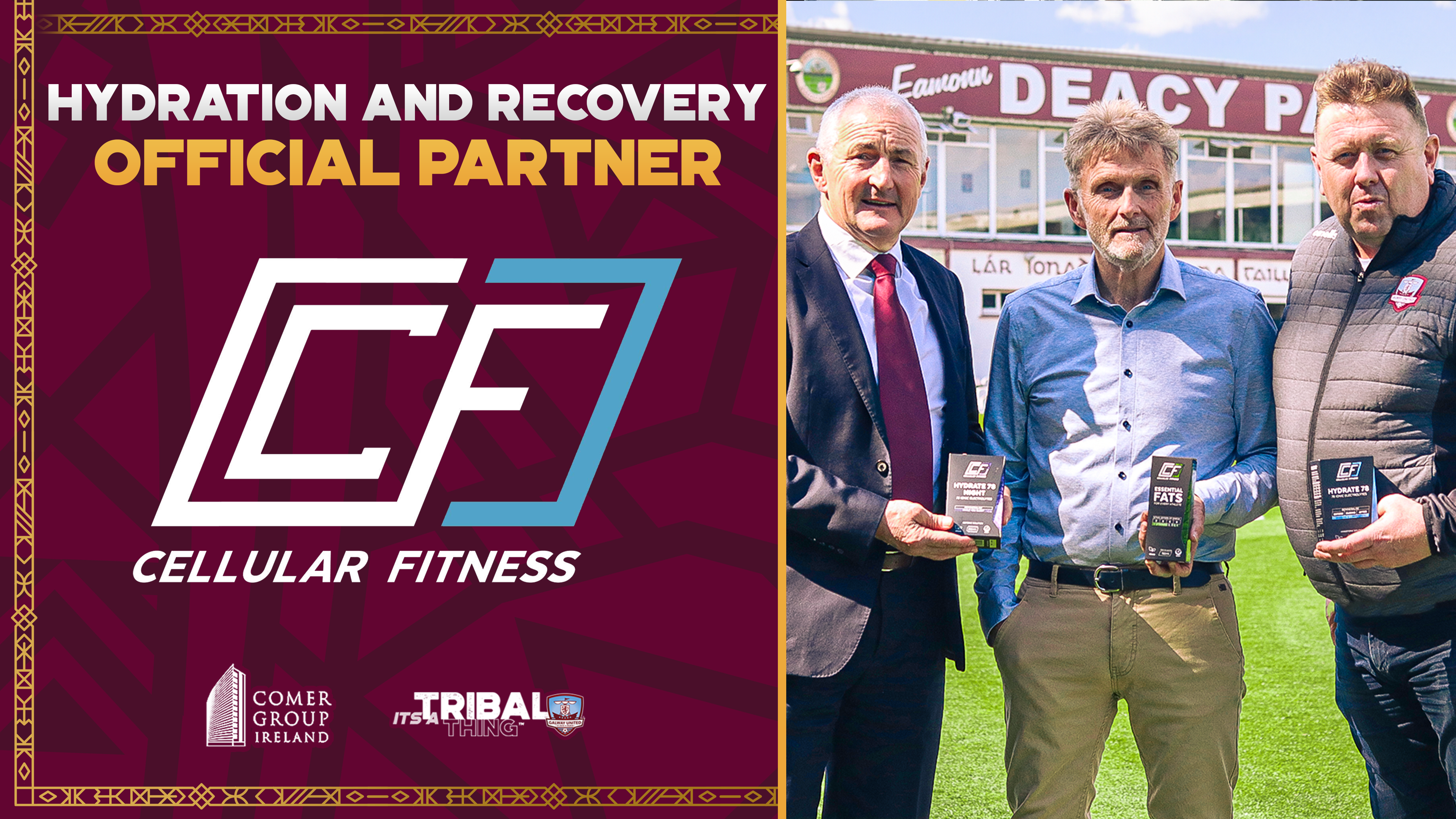 Cellnutrition Sport Partners with Galway United for 2023 Season
Bio-sport experts Cellnutrition Sport, a leading provider of advanced sports solutions have joined forces with Galway United FC to become the club's official hydration and recovery partner for the remainder of the 2023 football season.
The partnership will see Galway United's players supplied with the latest Cellnutrition Sport solutions: Hydrate 78, Hydrate 78 Night and Essential Fats – all of which make up Cellnutrition Sport's Cellular FitnessTM protocol*. 
Specialising in deep cellular hydration to provide optimum performance, Cellular Fitness'TM protocol is a 100% natural solution containing 78+ electrolytes and trace elements, as well as ultra-pure essential fatty acids. 
Cellnutrition Sport specialises in the development of innovative solutions that work at a cellular level. Developed by a global team of scientists and researchers, the protocol is a global first in providing athletes with everything their cells need, with the added benefit of providing them with a healthy body.
Following a successful two-month initial partnership, the joint venture will also see Galway's first team and junior squads embarking on Cellular Fitness'TM 48-week education programme, designed to inform athletes about brain hydration and injury mitigation.
Galway United FC are one of the first clubs to partner with Cellnutrition Sport, as part of the bio-sport brand's wider campaign to mitigate brain injuries within professional and recreational sport.
Speaking about the partnership, Cellnutrition Sport Founder John Kelleher, said: 'I'm so pleased to be working with Galway United for the remainder of the 2023 season. We're on a mission to shake up the sports fitness industry and I really believe no other brand out there provides athletes with protocols that work on a cellular level for enhanced performance. We don't manufacture any of our products and we don't use anything synthetic – everything we use is harvested from nature so we're only putting natural substances in the body. 

'Your cells power everything you do, so if you're not giving them everything they need then you're limiting your potential. Galway have shown they are serious about hydrating, protecting & educating their players about cellular health by partnering with us and we can't wait to get started.'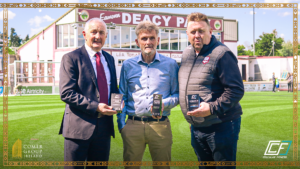 Echoing Kelleher's comments, Jonathan Corbett, Chairperson of Galway United FC added: 'I'm thrilled to partner with Cellnutrition Sport for the rest of the season. They offer some fantastic solutions which really will benefit the players for hydration and recovery. We take those things very seriously here at the club and it's ideal that they have come in at such a crucial time for our players as they look to push onwards. Every detail counts, especially when it comes to brain and body performance, so we can't wait to get going with this partnership with them'

Club Physio, Richard Grier added 'We've seen a good improvement in our players' sleep, they've reported much better quality sleep and feel fresher in the mornings, Cellular Fitness has really helped us over the last number of weeks with the hot and dry weather in keeping our players hydrated throughout our heavy training and match schedules, the warm weather can really increase your risk of cramps towards the end of a 90-minute match and we've really been able to minimize this with the use of Cellular Fitness.' 
Cellnutrition Sport's mission is to turn critical knowledge that would otherwise remain inaccessible to the public into easily accessible life-changing information. It's part of the brand's philosophy, which centres around understanding and exposing true fitness challenges, as well as scanning nature's intelligence for the most efficient solutions to solve those challenges.
The Cellular FitnessTM  protocol provides athletes with the most natural and effective solutions to enhance performance, prevent injuries and repair cells. Whilst the narrative for this is often centred around the lower body, Cellnutrition Sport is on a mission to change this conversation, and put equal emphasis on how essential brain fitness is for athletes too. 
The above has been a crucial factor in the development of the Cellular FitnessTM protocol, which provides athletes with all of the nutrients they need for optimum brain and body performance. 
As part of the partnership with Galway United FC, the Cellular FitnessTM 
logo will be on display across advertising boards around Eamonn Deacy Park.
Find out more about Cellnutrition Sport by visiting www.cellularfitness.world or follow them on their social media accounts below:
Instagram: @cellular.fitness
Twitter: @cellularfitness
TikTok: @cellularfitness
Facebook: @CellularFitnessTM
*About Cellnutrition Sport and Cellular FitnessTM:
Cellnutrition Sport have a global team of scientists and researchers who have developed a sports fitness protocol called Cellular FitnessTM. The protocol provides athletes with complete hydration to eliminate cramps, speed-up recovery and encourage deeper sleep for maximum repair. Providing athletes with a unique and essential protocol for deep cellular hydration and optimum cell performance is at the heart of everything Cellnutrition Sport do.
Cellnutrition Sport have seven research teams worldwide and are expanding year on year, whilst developing and researching protocols to improve cellular hydration and support optimum cell function and performance.