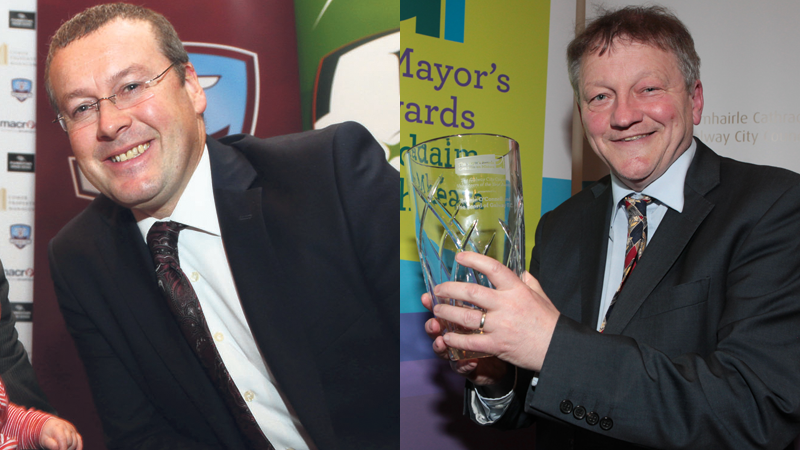 Dunne and O'Connell claim awards
Galway United manager Tommy Dunne and chairman Bernie O'Connell will both be presented with awards at the Galway Sports Stars Awards night at the Ardilaun Hotel on Saturday, January 17.
O'Connell, who played a significant role in the formation of the club, has a long-standing association with Galway United Football Club having previously worked as the clubs secretary for many years. He will receive the Service to Sport award.
O'Connell commented: "I am deeply honoured to receive the award and thrilled that Tommy Dunne has also been chosen as Manager of the Year.
"It is a huge boost for the club before the start of the 2015 season. The Service to Sport award is a real tribute to the many, many people who have worked so hard to unite Galway senior soccer and help ensure that Galway will now be represented with unity and distinction in the coming seasons."
Galway United manager Tommy Dunne guided the club to the Premier Division in his first season in charge, playing an attractive brand of football with a young, locally based squad. Dunne's charges progressed to the Premier Division after convincing wins against Shelbourne and UCD in the promotion play-offs.
Dunne, who will receive the Manager of the Year award, is thrilled that Eamonn Deacy Park will play host to Premier Division football in 2015. "Firstly, it's a great honour for me to receive the Manager of the Year award, I'm truly delighted that I could help Galway United get back where it belongs in the Premier Division in 2015."
"I would like to thank my players and staff for their hard work in 2014. We're all excited for the coming season and I can't wait to get our pre-season campaign under way."