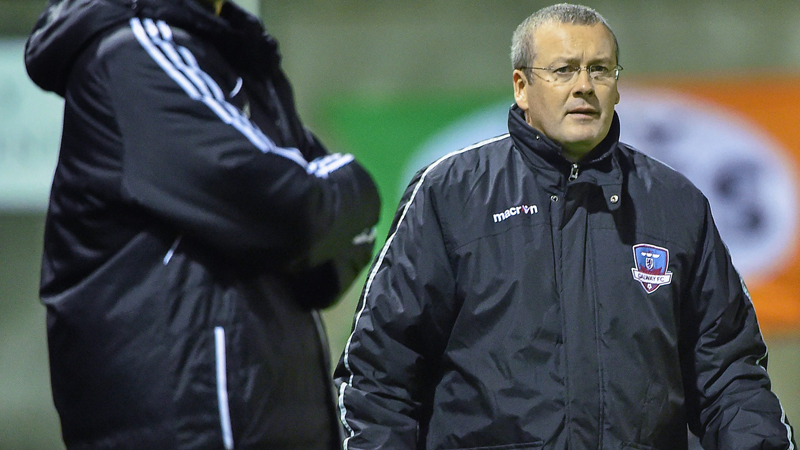 Dunne on pre-season preparations
Galway United players will return to pre-season training on January 12 and manager Tommy Dunne told www.galwayunitedfc.ie that preparations are well underway to have the club ready for life in the Premier Division come March 6th.
Dunne has already tied down ten players for 2015 and negotiations are on-going with others players.
"It's been fairly slow as regards bringing players in," Dunne conceded.
"We're in the process currently but we're also going to have a look at some players over the early weeks of our pre-season campaign.
"We've signed up the majority from last years group, one or two players have departed the club that I would have liked to have kept. The circumstances were that they were going to the League champions or across the water.
"For us, we're looking at options from all over, we're not jumping into anything and we're certainly not going to panic sign. On March 6 we hope to have a decent group together."
Dunne is confident about retaining more of last years promotion winning squad and he hasn't ruled out signing players from further afield, if needs be.
"Right now we're in negotiations with a few players in priority positions," Dunne said.
"We're looking to try and tie down a few players and that will leave us open to having a look at certain players if they become available.
"There's not a huge amount of players available in Ireland at the moment, we will possibly have to look at players from outside of Ireland."
One player that Dunne may not have at his disposal in 2015 is Ryan Manning, the promising 18 year old has been to the UK and he is attracting interest from a host of clubs.
"Ryan's move is pending," Dunne told www.galwayunitedfc.ie.
"Negotiations are on-going and we'll just have to wait and see what happens. There's one or two clubs involved and it's likely that Ryan won't be with us for next season."
Last season Dunne organised seven pre-season friendlies, for 2015, he is looking to organise a similar number of games and is close to ratifying some.
"I've pretty much confirmed four friendlies and we'll be looking at organising two or three more.
"It's important to get the boys ready for the physical side of things. There's a lot of games in the Premier Division coupled with the Cups so to get a thorough pre-season under our belts will be vital.
"It's looking like our first friendly will be in the first week of February. The reason behind this is we've got to get the guys up to speed which is the most important thing. When you're in the Premier Division, you've less teams available to play. Last year we had all of the Premier Division clubs to play, this year we're looking at playing First Division teams but it's harder to organise logistically, but we'll prepare right."
Players signed for 2015: Ger Hanley, Colm Horgan, Marc Ludden, Alex Byrne, Paul Sinnott, Stephen Walsh, Ryan Connolly, Gary Shanahan, Kilian Cantwell, David O'Leary.