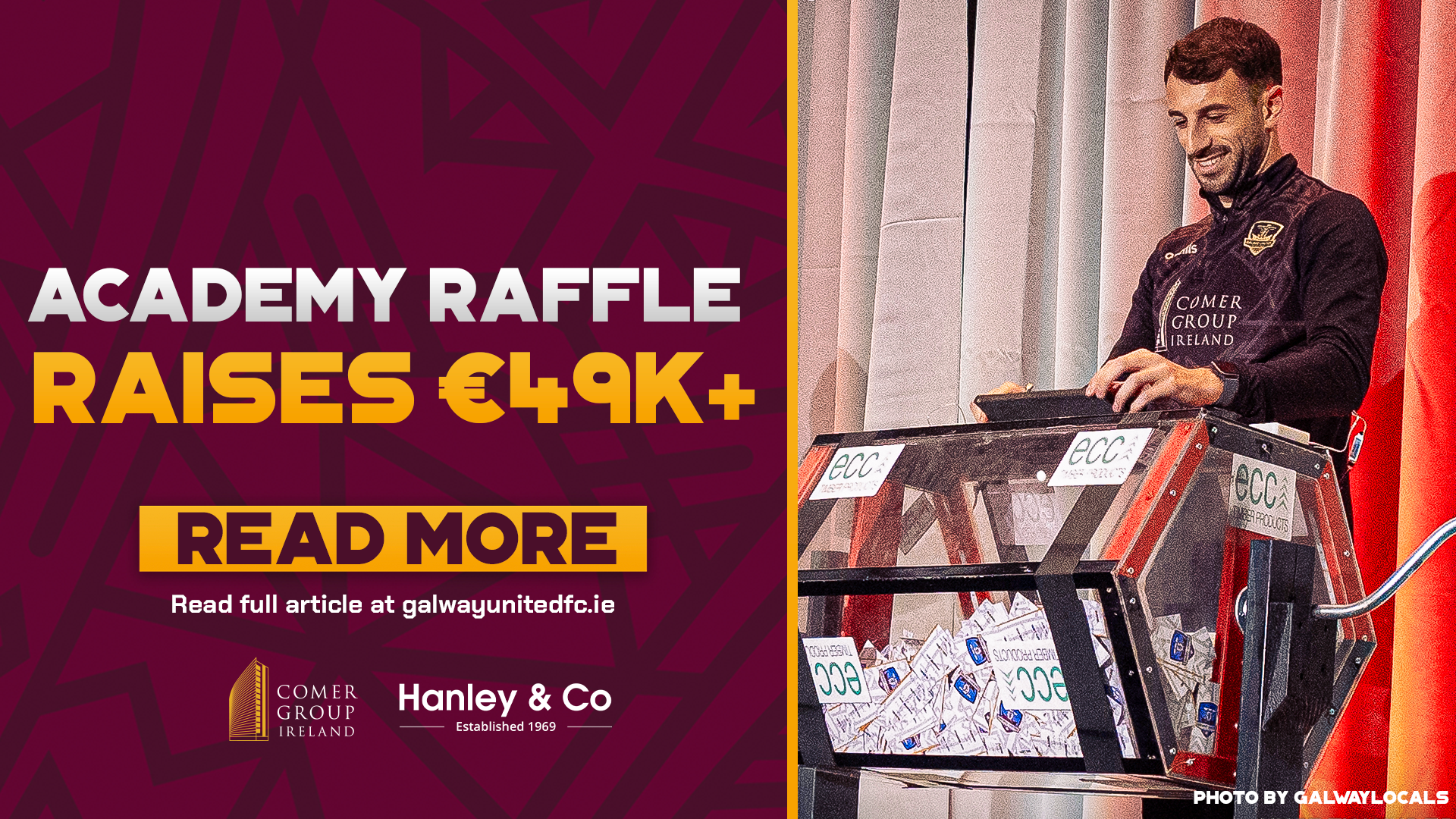 Galway United Academy Raffle raises €49K+
Galway United Academy Raffle raises €49K+ for High performance gym for Academy sides
Sunday the 24th of September was a great day for Galway United as they held their Raffle Draw and Academy showcase, with funds raised going towards a high performance gym for academy sides. It was a unique event, almost every player and staff member from the club was in attendance in their hundreds, all there to appreciate the current people involved and support those in the same position going forward. With hundreds watching online, everyone pushed behind the same goal of helping develop future Galway United players, and it paid off with record breaking funds raised.
Damien Costello collects his first prize of €5,000 cash from Hanley & Co. in Galway City Centre! Thanks to Hanleys especially for their support as title sponsors, you can check them out HERE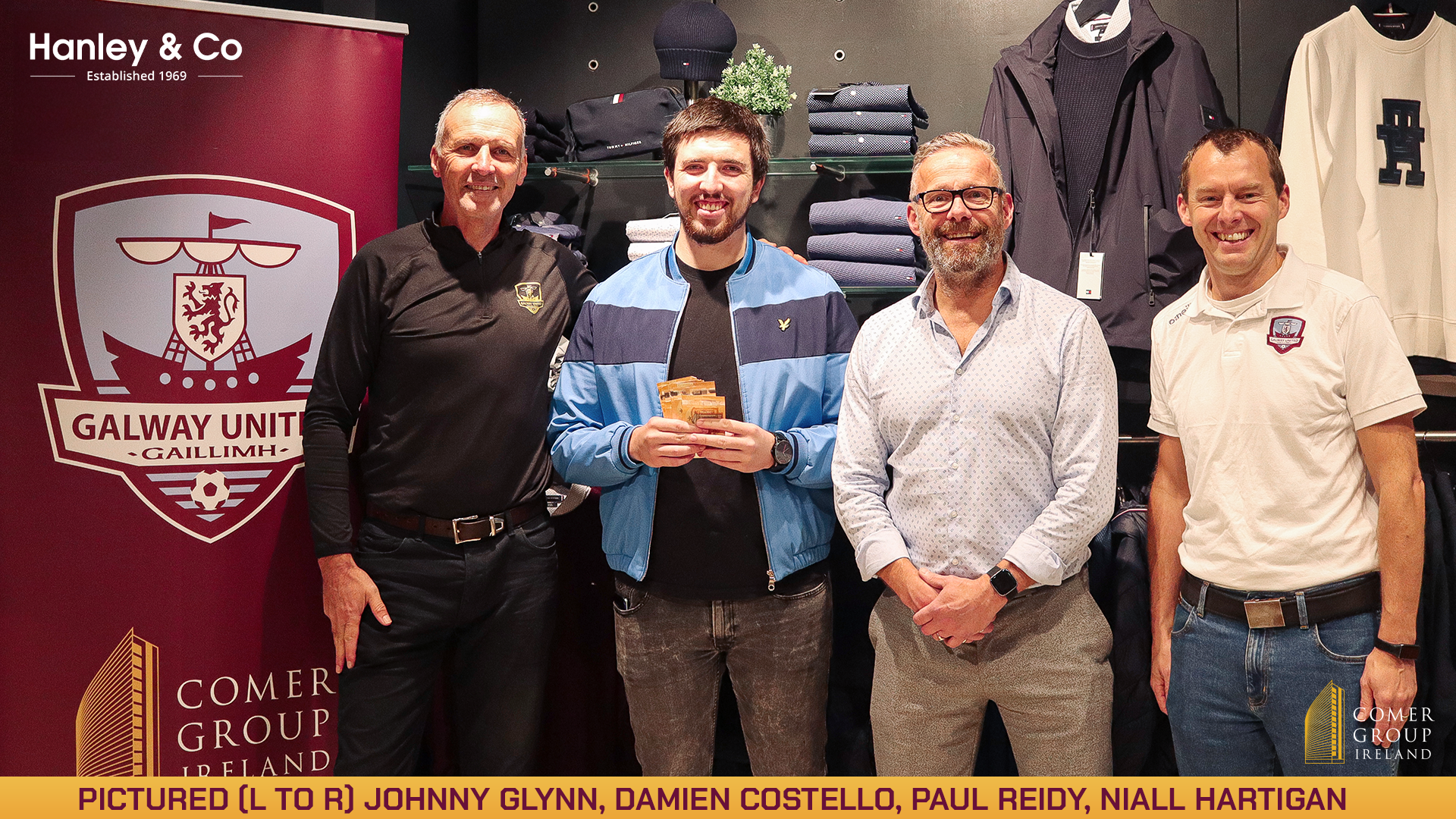 The Galway United Academy raffle was one of the most successful fundraising efforts ever from Galway United, all thanks to the hard working staff and patrons who made it possible. A core group initially made up of Niall Hartigan, Emmett Hartgian and Francis Kelly helped the project move forward earlier in the year and it went from there. The event on the day showcased each team in the Galmont Hotel along with a live draw broadcast online, with thanks to John Mulligan's voice projecting around the room to the hundreds in attendance, thanks to help with the event from CueOne. The team had lots of help from supporters and patrons like CueOne across not just Galway and Ireland, but the world, with lots of supporters worldwide helping the cause. Below are some of the patrons which helped out!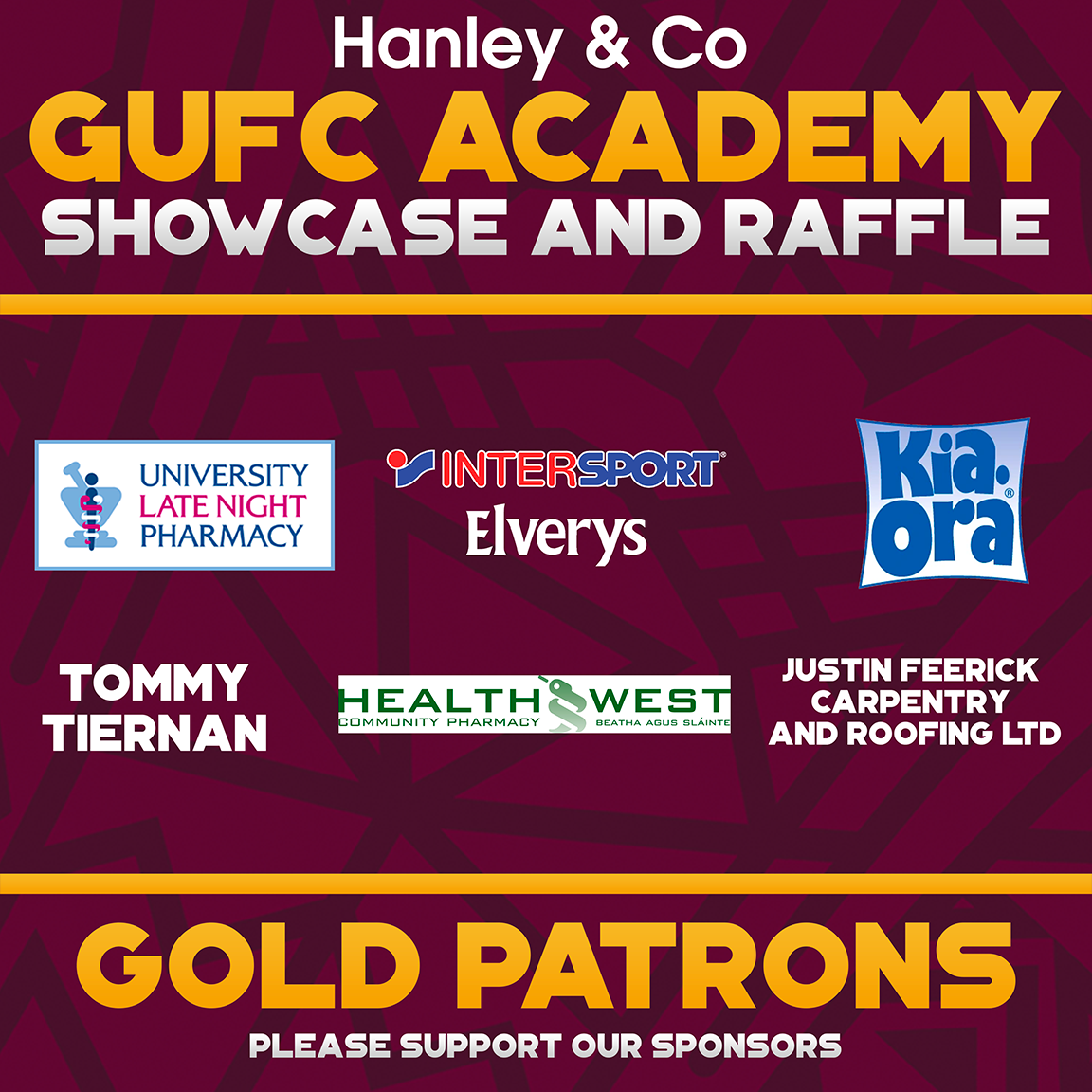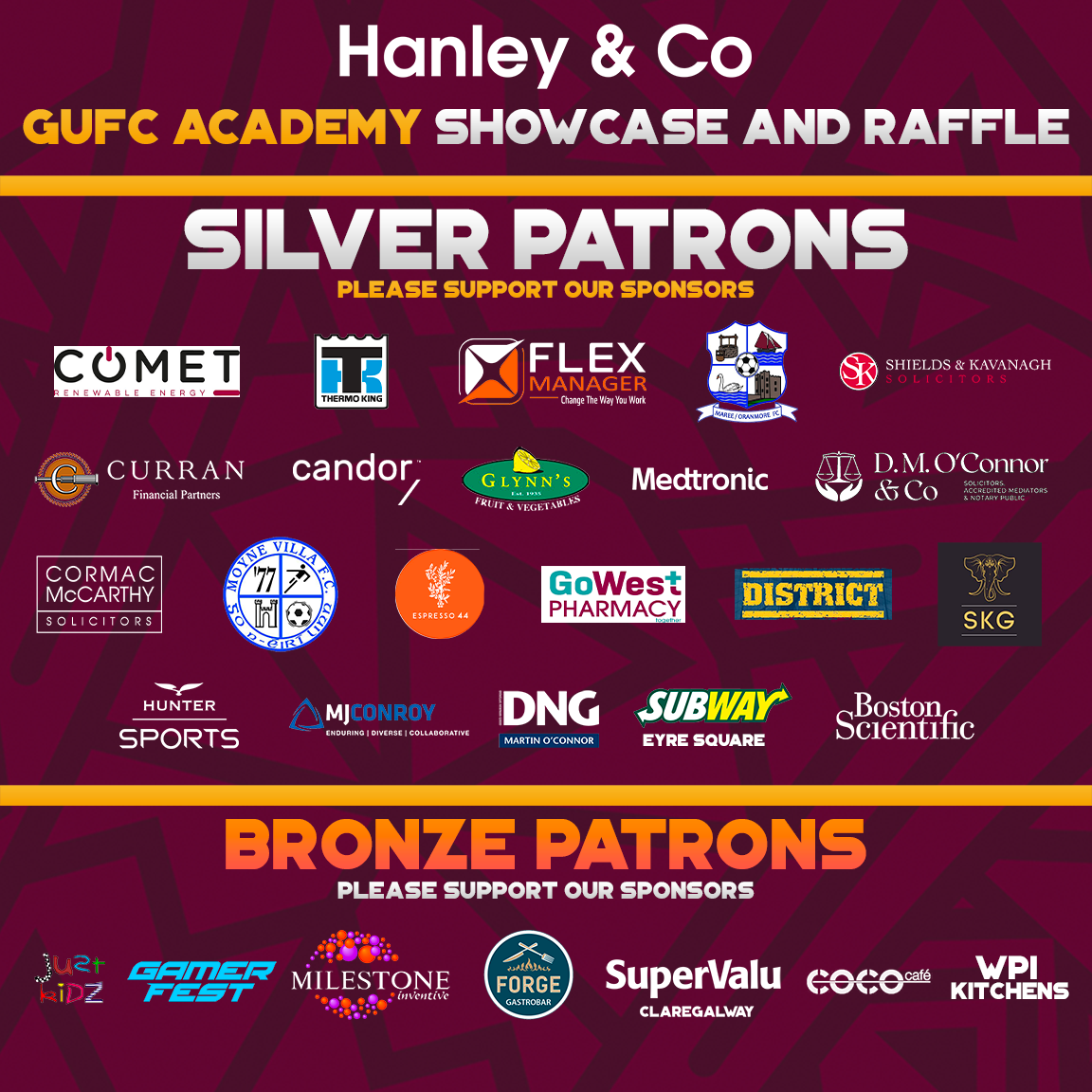 THE RAFFLE PRIZE WINNERS 🎁
Below is a list of the lucky winners of the raffle!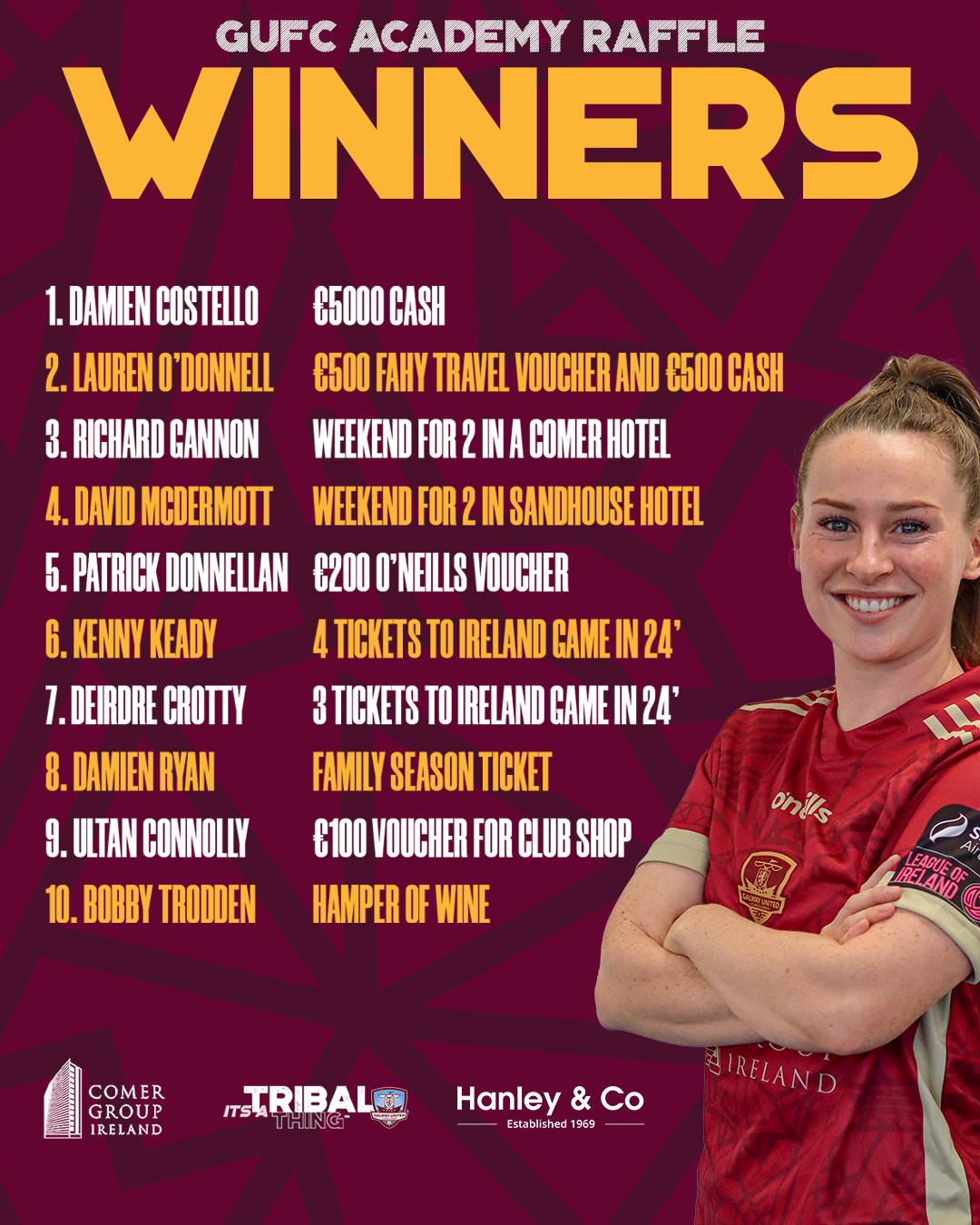 Along with being a fantastic fundraising event the day also offered the unique opportunity for all squads to meet up and get their moment in the light for all of the hard work that they put in, before the public raffle event there was team bonding  exercises and games, supplied by "Hiya" to help the players gel together and help us stand United as One, no matter which age level anyone is involved in, we are all under the one umbrella of Galway United.
WATCH IT BACK HERE IN FULL
The record breaking Galway United Academy Raffle was hugely successful and will help generations of Galway United players going forward for many years to come, a huge congrats to those involved and here's to many more successful seasons to come!