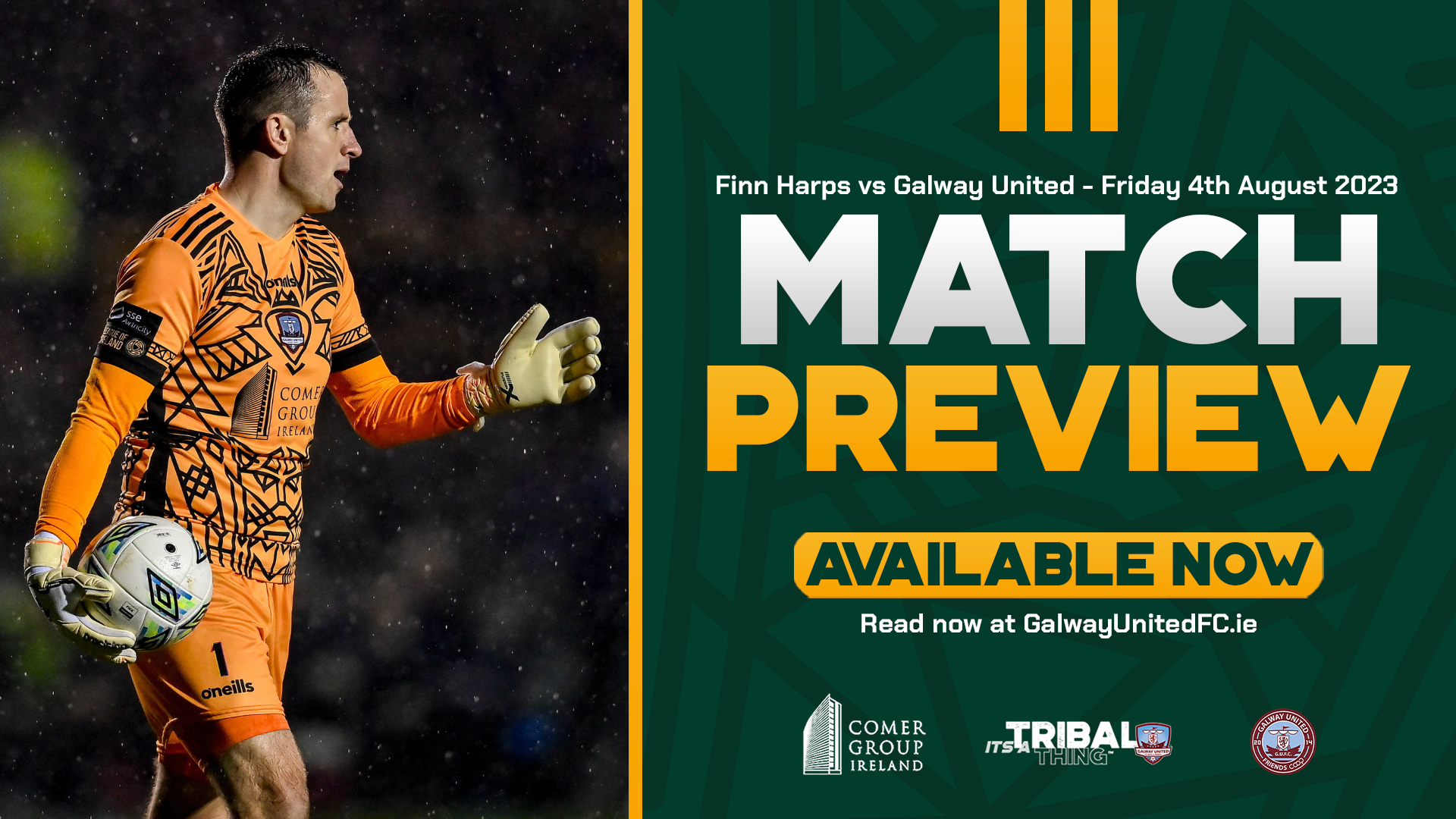 MATCH PREVIEW: Finn Harps Vs Galway United (Men's First Division)
WELCOME TO THE MATCH PREVIEW 📲
Galway United are back on the road this week as they travel the very short distance to Ballybofey, Co. Donegal take on Finn Harps on Friday evening, kick off is at 8pm.
The Tribesmen are looking to continue their great run of form, which currently sees them 18 points clear at the top of the table, and it's important they keep that form up. Meanwhile Harps also have been in good form, recording impressive wins against Kerry, Kilbarrack United and Cobh Ramblers in the league and FAI Cup in their last three games.
We have a revamped Match Preview for you this week, featuring a look at the opposition, video content of previous games, directions to the game and a brand new pre-match quiz, let us know how you get on!
Find out more about Finn Harps and all you need to know about the match by clicking into the tabs below:
ℹ️ ABOUT THE OPPOSITION
ABOUT THE OPPOSITION ℹ️
🏟: Finn Harps play in Finn Park, based in Ballybofey, Co. Donegal, which has a capacity of 4,200.
ℹ️: Finn Harps were founded in 1954 and joined the League Of Ireland officially in 1969.
: Harps sit in seventh place in the SSE Airtricity Men's First Division, with 28 points from 24 games, they have been in a good run of form recently and looking to extend that as Galway United visit Donegal.
: A key player for them this season Ryan Flood, the American has scored 9 goals and registered 1 assist so far this season and has been a real attacking force for Harps down the left hand side. Check out a video by League Of Ireland, with Ryan Flood and Conor McCormack from the start of the season.
: One to watch for Friday is Ryan Rainey, the former Wolves academy player now with Harps has been a key performer this season, and scored on the opening day of the season against United.
🇱🇻 ABOUT GALWAY UNITED
ABOUT GALWAY UNITED 🇱🇻
⏪: United's last game was a 3-0 win against Bray Wanderers at home, in Eamonn Deacy Park. With Stephen Walsh's bicycle kick stealing the show.
🗣: John Caulfield had a chat with us earlier in the week about Friday's game and he said the below:
Dave Rogers has turned it around, they're on a great run at the moment, he's completely changed his team around. It will be really difficult to face them, but we're also in good form ourselves so we're really looking forward to the game
2023 SQUAD ⚽️
Brendan Clarke, Conor O'Keeffe, Regan Donelon, Rob Slevin, Killian Brouder, Maurice Nugent, Stephen Walsh, Mikie Rowe, Rob Manley, David Hurley, Ronan Manning, Callum McNamara, Alex Rutter, Vincent Borden, David Tarmey, Francely Lomboto, Evan O'Connor, Colm Horgan, Conor McCormack, Darren Clarke, Ed McCarthy, Aaron Neary, Steven Healy, Mikey McCullagh, Oisin O'Reilly, Ibrahim Keita, Wassim Aouachria, Aodh Dervin.
TOP SCORERS 📈
2023 Goalscorers 
David Hurley – 14
Vincent Borden – 8 
Stephen Walsh – 10
⬅️ OUR PREVIOUS MEETINGS
⬅️ PREVIOUS MEETINGS
Galway United 6-0 Finn Harps
Galway United run riot in Eamonn Deacy Park last time out, winning 6-0 and scoring four goals in the opening 15 minutes, check out the highlights below.
Finn Harps 1-2 Galway United
The opening game of the season saw United grab a 1-2 victory, with a brace from Vince Borden securing the 3 points for the Tribesmen in our first game of 2023. Watch the highlights below.
🗺 DIRECTIONS
GETTING TO ATHLONE
Galway United's game is taking place in Finn Park, Ballybofey.
🚘: You can drive there from Galway City centre in roughly 3 hours, following the N17 and N15 via Sligo.
🚌: You can get a bus to Ballybofey using Bus Feda or Expressway. Both of which take roughly four hours.
🚃: We do not advise taking the train to the game, there are no train services in Donegal for the last 60 years or so, so you won't get far.
GETTING BACK TO GALWAY
🚘: You can drive back from Ballybofey to Galway City centre in roughly 3 hours, following the N17 and N15.
TRY OUR PRE MATCH QUIZ 🤔
Who scored against Bray Wanderers last time out, Stephen Walsh and? 🎯
Which Finn Harps player just left the club ahead of the game? 🔵
Keith Cowan has just left Finn Harps
What does Finn Harps twitter bio state? Our ____is better than your ____. ? 🤔
Their Twitter bio says "Our soup is better than your soup."
Regan Donelon used to play with Finn Harps before, true or false? 💭
True, as did Rob Slevin and of course, Ollie Horgan.
Finn Harps announced a new signing of a former Galway United player in a takeaway, which player was it in question? 🍟
Galway United have two games on the 7th and 11th August, who do they play?
Treaty United at home on Monday and 7th August and Waterford away, on 11th August
HOW MANY DID YOU GET OUT OF 6? 📊
WATCH THE GAME ON LOITV 🎥
If you can't make it to the game, don't worry, you can watch from afar and support United by watching on the streaming platform LOITV.
NEXT HOME GAME 🏠
Galway United play Treaty United on Monday 7th August at 5PM in Eamonn Deacy Park. Get your match tickets HERE
NEXT AWAY GAME 🚌
Galway United play Waterford away on Friday 11th August. Get your supporters bus tickets HERE