MATCH REPORT: Galway United vs Treaty United (Men's First Division)
UNITED 3-0 TREATY
Galway United eased past Treaty United in a 3-0 victory at home, with goals from David Hurley, Wassim Aouachria and Rob Manley. This result sees United now reach a landmark ten games unbeaten against Treaty in a row and are still yet to lose to the Limerick side in their history. United now have 10 games left in the league, so 10 more cup finals to go before the end of the season.
Treaty set off on the right foot early on, with Edogun forcing Brendan Clarke into a save in the very first minute, but since that United dominated the first half conceding very few chances to the away side before David Hurley and Wassim Aouachria's goals put them in with a 2-0 lead at half time. Treaty then began to grow into the game a little more in the second half, but United remained resilient and created chances, which earned them a third goal through Rob Manley for their third goal. Read a breakdown of key moments below, starting with your Galway United XI below.
YOUR UNITED LINEUP 📝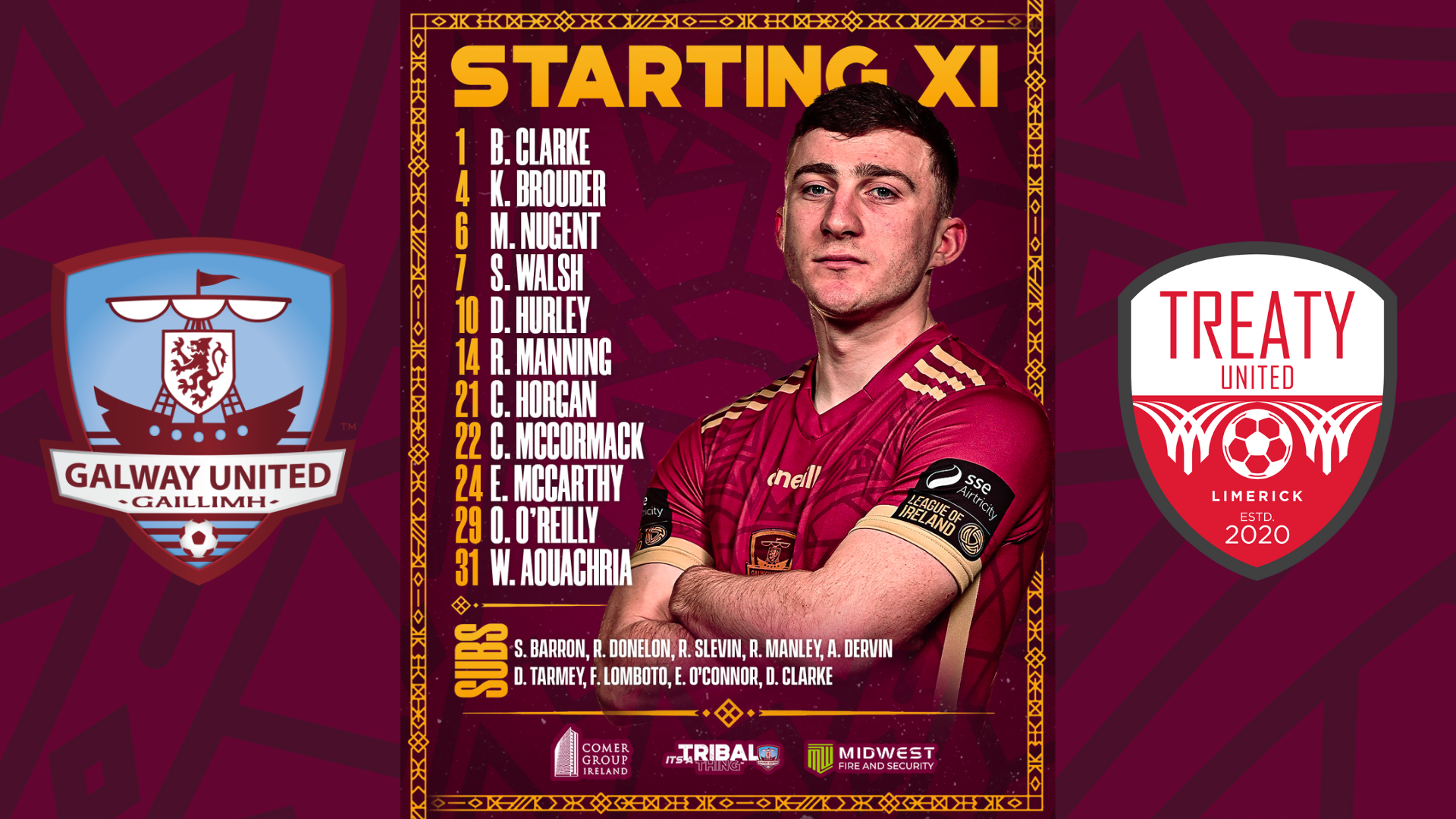 FIRST HALF
1′ TREATY ALMOST SCORE FROM THE OFF
Success Edogun finds himself through on goal just one minute into the game, but Brendan Clarke is at the ready to save one on one from a tight angle and keep the scores even very early on.
6′ GOAAAL! WHO ELSE BUT DAVID HURLEY 🎩
Wassim Aouachria is taken down in the box by Nwankwo of Treaty and earns United a penalty. David Hurley steps up and hits it into the bottom left corner, but Corey Chambers saves brilliantly. The referee then asked for the penalty to be retaken for encroachment of the goalkeepers area, and David Hurley slots the penalty into the opposite corner on this occasion and United lead 1-0 early on.
17′ AOUACHRIA ALMOST SCORES
A ball is crossed into Wassim Aouachria who heads it towards goal from 4 yards out, but Corey Chambers again rises to the occasion with a sublime reflex save to keep Treaty in the game.
20′ COREY CHAMBERS KEEPS UNITED AT BAY AGAIN
Yet again, Wassim has another chance and tests Chambers, this time he cuts inside from the right on the edge of the box, using his left foot he curls one towards the bottom left corner but Chambers gets down nicely to knock it out for a corner.
39′ GOAAAL!! WASSIM DOUBLES OUR LEAD! 🔥
Wassim's effort finally pays off as he eventually finds a way past Corey Chambers, Stephen Walsh finds himself on the egde of the box, trying to find an angle but to no avail, he slips through Wassim, who receives the ball at a tight angle on the left of the area and he finishes calmly beyond the keeper to give United a 2-0 lead.
43′ TREATY ALMOST SCORE OUT OF NOWHERE
Treaty have an attack as Devitt beats Colm Horgan down the left and crosses it for Conor Barry at the far post, he hits it towards goal but Clarke gets down to save it, in what can only be described as a world class save to deny the former United player Barry. His rebound then hits the post and United survive until half time with their 2-0 lead in tact.
SECOND HALF
46′ AOUACHRIA AND CHAMBERS AGAIN 
Aouachria again denied by Corey Chambers, this time the ball is crossed in from the left by Oisin O'Reilly to the near post, with the ball approaching at an awkward angle and Wassim moving backwards he somehow diverts it towards goal and Chambers saves brilliantly to deny him yet again.
50′ MANNING COULDN'T QUITE FINISH
A stray pass from a Treaty player finds Stephen Walsh running at the defense, with a 3v3 scenario, he delays his decision and waits for Ronan Manning to complete his run on the left, he finds him free. Manning then tries to finish from just inside the box into the bottom corner but Chambers gets down to deny him.
82′ GOAAAL!! ROB MANLEY SCORES! 🎯
Regan Donelon takes a throw in from left back which is knocked on down the left by Rob Manley to Francely Lomboto, he knocks it through the legs of the defender and bursts through the defensive line with style, he just about makes it before the keeper and shoots across him, the parried save then lands at the feet of Rob Manley who finishes calmly into an empty Treaty  net to seal the deal and three points for United in the bag.
FT: GAL 3-0 TRE
NEXT HOME GAME ⏭
Galway United play Cobh Ramblers on Friday 25th August at 7:45PM in Eamonn Deacy Park. Get your match tickets HERE
NEXT AWAY GAME 🚌
Galway United play Waterford away on Friday 11th August. Get your supporters bus tickets HERE