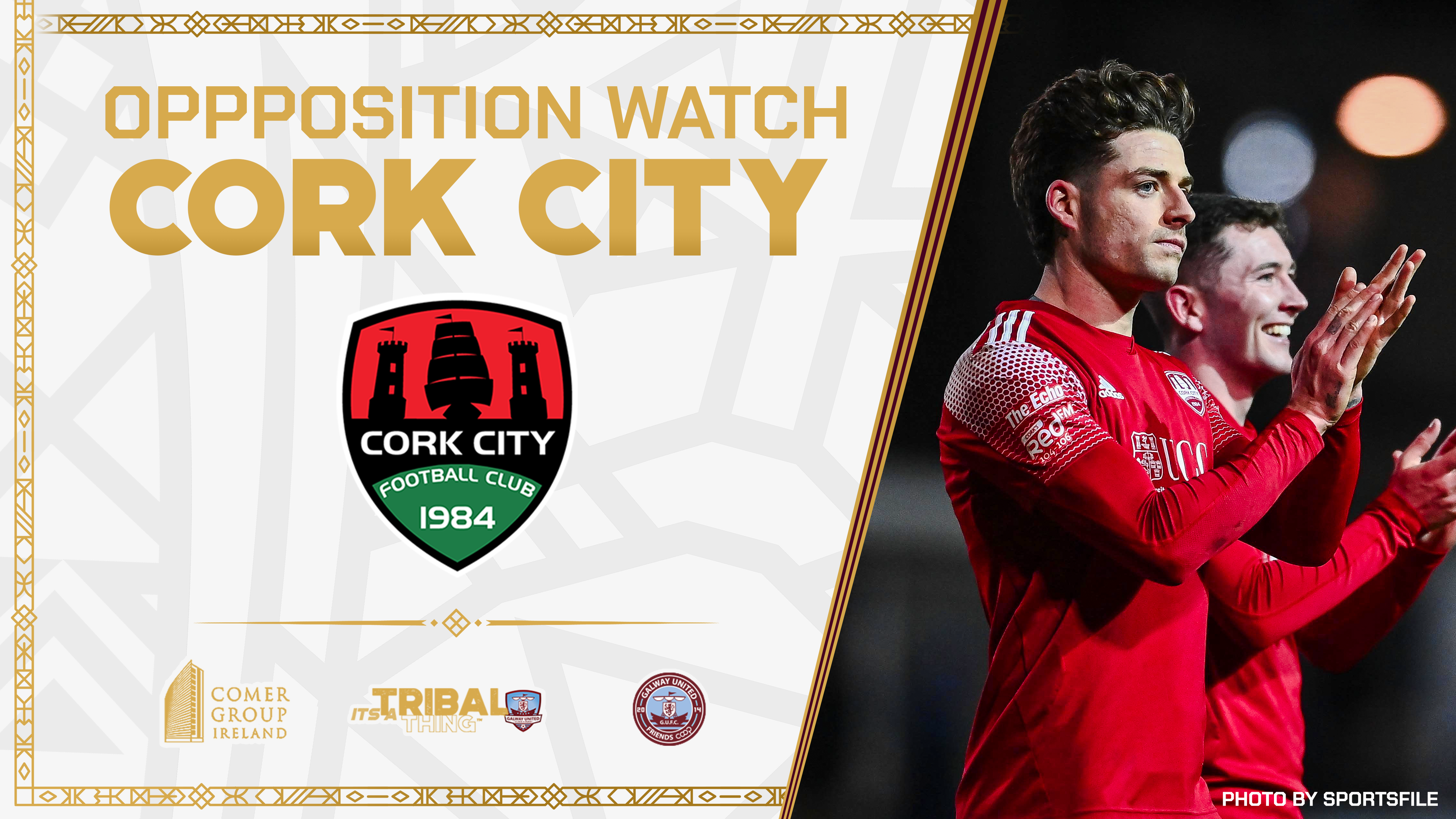 OPPOSITION WATCH – CORK CITY F.C.
This Friday we open up our 2022 league campaign with an away game to Cork City F.C. Before the game on Friday at 7:45pm, let's take a look at the opposition.
Official Name: Cork City Football Club
Nickname/s: "The Rebels" – "Rebel Army" – "City"
Founded: 1984
Home Kit:
Away Kit:
Last Game: Bray Wanderers 0-6 Cork City
Cork City won their opening game of the league campaign away to Bray Wanderers in resounding fashion, with former United player Ruairi Keating on the scoresheet. 

Form: W/-/-/-/-/
Honours: Premier Division X3, First Division X1, FAI Cup X4, Presidents Cup X3
Manager: Colin Healy
Colin Healy is a former Cork City player and Irish international, amassing 172 appearances for the rebels in his career along with 13 international caps for the Boys In Green. Healy also played across the sea in Scotland and England lining out for a number of teams, including Celtic and Sunderland.
Key Player: Cian Coleman
The 25 year old Cian Coleman, has played for a number of League Of Ireland top division clubs and has found a great run of form of recent at The Rebels. His transition from a defensive midfielder into a ball playing centre back has seen him excel and become a key contributor towards Cork City's run of form towards the end of the 2021 season. 
One to watch: Dylan McGlade
Cork City forward Dylan McGlade is certainly one to watch for City as the attacking midfielder is capable of producing some exciting pieces of magic in his free roaming role. Right footed McGlade is also comfortable playing on either wing and poses a threat to any team he faces as he shows flair in the heart of the rebels starting midfield. The 26 year old from Dublin is looking to build upon his hattrick last week against Bray Wanderers in the opening week of league action.
Stadium: Turners Cross
Turners Cross Stadium is located in the heart of Cork City just south of the River Lee. It has an official capacity of 7,485 and is one of only two stadiums in Ireland which is all seater and all covered, the other being the Aviva Stadium in Dublin. Locally Turners Cross is nicknamed the Cross and has become a fortress of football through the years in Munster as Cork had many successful periods playing here.
Interesting points and statistics:
The most appearances for Cork City is held by none other than current United manager John Caulfield, who also holds the tied record for the most goals for club, standing at 455 appearances and 129 goals. Caulfield returns to The Cross as a Tribesmen looking to take down the rebels on the opening game of the season.
Former United player Ruairi Keating's winter transfer from United to City will be a key focal point as he faces his former teammates in the heat of the battle to help the rebels fight for the 2022 league title. Keating played 46 times across two spells at United scoring 11 goals in his time here.
This game will be our 1589th competitive match at League of Ireland level and our 1330th League match (including playoffs)
We have played 4 games on that February 25th previously with 1 win, 2 draws and 1 defeat
𝗦𝗔𝗩𝗘 𝗠𝗢𝗡𝗘𝗬 𝗪𝗜𝗧𝗛 𝗧𝗛𝗘 𝗦𝗨𝗣𝗣𝗢𝗥𝗧𝗘𝗥𝗦 𝗕𝗨𝗦 🚌
𝟯:𝟯𝟬𝗣𝗠 – 𝗙𝗥𝗜𝗗𝗔𝗬 – 𝗖𝗢𝗡𝗡𝗔𝗖𝗛𝗧 𝗛𝗢𝗧𝗘𝗟 📍
🎟️ 𝗔𝗗𝗨𝗟𝗧: https://bit.ly/36vMK2b
🎟️ 𝗦𝗧𝗨𝗗𝗘𝗡𝗧: https://bit.ly/3sV2LGv
🎟️ 𝗨𝟭𝟰𝗦: https://bit.ly/3BAS3Zs
Match Tickets are available here: corkcityfc.ie
Season Tickets are available here: galwayunitedfc.ie/season-tickets