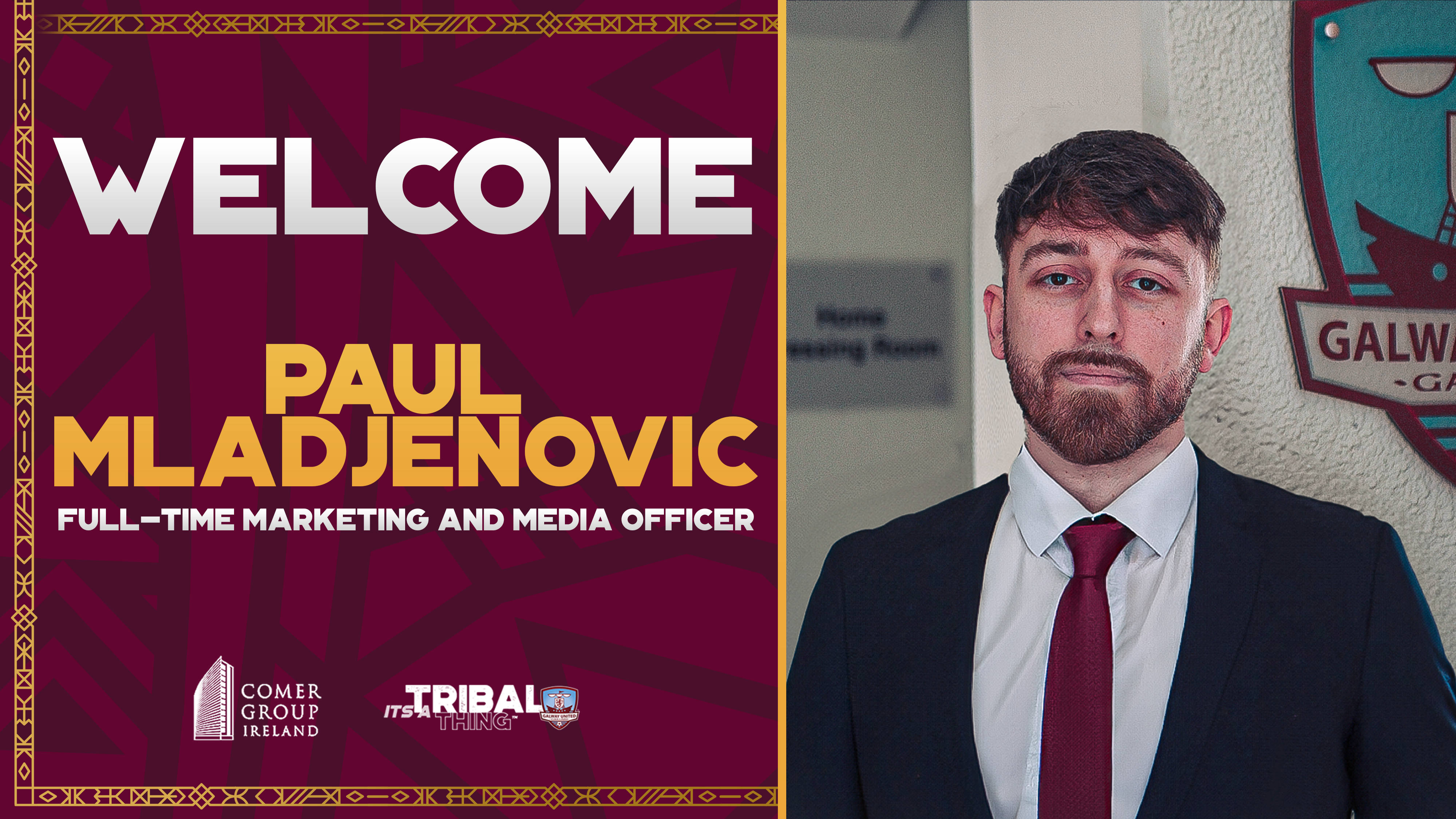 Paul Mladjenovic Joins United in Full-time Role
Galway United is thrilled to announce the appointment of Paul Mladjenovic as its new Marketing and Media Officer.
Paul's passion for football and experience in marketing and media have made him an ideal candidate for this role. The role is responsible for overseeing the development and delivery of club media content, raising the profile of Galway United, its players, coaches, academy, volunteers, partners, sponsors and community activity.
Chairperson Jonathan Corbett had this to say following the appointment:
"We're delighted Paul's back on board full-time, he volunteered with us originally and it's a great story, we really think that, working alongside all our media team volunteers, they can really develop the club content for all Womens and mens senior and academy squads."
Paul has already shown his commitment to the club, previously having volunteered with Galway United from the end of 2020 up until mid-2022 as part of the media team. During that time he developed & displayed exceptional skills in media and marketing. The experience gained in his volunteer activity with Galway United led to a role with the FAI as a Marketing Executive for the League of Ireland. In the FAI Paul gained invaluable experience working with various clubs and organisations in the Irish football community.
Paul Mladjenovic had this to say about his time at the FAI:
"Working with the F.A.I. was brilliant. There are some fantastic people in there who want the best for the league and you can start to see it paying off now. It's really on the up at the moment, between attendances especially and everything on the pitch, thanks to everyone for my time there, I can't wait to get started for United now and help bring this club back where it belongs"
Paul has also worked as a freelance content creator, providing marketing and media services to clubs and organizations around the world. His work has been recognized by companies such as FIFA, creating content around the recent FIFA World Cup and has already been working on some exciting projects with Galway United, which will be revealed over the coming months.
Everyone at Galway United would like to wish Paul every success in his new role.