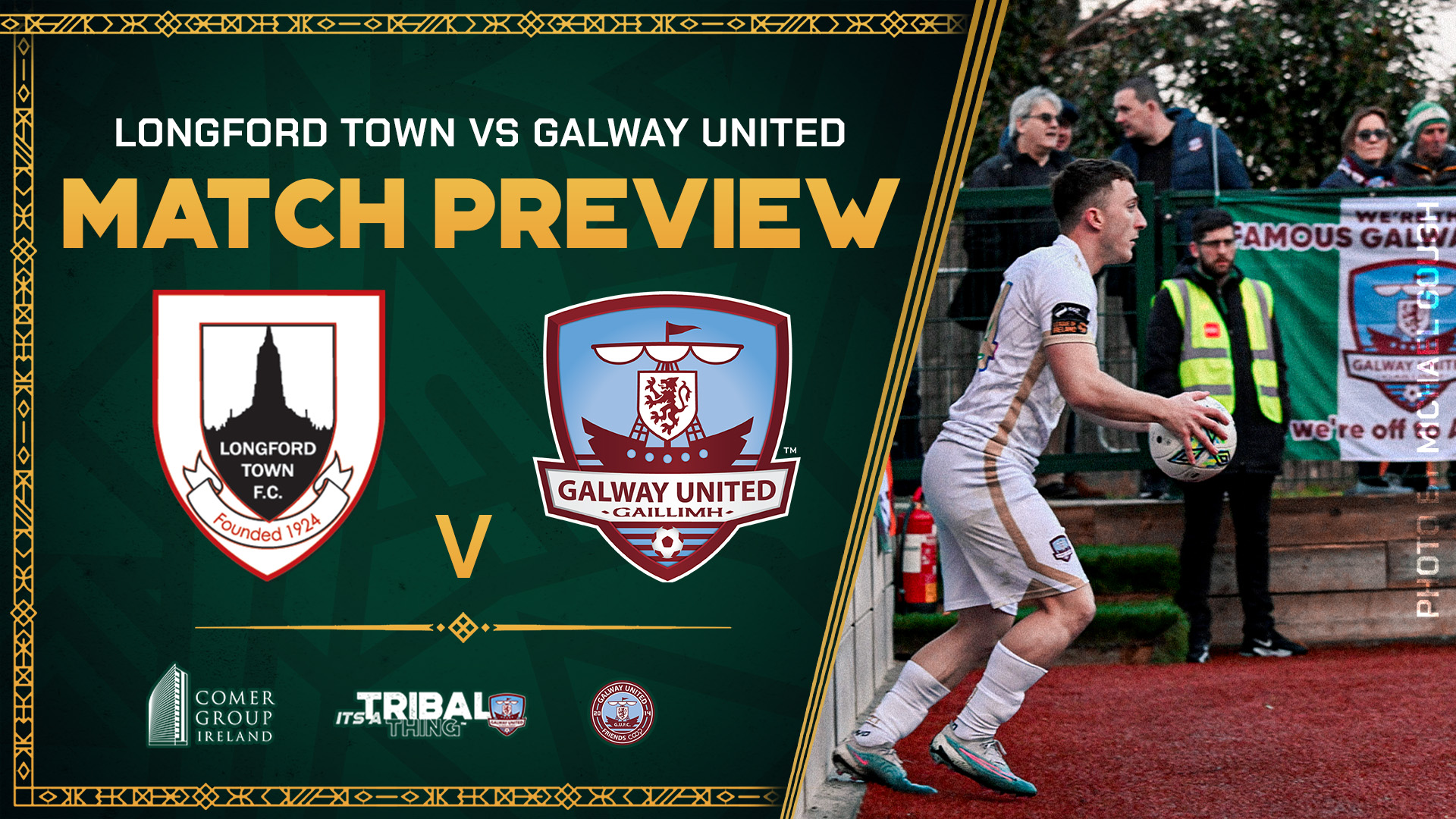 MATCH PREVIEW: Longford Town vs Galway United (First Division)
Galway United are back in action this evening to face Longford Town at Bishopsgate, a quick turnaround after Friday night's win vs Cobh Ramblers, kick-off is at 7:30pm.
United are in search of a record-equalling 12th win in a row, set by the 2015 Limerick FC side. The Tribesmen will be calling for another strong travelling support to help them over the line.
The last time the sides faced each other at Bishopsgate was in the first leg of last season's First Division playoff semi-final, where a brace from Mikie Rowe cancelled out an earlier brace from former United forward, Jordan Adeyemo.
Last Meeting
Galway United 1-0 Longford Town
Galway United continued their perfect start to the season with a hard-fought victory over Longford Town at Eamonn Deacy Park on 26 March.
Darren Clarke broke the deadlock with 15 minutes remaining to send United six points clear at the top of the table.
How to Watch
The game will be streamed live on LOITV HERE.
Travelling to the game? The GUFC Co-Op is running a supporters' bus, which leaves the Connacht Hotel at 4:30pm, and stops at the Maldron Hotel, Oranmore at 4:45pm.
Less than ten seats remain, book HERE.
Match tickets can be purchased HERE.
Next Home Game
United are back in action on Friday, 5 May, against second-placed Waterford FC and are looking to replicate the incredible atmosphere from last Friday's capacity crowd against Cobh Ramblers.
Match tickets can be purchased HERE, or in person at O'Brien's Newsagent on William Street.
2023 Squad
Brendan Clarke, Conor O'Keeffe, Regan Donelon, Rob Slevin, Killian Brouder, Maurice Nugent, Stephen Walsh, Mikie Rowe, Rob Manley, David Hurley, Ronan Manning, Callum McNamara, Alex Rutter, Vincent Borden, David Tarmey, Francely Lomboto, Evan O'Connor, Colm Horgan, Conor McCormack, Darren Clarke, Ed McCarthy, Aaron Neary, Steven Healy, Mikey McCullagh, Oisin O'Reilly, Ibrahim Keita.
2023 Goalscorers
Vincent Borden – 8
David Hurley – 5
Stephen Walsh – 5
Ed McCarthy – 3
Ibrahim Kieta – 3
Rob Slevin – 2
Francely Lomboto – 2
Darren Clarke – 2
Ronan Manning – 1
Killian Brouder – 1
Mikie Rowe – 1
Colm Horgan – 1