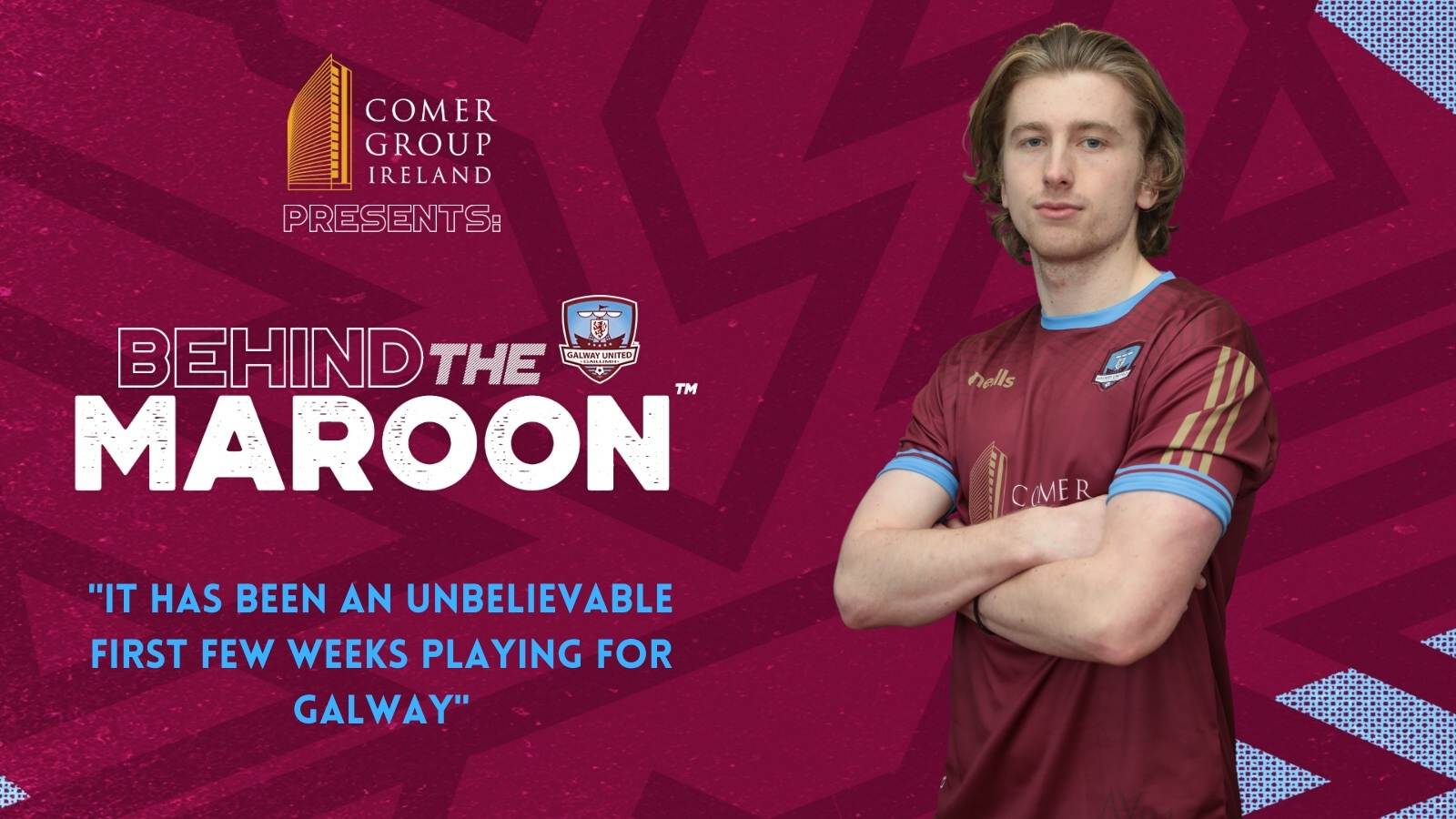 Behind The Maroon with David Hurley
"It has been an unbelievable first few weeks playing for Galway"
David Hurley joins Galway United after impressing for Cobh Ramblers last season. Club reporter Tom Byrne sat down with the Cork native to discuss his football journey so far, which includes playing for Ramblers, representing his country at the University Games, and settling into Galway.
Like many youngsters growing up in Cork, David Hurley had one main sporting hero.
"It's always been Roy Keane," says the 22-year-old. "Especially with him being from Cork and playing for Cobh Ramblers. I'm a Manchester United supporter as well, so it was always great following Keane from a young age. He was an unbelievable player."
Hurley, a midfielder himself, started out in youth football with local side Tramore Athletic, before joining Avondale United after Under-13 level. He would later join Ringmahon Rangers and spend three years with the schoolboy club, before moving to First Division Cobh, Keane's one-time club, in 2016. On the way, he rubbed shoulders with some top talents.
"I was on the same team as Liverpool's Caoimhin Kelleher at Ringmahon," he says. "We won two leagues, a local cup and got to a national final before I moved to Cobh.

"I had just finished at Under-18s with Ringmahon and then I joined Cobh's academy," he adds. "I played for Cobh Under-19s for a year and a half and joined the senior team in 2017. We had a brilliant season with both the Under-19s and the first-team that year. We finished top of the Under-19 Southern Division, and second in the First Division with the seniors. I made four appearances for the first–team that season, so it was a great experience for me."
In all, Hurley would spend four seasons plying his trade at senior level at St. Colman's Park, making 82 appearances for the Rams.
"I had to learn quickly when I made the step up with Cobh," he says. "Stephen Henderson (Former Cobh coach) was very helpful and kept faith in me which gave me confidence.

"I have some great memories of my time there. Beating Dundalk in the EA Sports Cup semi-final in 2018 was the best moment, it was a brilliant occasion. Playing Derry in the final was also fantastic, even though it didn't go the way we wanted it to."
Hurley, who attended University College Cork while playing for Ramblers, also represented Ireland in the 2019 University Games in Naples, alongside his new Galway United teammate Maurice Nugent.
"It was an honour to represent my country," he says. "It was a competitive environment as well, so it was brilliant. The opening ceremony was something special, walking out in the then–San Paolo stadium in front of 40,000 was surreal.

"We played countries like Russia, South Korea and Uruguay, teams you never get the opportunity to play against. It was with a group of lads your own age too, so we all got along. It was such an experience."
Hurley signed for Galway United in November 2020, a move Hurley says he couldn't turn down after talking to United boss John Caulfield.
"John outlined the vision of the club to me and it convinced me to join Galway," he says. "If John is going to do something, it will be a full commitment and he will go for it. The objective is to get out of this division and win the league. After talking to John, you get his hunger and desire to win straight away. It really rubs off on you and it was a no-brainer to move west. Galway United is such a big club, the facilities here are top class and it is a club that deserves to be in the Premier Division."
Hurley has appeared in all three of United's pre-season games to date, and has been impressed by Caulfield's guidance.
"The training is intense but in a good way," he says. "It was a tough transition from training two or three times a week to training five times a week, but I have adjusted to it now and I have also got to know all my teammates.

"You learn a lot from John," he adds. "When he gives you advice, you take it on board. He wants to help you, which will in turn help the team. He's a manger whose reputation speaks for itself. All the players buy into his plans, and we're all loving pre-season so far."
Hurley, who can operate in a number of positions beyond central midfield, is keen to take advantage of the full-time training, calling it a "luxury."
"When I finished college I was working full-time in a stock room in Cork," he says. "It was one of those jobs where you were working 8 p.m. to 5 p.m., coming home and then going to training. When you are at training, then, you can't give 100 per cent as you don't have your full energy. With full-time training in Galway you have a structure, so there are no excuses not to give 100 per cent and to improve as a player.

"Hopefully I can play as many matches as I can this season and help the team with goals and assists," he adds. "It's one of those things, if you can contribute to the team it will help to get us positive results. That's what it is all about in the end — I'm willing to do any job that the manager asks of me."
Hurley knows the First Division won't be an easy one to escape, but is relishing his first campaign in the maroon.
"It is going to be tough this season, there are some very good teams," he says. "But we are striving to be the best. We want to stay as consistent as possible and get on a run of winning games. Hopefully that will be good enough to earn promotion.

"It has been an unbelievable first few weeks playing for Galway," he adds, reflecting on his short time in the city to date. "It's been great getting to know the lads and we are all there to train to the best possible standard that we can. I'm loving it at the moment and hopefully, it can only get better."
David Hurley is sponsored by Galway United Exiles