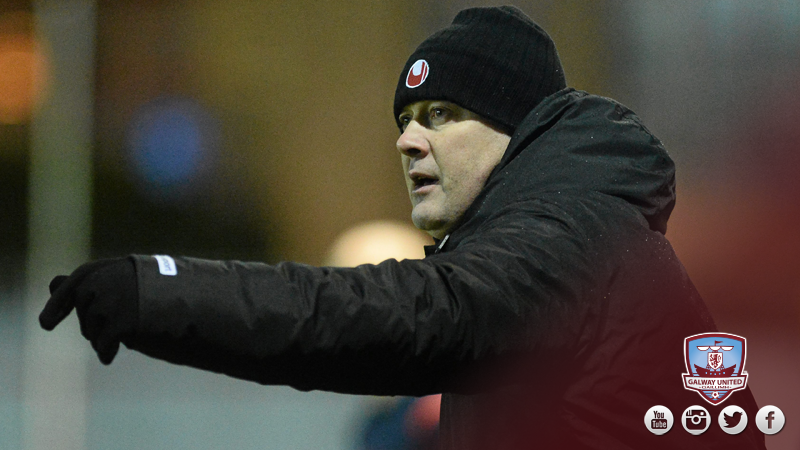 DUNNE: "It was disappointing."
In what was a trying encounter for a much changed United side, it was no less difficult for Galway United manager Tommy Dunne to hide the disappointment of the defeat at the Markets Field.
"It was disappointing, we brought in some players, we made changes. To be honest, the changes didn't hugely affect the game as regards our team trying to be on top. We are disappointed," he explained.
Limerick were the dominant side in the first half and the hosts created all of the chances.
"Limerick controlled it in the first half, but when we had the ball we gave it away too much, simple. They got into certain areas of the pitch at different times. In wide areas they had good danger, we didn't deal with their wide players well enough. There is a lot of food for thought there, but it gives us an indication that we were a little bit off."
In the second half, it seemed as through the Tribesmen started the half well, only to be sucker-punched, with what might have been an offside goal.
"I thought it was offside myself, but in saying that, we needed to react better. We gave the ball away, but listen Limerick fully deserved their win. It gives us a reminder that unless we are at full strength and playing what we would regard as our top players then we are going to find it difficult.
"It is a bit of a fixture nightmare for us at the moment. We played on Tuesday in Limerick, we have to go to Dundalk on Friday. We have another game on Tuesday (against St Patrick's Athletic) so we had to mix it up. Otherwise you would be bleeding players dry. We had to use one or two because of injuries, we had four out injured that would be potential starters for us. That is causing us a few problems too."
Dunne was able to take some positives from the night, however few.
"I thought Jesse Devers when he came on looked lively. Armin got through a full 90 minutes, he looked okay. Outside of that, there wasn't a huge amount for us."
Kevin Devaney who made an excellent start to the season will have been sidelined for almost a month when United visit Dundalk on Friday, but Dunne was hopeful he would play some part.
"Kevin will be there or thereabouts. Whether he starts or not we aren't sure yet. We have a few niggly injuries, Ryan Connolly still has a bit of a niggle. We tried to change it up in Limerick, but Vinny Faherty will come back into the frame for Friday as will the players who were rested."
The Tribesmen face another difficult game on Friday night against Dundalk in Oriel Park, which will be televised live on Setanta Ireland.
"We are going to Dundalk to face the champions, then we have Pat's on Tuesday at home. We have difficult matches coming, but we know that. We have picked up 18 points, we need to do that in the next phase," Dunne concluded.