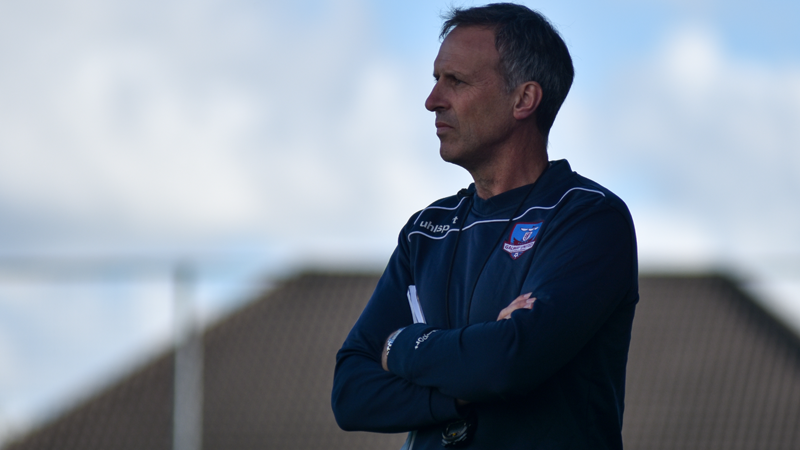 Glynn appointed Head of Football Development
Galway United are delighted to announce that Johnny Glynn has taken up the role of Head of Football Development at the club.
Glynn guided Galway United's under-19 side to the final of the U19 League in October, in his second season in charge of the club's underage side.
As well as his new role as Head of Football Development, Glynn will also be joining Shane Keegan's backroom team as First Team Coach.
Glynn is a highly regarded coach in League of Ireland football circles and the former striker cemented his place in Galway sporting history when he scored the winning goal against Shamrock Rovers in the 1991 FAI Cup final.
Establishing a Galway United academy and overseeing the club's underage development is a challenge that Glynn is relishing.
"I want to make sure that every young player gets the opportunity to progress through to fulfil their potential", Glynn remarked.
"We have a great opportunity in Galway in terms of player development. Last year we did really well and we showed what we could do with some talented players from Galway city and county, Clare and Mayo, which was back-boned by a solid structure and good coaching staff.
JOHNNY GLYNN: "We need to be unique, different and ambitious with our ideas and we have to set our stall out so that in the future, our players will be filtering through to the senior team."
Galway United under-19s enjoyed a hugely competitive 2016 campaign and Glynn hopes to see a pathway for players to progress through at the club.
"It's very important that we're realistic," he warned.
"Hopefully a number of under-19 players from last year will break through in 2017, but it's a big step and it has to be done carefully and I think Shane Keegan understands that well.
"In the future we can look forward to having a higher volume of underage players in the team. At the moment there are lots of Galway players around the country and in the UK. We need to make sure that we're not missing out on players and we've got to ensure that the young players have a path in Galway to get to the highest level and that we're encouraging that and helping with that development.
"It will take time, it won't happen overnight, it will be a gradual process," Glynn concluded.
Galway United boss Shane Keegan heralded Johnny Glynn's appointment as a hugely significant development for the club.
"It's another absolutely fantastic addition to the club overall. I was very keen from day one to get Johnny Glynn involved.
"I know Johnny for a long time. We did our UEFA PRO licence together, so we've got on for a very long time. Johnny's got an absolute wealth of football knowledge and particularly Galway football knowledge, so he was a huge part of trying to get the right infrastructure in place at the club, I'm so delighted that we've managed to get him on board.
SHANE KEEGAN: "Johnny is a brilliant developer of talent, he's a guy that thinks very deeply about his coaching style and practices and that has paid off very handsomely for the players under his tutelage.
"There are quite a few players in the Galway United setup at the moment who would've played under Johnny while he was manager of Mervue United in the First Division. He had a remarkable season where he took Mervue United to the playoffs, which was brilliant when you consider the financial constraints he was working under.
"He's a guy who just develops talent and helps players fulfil their potential and it's something that we really want to do at the club. We want to help players and give them every chance to fulfil their potential and he's certainly a key man in doing that.
"If you talk to football people in Ireland, you'll find he's one of the most respected opinions that people will seek. Johnny has a wealth of knowledge in terms of player development and structures, he's going to be worth his weight in gold to me and I can't wait to start working with him at Galway United."