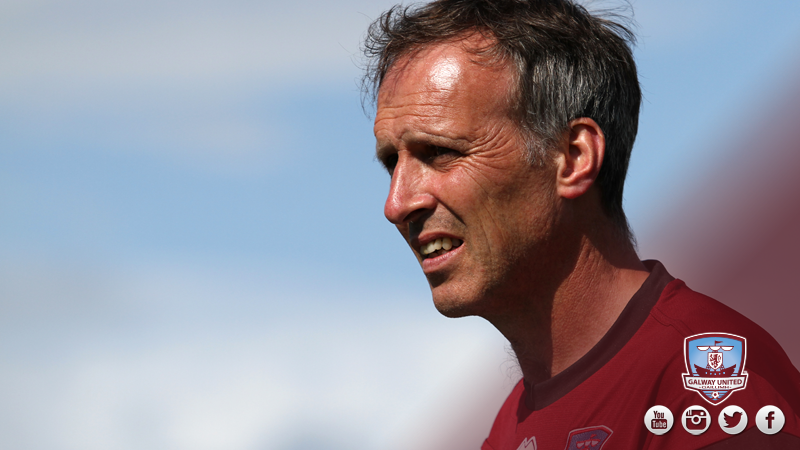 Glynn takes the positives from Rovers stalemate
Galway United under-19 manager Johnny Glynn was enthused by his young sides performance against Shamrock Rovers at Eamonn Deacy Park on Saturday afternoon.
United drew 0-0 with the Hoops but the home side forged the better chances in the game and Glynn feels his side will only improve in the coming months.
"It's hard to know what to expect this early in the season, but after the game, we're really disappointed we didn't get three points.
"In the first half, I thought it was maybe 60/40 to Rovers, we sat off them and let them play but I still thought we created the better chances. Second half, we totally dominated the game. I'm very happy with the performance but we've got a lot to build on.
"The players did well at the back, Pat (McHale) was making his debut in goal and I thought he did well. That back four were playing together for the first time. It's a big thing for them and they handled Rovers very well.
"Evan (Murphy) had a good game along with Maurice (Nugent) and the full-backs were strong. We lost Gary Kinneen early in the second half, Mikey Whelan came in, he's only 16 but he did very well.
"I thought we dominated in midfield in the second half and the front lads were always a threat. We created some good chances, I thought Aaron Conway was superb in the centre of midfield. He's a great find for us and a player for the future."
United's backline restricted Rovers to few chances in the game but Glynn was pleased with the work his attacking players did in the game also.
"Evan Cusack and Ciaran Nugent did well and Joe Maclean is a big threat in behind and Andrew Connolly was unlucky not to score. We're going to try and keep everybody fit, healthy and focussed for the next game against Cobh Ramblers, which isn't for two weeks so we've a lot to build on.
"We shouldn't look too much into the result, we've come up against a good side, we showed we're every bit as good as them."