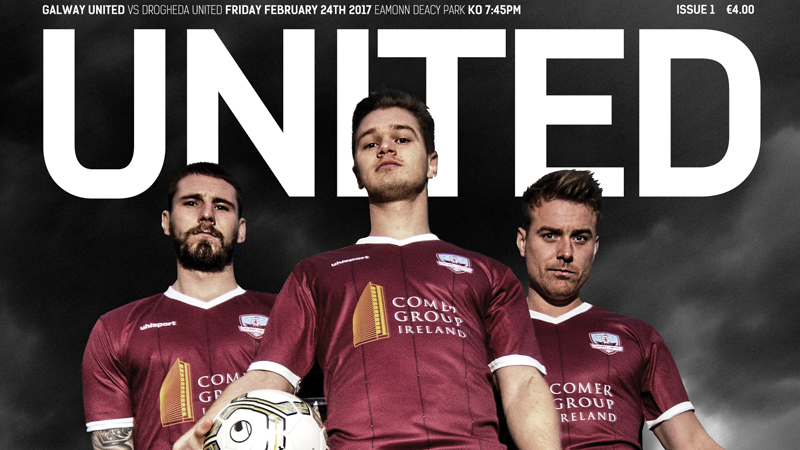 Maroon View Preview – Season Opener
A new season means a bigger at better version of Maroon View, Galway United's official match programme.
The team behind Maroon View have been working hard on ways to improve our official match programme over the off-season, which includes an updated design, full colour, premium paper programme with a different printing material. Maroon View has more content and more new features than ever before, such as a completely redesigned stats zone by Shane Crotty.
Issue 1 of Maroon View is a 52 page publication that we're sure our supporters will really enjoy!
Copies of Maroon View will be on sale inside and outside of Eamonn Deacy Park, so be sure to support the club by picking up your copy for just €4 at Friday's game!
Here's a preview of what can be seen in the first issue of 2017 from the visit of Drogheda United.
PREVIEW
Chairman Jonathan Corbett says United will work hard on crowds this season
Editorial looks at the season ahead and says there will be a special buzz in Terryland
From The Dugout: Shane Keegan praises established players for their welcome given to new recruits
Captain's Log: Colm Horgan says United can compete against the best teams
Head Of Football Development Johnny Glynn looks at the season from Under-15s up
The Galway Girl: GWFC Notes
Kevin Darcy's Head Physio Notes
From The Archives: Keith Kelly looks at old clashes with the Drogs
Vinny O'Connor has two-page interview with Gavan Holohan
Paul Corcoran praises Eir for their LOI coverage
Corribside Column: Cian O'Connell remembers Graham Taylor
Trevor Murray: United should aim big
Woodquay Wanderer: Bernie O'Connell says the challenge is to get Galway public behind United
Maurice Brosnan looks at the example of the revolution in the MLS
Programme From The Past: Tom Timothy goes back to 1990
Where Are They Now? Mike Quirke
Poster: Vinny Faherty
Co-Op Notes: Gavan Duffy looks at the example of Motherwell FC
Dominick Walsh's RISSCW & GUST notes
Fan United: Sean Walsh
Q&A: Paul O'Brien with Shane Keegan
Getting To Know The Opposition: Drogs fan Kieran O'Sullivan
U19 Player Profile: Ronan Manning
U17 Player Profile: Nathan Healey
Half-Time Guests: Oughterard FC
Welcome to Our Mascots
Stat Zone
Punter's Stand: Julian Canny
Social Media Round-up With Kevin Brett
Quiz with Eamonn Dillon