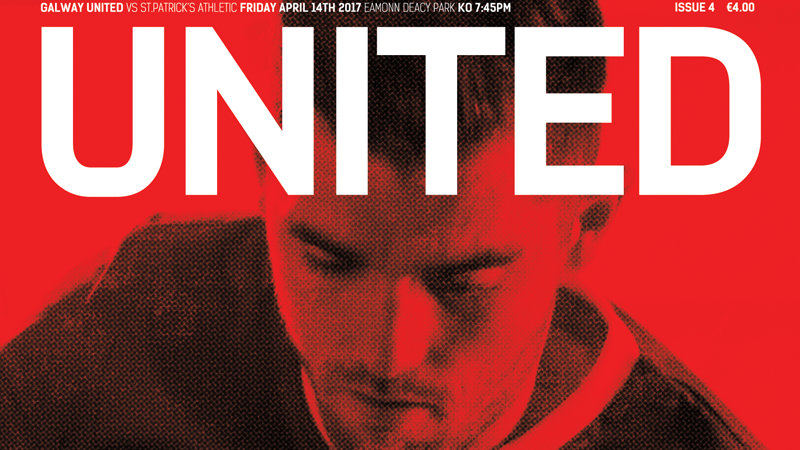 Maroon View Preview | St Patrick's Athletic
The fourth issue of Maroon View is a 52 page publication for the Good Friday meeting of Galway United vs St Patrick's Athletic at Eamonn Deacy Park!
Copies of Maroon View will be on sale inside and outside of Eamonn Deacy Park for the visit of Liam Buckley's side on Friday evening, so be sure to support the club by picking up your copy for just €4!
Here is a preview of what can be seen in the fourth issue of 2017 from the visit of St Patrick's Athletic.
Editorial: Keep faith in this team
From The Dugout: Players and supporters give me hope in tough time
Captain's Log: This is my toughest article to write yet
Johnny Glynn: Head Of Football Development Notes
The Galway Girl: Dramatic win for the ladies
From The Archives with Keith Kelly
Report from Bray defeat
Bray've times – Paul Corcoran
Dominick Walsh recalls St Francis FC
Half-time guests: Killultagh Pioneers
Bernie O'Connell's Woodquay Wanderer
Maurice Brosnan: Football needs to united in Ireland
Programme From The Past recalls a classic against St Pat's from 2001
Q&A with Jesse Devers
Poster: Ronan Murray
Where Are They Now? Ricky O'Flaherty
Fan United with American Keith Cloonan
Getting To Know The Opposition with Dermot Looney
U19 Player Profile: Mikey Lynch
U17 Player Profile Harry Rogers
Gavan Duffy reports from ISN meeting
Stats Zone with Shane Crotty
Punter's Stand with Julian Canny from Belfast Social Media
Round-up
Quiz