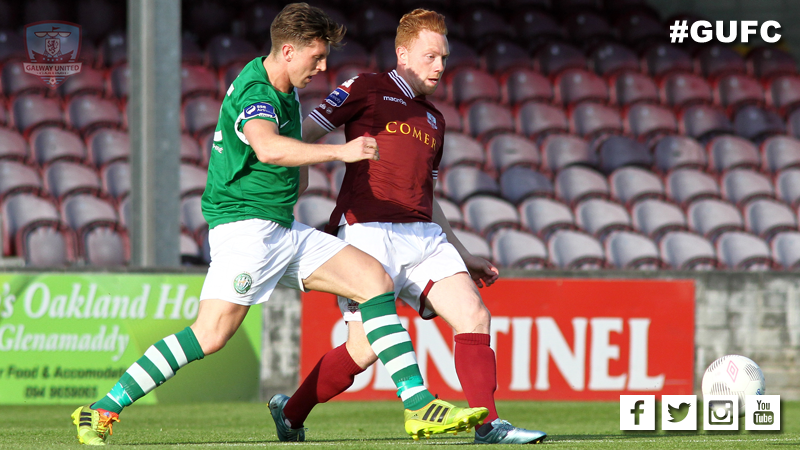 Match Preview: Bray Wanderers v Galway United
GALWAY UNITED ARE RUNNING A €5 RETURN SUPPORTERS BUS TO SATURDAY'S GAME AGAINST BRAY WANDERERS AT THE CARLISLE GROUNDS. FOR FULL INFO, CLICK HERE.
Galway United travel to the Carlisle Grounds on Saturday evening for a crucial league assignment against Bray Wanderers. Kick-off: 5.45pm.
Saturday's clash is the Tribesmen's final league game away from home this season and the result will go a long way in determining what division Galway United ply their trade in come March 2016.
Galway United will know what sort of result is required at the Carlisle Grounds after an important round of fixtures takes place tonight, but manager Tommy Dunne insists his players are focused solely on their own game against the Seagulls and nobody else.
TOMMY DUNNE – "WE HAVE TO TAKE CARE OF OUR OWN BUSINESS"
"It's vitally important that we focus in on Bray and go for the win," Dunne explained to www.galwayunitedfc.ie.
"We have to take care of our own business. We've got to focus on our own game. Then you don't complicate things. You've got to look after yourself and nobody else. If you don't, then you're asking for trouble.
"We've got to go to Bray with the same attitude and desire that we possessed in Oriel Park. Bray are a hugely improved side under Mick Cooke, who has done a fantastic job. We know it will be a difficult assignment.
"Bray are strong all over the park, Mick Cooke and Harry Kenny are an experienced duo, they know what they're doing and they know what's needed. So we must be positive and sharp in our play and in our approach.
TOMMY DUNNE: We're not focused on other teams, the focus is purely on the game in hand against Bray."
"We have to carry the momentum from the Dundalk game into Saturday now. That's the level that will be required at the Carlisle Grounds. That level of effort and commitment. We must keep ourselves focused and do everything we can to win the match.
"Our mindset is focused. We're up for the game and keen to pick up a positive result. It's a difficult game, but we're going into the last two matches of the season with a chance, but we have to get over the line. There is still a bit of football to be played between now and the end of the season."
TEAM NEWS
Stephen Walsh is suspended after accumulating 5 yellow cards.
Kilian Cantwell will miss the rest of the season with an ankle injury. He joins Alex Byrne (groin), Jason Molloy (thigh) and Padraic Cunningham (knee) on the sideline.
REFEREE
Ray Matthews
GALWAY UNITED GOALSCORERS
Jake Keegan – 16 (12 league goals, 4 cup goals)
Enda Curran – 12 league goals
Padraic Cunningham – 7 (4 league goals, 3 cup goals)
Gary Shanahan – 5 (3 league goals, 2 cup goals)
Ryan Connolly – 3 league goals
Samuel Oji – 2 league goals
Jason Molloy – 1 league goal
David O'Leary – 1 league goal
Andy O'Connell – 1 cup goal
FORM GUIDE
Bray Wanderers – LLLLD
Galway United – LLWLD
LAST MEETING
24/7/15 – Galway United 0-1 Bray Wanderers