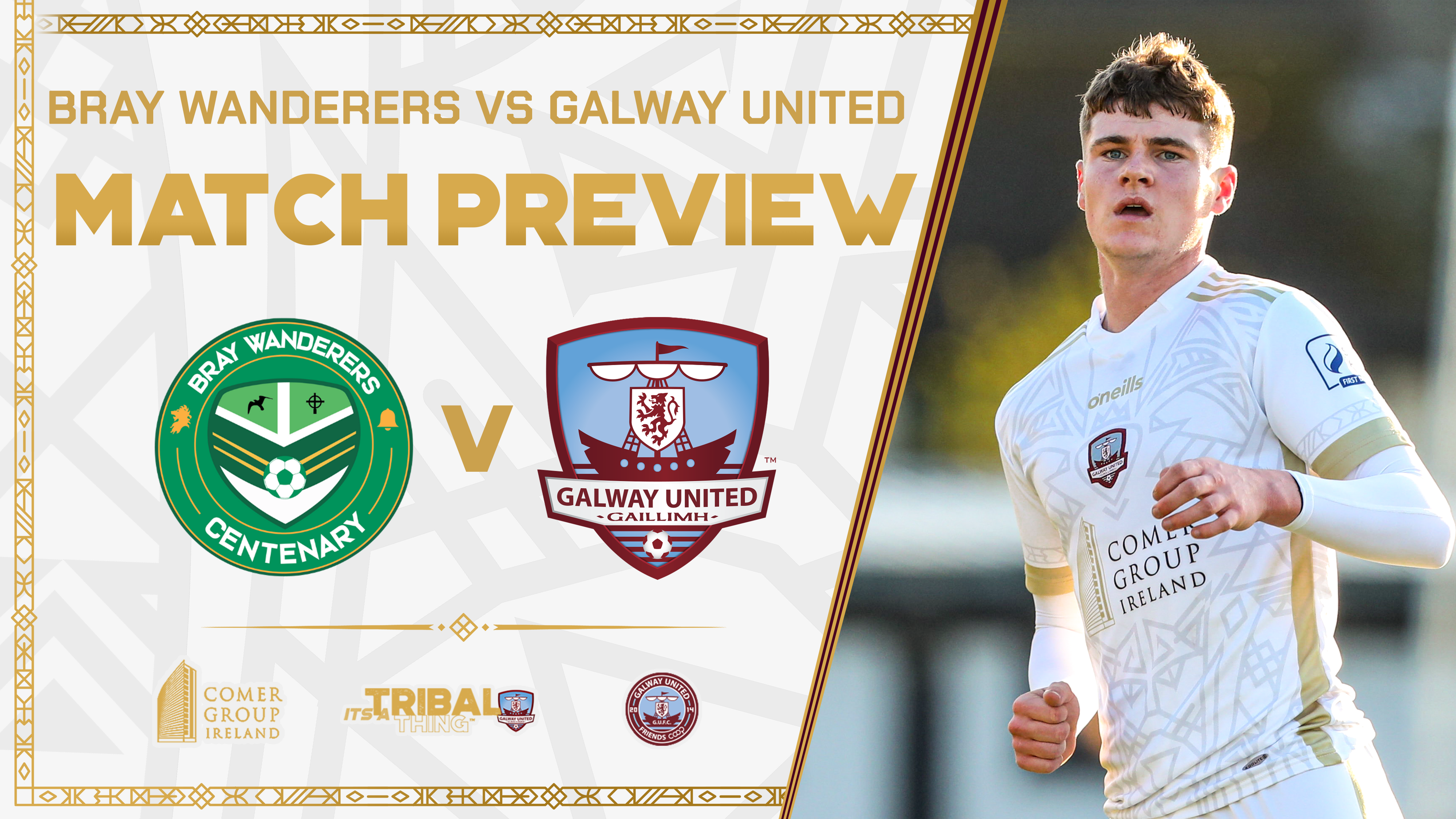 Match Preview | First Division | Galway United V Bray Wanderers
'We are looking forward to our first game back after the break" – John Caulfield, Manager
Galway United travel to the Carlisle Grounds this Friday to face Bray Wanderers – Kick-off at 7.45 pm

After seven consecutive victories, the Tribesmen's winning run came to an end before the midseason break with a one-nil defeat to league leaders Cork City.
While league action did return last week, United had a bye week and took a watching brief. Bray on the other hand travelled to Longford and played out an entertaining 1-1 draw.
Rob Manley scored the opening goal for Pat Devlin's side at Bishopsgate in a result that keeps the Seagulls in the playoff hunt.
After a three-week break manager, John Caulfield is looking forward to returning to action.
"We are looking forward to our first game back after the break," Caulfield told the club's media team.
"After a slow start, Bray have improved significantly, they played Longford last week and were very impressive."
"We always know how difficult it is to go to the Carlisle Grounds but were looking forward to the match"
Galway United 2022 Squad
Conor Kearns, Matthew Connor, Conor Brann, Conor O'Keeffe, Stephen Walsh, Charlie Lyons, Killian Brouder, Diego Portilla, Evan O'Connor, Oisin O'Reilly, Alex Murphy, Ronan Bambara, Max Hemmings, Gary Boylan, Mikie Rowe, David Hurley, Conor McCormack, Caoilfhionn O'Dea, Edward McCarthy, Manu Dimas, Shane Doherty, Jordan Adeyemo, Ronan Manning, Wilson Waweru, Francely Lomboto.
Galway United V Bray Wanderers
17/06/2022
Carlisle Grounds
Referee: Kevin O'Sullivan
Assistants: Alan Dunne & Ciaran O'Reilly
Fourth Official: Rob Dowling
2022 Goalscorers
Stephen Walsh – 8
David Hurley – 5
Manu Dimas – 3
Edward McCarthy – 3
Wilson Waweru – 2
Ronan Manning – 2
Max Hemmings – 2
Killian Brouder – 2
Alex Murphy – 2
Jordan Adeyemo – 1
Shane Doherty – 1
Last Meeting (First Division)
22nd April 2022 | Galway United 2-0 Bray Wanderers
The game will also be live-streamed on LOITV.