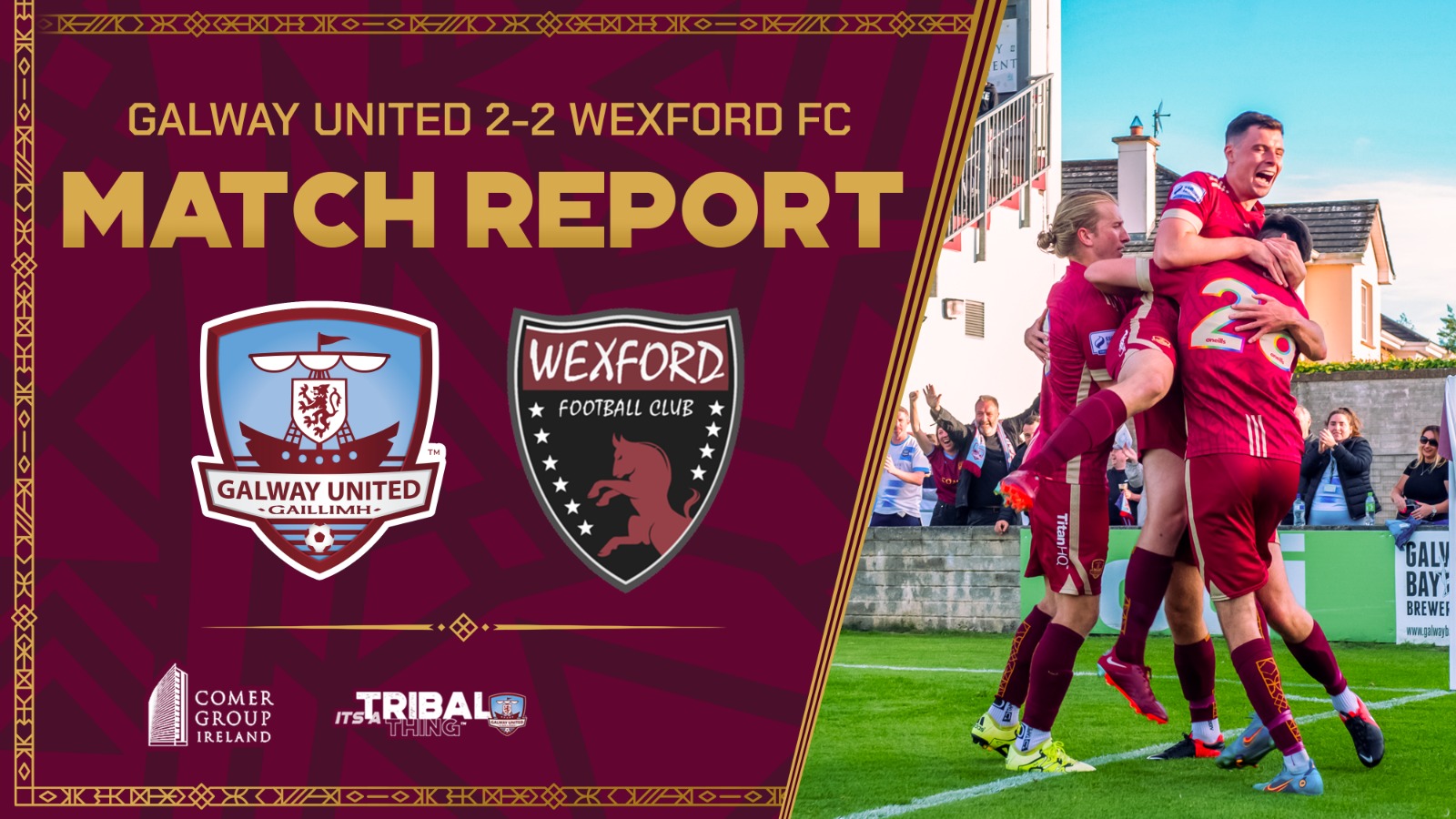 Match Report | Galway United 2 – 2 Wexford FC (First Division)
Galway United came from behind to bag a vital point at home to an in-form Wexford FC.
John Caulfield's side took an early lead courtesy of Rob Manley before a brace from Conor Barry left United trailing. A second half flurry saw the home side regain clarity via Stephen Walsh, however a failure to find a winner means they lost more ground on League Leaders Cork City.
The Tribesmen started the brighter, with Ed McCarthy proving to be a constant threat down the left channel. In the opening ten minutes he was gliding past challenges before either winning frees or pumping balls into the box. The best of these chances seeing Stephen Walsh drive the ball over.
After picking up an injury following a hefty challenge in United's FAI Cup victory over Bluebell last Sunday, there was some worries among the home support when captain Conor McCormack was left on the ground after winning a 50/50 battle for possession.
He would soldier on for another 28 minutes of action before those tackles saw Caulfield decide to take him off for Adam Thomas on 36 minutes.
Galway were rewarded for some perseverance early on when taking the lead on 14 minutes. A McCormack corner ended up passing everyone by before deflecting into the path of Bastien Hery. His effort didn't find the net; however Manley was in the right place at the right time to tap it home.
Unfortunately, the lead lasted only five minutes, a rocking Eamonn Deacy Park left shocked as a brace from former United player Conor Barry saw the visitors take the lead.
The first came on 19 minutes as Conor Crawley dispossessed McCormack before teeing the ball up for the Portumna native. From range he managed to blast the ball past Conor Kearns to level proceedings.
Not resting on their laurels, the men from the East quickly took the lead. Following some pinball in the box after a Crowley corner, United failed to clear their lines and it was Barry that seemed to get the final touch with his second goal in quick succession.
By this stage in the contest Wexford looked very confident, spending more time on the ball and happily keeping possession with nice passes around the middle. However, when getting on the ball the Tribesmen always looked capable of rattling the net.
Alex Moody made a series of great saves to keep his team in front as the half wore on, doing very well to deny Stephen Walsh on two occasions.
Making his league debut for United was Bastien Hery and he came the closest to grabbing an equaliser for his new side on 33 minutes. Walsh did well to block down a clearance attempt from Moody, allowing the ball to fall at the feet of the French born midfielder.
Sadly, the Wexford keeper made up for his mistake, producing a sublime save that meant United went back into the half time dressing rooms trailing 2-1.
Buoyed by what was sure to have been a vocal team talk from Caulfield, United came out a much stronger force in the second half, upping the intensity levels and putting the visitors under significantly more pressure.
The lynchpin to much of their new founding attacking flair came via new signing Bastien Hery, his ability to hold up the ball, take a man on and pick out the perfect pass meant he was an invaluable asset as the Tribesmen went searching for goals.
Twice in the early stages of the second half the former Madagascar International did well under pressure to find the head of Walsh. However, on both occasions he was narrowly denied a goal, due to another point blank save from Moody as well as the crossbar.
They were soon rewarded for their greater intensity and work rate when finally grabbing the leveller on 61 minutes. On his 250th start for the club, Walsh put pressure on Moody and managed to intercept the ball. From here it was child's play as he buried it into an empty net.
In what a very open second half, Ian Ryan's men almost regained their lead six minutes later. Kearns was called into action to deny Ger Shortt before the ball fell into the path of Harry Groome. From distance the ball drifted just wide of the posts.
The Home side continued to push for a winner. Diego Portilla had a rare chance on goal when set up nicely in a crowded box only for his shot to drift wide on 68 minutes while soon after Hery was again the provider as a headed effort from Manley narrowly missed the target.
Late on substitute Mikie Rowe also came agonisingly close. A lovely free kick from range flew over the Wexford wall but once again ended up going slightly wide of the posts.
Further headed efforts came for Walsh and James Finnerty, but sadly both failed to find the target, meaning United had to settle for a draw.
Speaking after the game, John Caulfield said:
"We started well, then lost control of the game and gave away a very poor first goal and a comical second goal.

"Teams will take points off each other and Wexford are a good side, which we knew. Unfortunately things get written about them, that they are not good, that they are bad and it should be an easy game. But this league is a really tough league.

"It was one of those days where we needed to get the second goal early, yet we had 15 minutes and had a couple of half chances. It's a point gained in terms of being 2-1 down at half time, but now it is a big game against Waterford next week."
Teams
GALWAY UNITED (John Caulfield, Manager)
C. Kearns; M. Hemmings, D. Portilla, J. Finnerty, C. Lyons, E. McCarthy (O. O'Reilly 88); C. McCormack (A. Thomas, 3(F. Lomboto, 88)), B. Héry (M. Rowe, 79), D. Hurley; R. Manley (D. Tarmey, 88), S. Walsh.
Booked: A. Thomas (45), C. Lyons (67).
WEXFORD FC (Ian Ryan, Manager)
A. Moody; A. Friel (H. Groome, HT), J. Manley, P. Cleary, A. Wells (L. O'Sullivan, 71); G. Shortt (J.Tallon, 77), C. Crowley, E. Farrell, L. Lovic, C. Barry (A. Dobbs, 77); D. Corcoran.
Booked: H. Groome (65), C. Barry (70).
Referee: Mark Moynihan
Attendance: 1,500 (estimate)