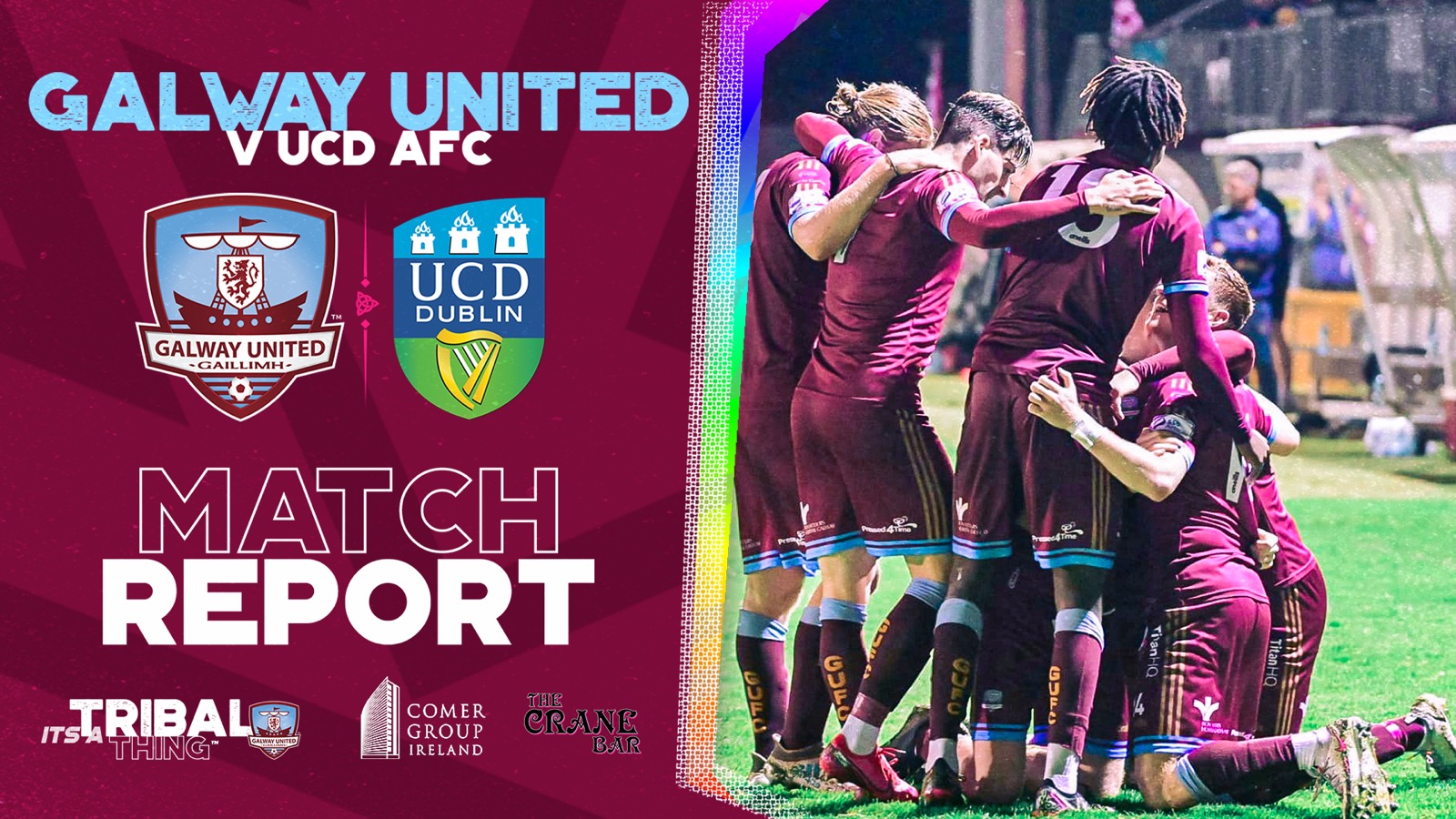 Match Report | Galway United 4-1 UCD (First Division)
"The team did very well and I think we are qualified for the playoffs now." – John Caulfield
United produced a swashbuckling display to move into clear second place in the second tier and give UCD a hiding.
Wilson Waweru, Mikie Rowe, Shane Doherty and Padraic Cunningham scored the United goals, Dara Keane getting a consolation, as the brilliant Tribesmen had Terryland in raptures.
This was a game of limited importance given both sides are in a great position for the playoffs but equally both are looking to finish second and came into this game level on points.
United nearly took the lead after all of three minutes as Mikey Rowe nearly took advantage of slack College defending. It was a really lively start from Galway.
College did grow into the game and Gary Boylan had to be very brave on 15 minutes with a facial block, the lively home crowd full of energy.
UCD played some lovely football at times and tried to probe on 35 minutes but the ball fell through to Luke Dennison. United fans were buoyed by the brilliance of young Alex Murphy, who continues to look a star in the making.
United took the lead on 31 minutes. A punt forward by Murphy was needlessly spilled by Lorcan Healy and Wilson Waweru tapped in. Healy looked for a foul but it seemed as though it were a fair challenge by David Hurley and the keeper had no excuses.
United survived a minor worry two minutes before the break when Dennison spilled a header but the ball was cleared.
Ruairi Keating tried to put United 2-0 up four minutes before the break but his shot from inside the box was deflected over.
As half-time approached, a looped Mo Nugent header went into the hands of Healy.
Keating had a great chance to make it 2-0 on 50 minutes but Healy saved with his feet after the Mayoman collected the ball, Gary Boylan's shot having deflected his way.
United made it 2-0 on 67 minutes. Hurley's lovely ball was knocked down by Keating and Rowe blasted into the net from 25 yards.
United sealed the deal with the third on 75 minutes as substitute Shane Doherty rattled the ball into the back of the net after a Hurley free.
UCD did get one back on 79 minutes as Dara Keane's header evaded Dennison.
Cillian Brouder lashed over on 80 minutes; it could have been goal of the season! United did fashion a fourth when Doherty laid off for substitute Padraig Cunningham who couldn't miss with six minutes left.
John Caulfield said afterwards:
We started the game well. We've had chances over the weeks we hadn't taken but we did tonight. I thought we were very good in the first half against a very good side. UCD's free-kicks were really dangerous but we tore into the game in the second half and we got fantastic goals. We're frustrated to give away a soft goal but the team did very well and I think we are qualified for the playoffs now.
Teams:
Galway United
Dennison; O'Keeffe, Nugent (Doherty 67), Brouder, Murphy (Walsh 77); Gorman, Boylan, Hurley (Place 90); Rowe, Waweru (Cunningham 77), Keating
UCD
UCD: Healy; Weir, O'Brien (Caffrey 69), Todd, Osam; Higgins, Doyle, Keaney, Doyle; Verdon (Kinsella Bishop 84), Whelan, Kerrigan.
Referee: Oliver Moran
JOHNNY WARD