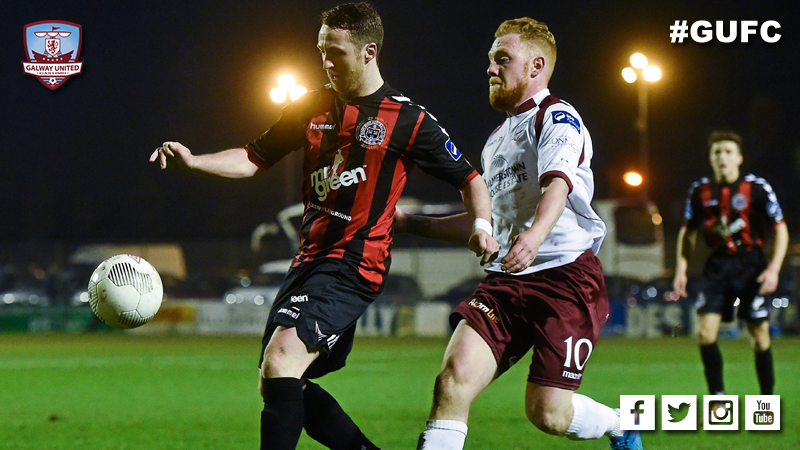 Match stats and facts v Bohemians
Galway United host Bohemians in the first of two consecutive fixtures at Eamonn Deacy Park on Friday, May 15th. The sides will meet again at Eamonn Deacy Park on Monday evening in the quarter final of the EA SPORTS Cup. Kick-off in both fixtures is at 7.45pm.
Ahead of Friday's league game, we looked back on some of the past meetings of the two clubs.
LAST LEAGUE MEETING
13th March, 2015: Bohemians (Anto Murphy X2) 2-0 Galway United
LAST TEN LEAGUE MEETINGS
23/10/09: Galway United 0-2 Bohemians
16/4/10: Bohemians 2-3 Galway United
8/6/10: Galway United 2-2 Bohemians
13/8/10: Bohemians 0-2 Galway United
22/10/10: Galway United 3-2 Bohemians
25/3/11: Bohemians 0-1 Galway United
13/5/11: Galway United 0-2 Bohemians
8/7/11: Bohemians 2-0 Galway United
23/9/11: Galway United 0-3 Bohemians
13/3/15: Bohemians 2-0 Galway United
OVERALL LEAGUE RECORD v BOHEMIANS
P73 W14 D19 L40 F66 A137
HOME RECORD v BOHEMIANS
P37 W8 D10 L19 F40 A68
AWAY RECORD v BOHEMIANS
P36 W6 D9 L21 F26 A69
BIGGEST LEAGUE WIN
9/4/89: Galway United 4-0 Bohemians. United goalscorers: Paul "Ski" McGee, Tommy Keane (x2), Dermot Lennon
BIGGEST LEAGUE DEFEAT
14/1/79: Galway United 2-6 Bohemians
PLAYED FOR BOTH CLUBS
Bobby Ryan, Stephen O'Donnell
MATCH FACTS AND STATS v BOHEMIANS
In 37 league meeting at Eamonn Deacy Park, Galway United have come out on top on 8 occasions. Drawing 10 and losing 19. Scoring 40 goals and conceding 68.
In United's most forgettable season in 2011, their last league win of the season came against the Gypsies at Dalymount Park. Joe Yoffe scored the all-important goal in a tight 1-0 win.
The only Galway United player ever to score a hat-trick against Bohemians in the league was centre half Kieran Foley, who operated as a makeshift striker at Dalymount Park in a 3-1 win in 1999.
Galway United and Bohemians have only drawn twice in 19 league meetings.
Galway United won three consecutive league encounters against Bohemians in the 2010/2011 seasons.
In 73 league meetings, the sides have drawn 0-0 on 8 occasions. The last 0-0 draw between the sides was in Galway United's FAI Cup winning season in 1991.