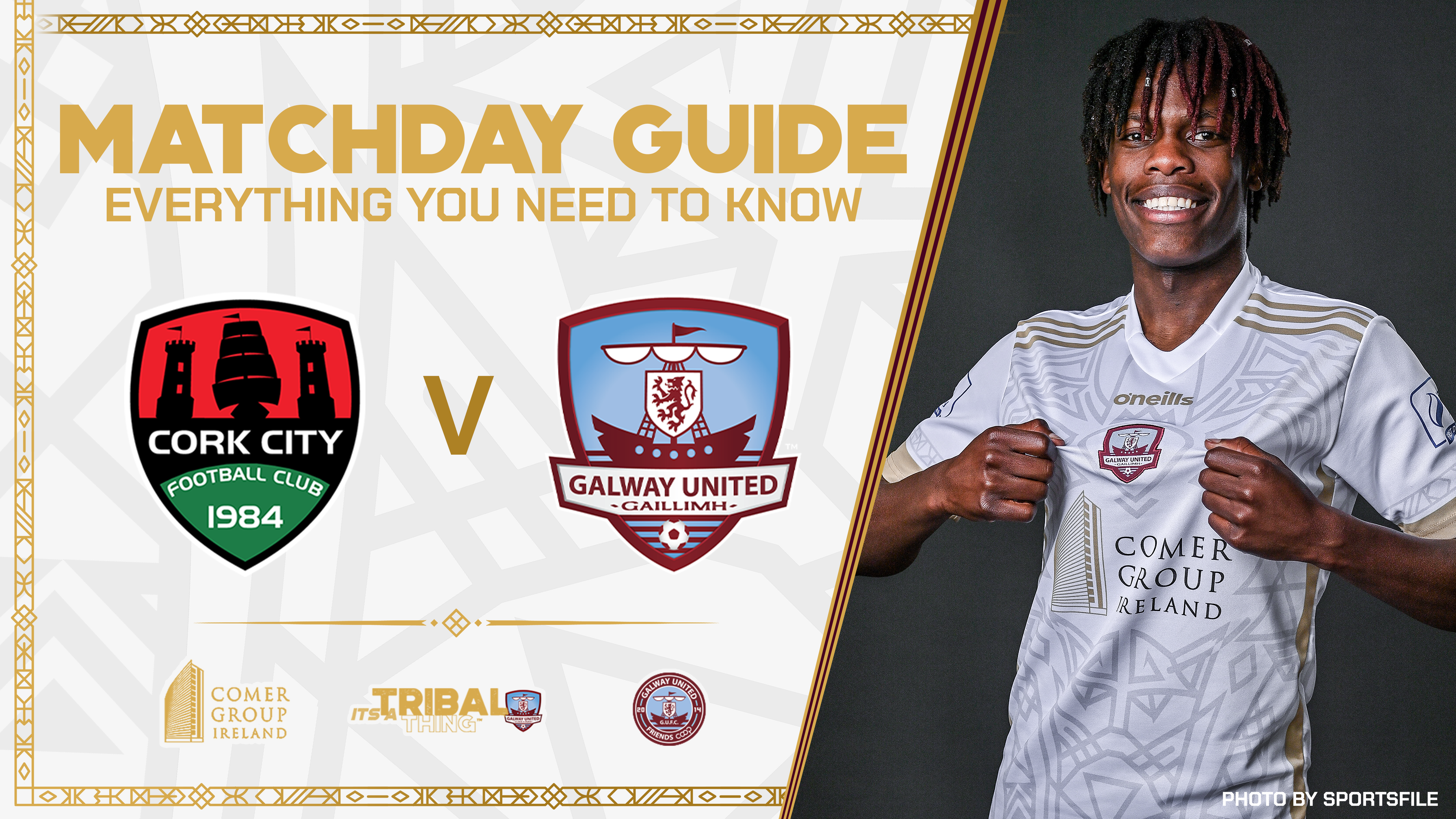 MATCHDAY GUIDE – CORK CITY F.C.
MATCHDAY GUIDE – Here is everything you need to know ahead of our game against Cork City at Turners Cross on February 25th 2021, with a 7:45pm Kick Off. 
IMPORTANT INFORMATION
Getting to Turners Cross
Turners Cross is located in Cork City, just south of the River Lee. A link directly to the stadium on Google Maps is available HERE
SUPPORTERS BUS
You can get the Supporters bus down, the bus leaves the Connacht Hotel in Galway City at 3:30pm on Friday before the game, links for tickets are below:
🎟️ 𝗔𝗗𝗨𝗟𝗧: https://bit.ly/36vMK2b
🎟️ 𝗦𝗧𝗨𝗗𝗘𝗡𝗧: https://bit.ly/3sV2LGv
🎟️ 𝗨𝟭𝟰𝗦: https://bit.ly/3BAS3Zs
We would recommend the use of the supporters bus as it drops you directly to the stadium without hassle and back to Galway afterwards too and you can save money compared to public transport.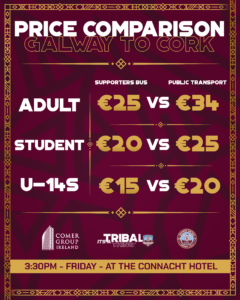 DRIVING
You can drive from Galway to Cork City by following the M18 to Limerick City. 
Once you reach Limerick City, you can follow the N20 through Charleville and Mallow or the N24 and M8 through Mitchelstown and Fermoy. Both have roughly the same estimated arrival times. 
If you are going directly to the stadium we would recommend using the N24 and M8 from Limerick to Cork as it means you can drive around the City of Cork to Turners Cross Stadium with as little traffic etc… as possible.
If you are planning on visiting Cork City itself, we would recommend using the N20 route through Charleville and Mallow as it arrives directly into the heart of Cork City!
Please take note that there is an Irish U20 Rugby match on in Musgrave Park, which is close to Turners Cross and this may cause some traffic, so take this into account on your journey if driving.
TICKETS AND GETTING INTO THE STADIUM
We recommend supporters to allow extra time for the necessary ticket checks to be carried out at the stadium before entering the turnstiles, this can be a lengthy process at times, particularly as Cork City F.C. have only one ticket booth in operation for this game, so make sure to get your tickets online HERE to beat the queues.
The checkpoints will be clearly marked by Cork City F.C. who will help you with any queries you may have regarding stadium entry. 
Please have a read of the stadium regulations at Turners Cross, available HERE
STADIUM MAP AND WHERE TO SIT
Please view the map below to view the location of the main entrance and away fans seating preference in Block J of the St. Anne's Stand. Please note, your entry point may be different to your usual entrance.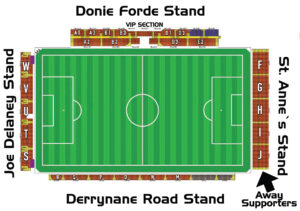 MATCHDAY PROGRAMMES
Programmes will be available to buy from the sellers placed around the vicinity of the ground at Turners Cross.
FOOD AND DRINK
Food and drink will also be available to buy from the sellers placed around the vicinity of the ground at Turners Cross on the night.
MATCHDAY PLAYLIST
Don't forget we have our official matchday playlist available HERE to get you into the matchday mood!
CORK CITY F.C. CONTACT AND CLUB DIRECTORY
If you are having any trouble while on matchday, please feel free to talk to a member of staff at The Turners Cross or reference the Cork City Directory which is available HERE
GETTING TO KNOW THE OPPOSITION
Earlier in the week we took an in depth look at our opposition Cork City F.C.'s side on the pitch, exploring their key players, some statistics about the club and much much more, which you can check out HERE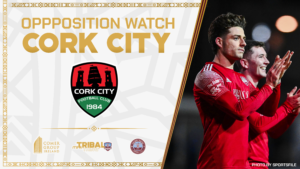 SEE YOU AT TURNERS CROSS FOR THE FIRST GAME OF THE SEASON!