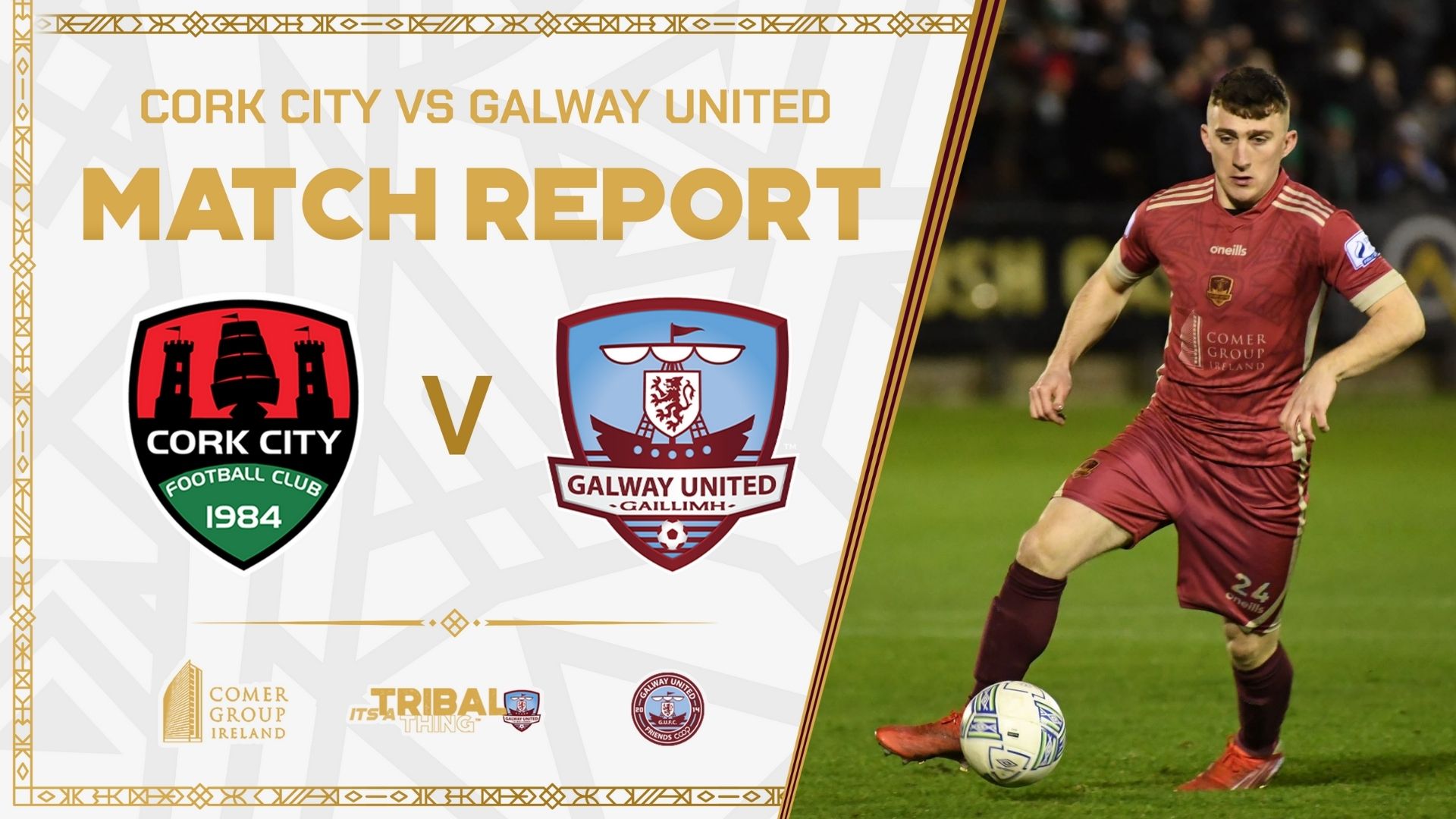 Match Report | Cork City 0-1 Galway United (First Division)
"You have to be counted when you come to a stadium with 5,000 people" – John Caulfield, Manager
Galway United kicked off their 2022 campaign with a hard-fought 1-0 win over Cork City at Turner's Cross thanks to a debut goal from Edward McCarthy.
United brought an end to a 34-year wait to earn victory at Turner's Cross thanks to a well-worked goal that ended in McCarthy emphatically hitting the roof of Cork City's net in the 36th minute.
It was a battle down south with United having to dig deep in the second half after going down to ten men – a task which they duly conquered in a stadium with 5,000 spectators in attendance.
Both teams defended well in the first half, giving up very little in terms of opportunities at either end. The game was on a knife-edge and one goal would have a big impact on the outcome of proceedings – that goal came ten minutes before the break.
The highly talented Alex Murphy played Wilson Waweru down the line and the striker did superbly to hold up the ball and returned a backheel to the onrushing Murphy. The young defender showed his composure as he found McCarthy darting in from the right-wing and the Limerick man finished with aplomb into the roof of the net, leaving David Harrington with no chance in goal. The travelling United supporters behind the goal went into rapturous celebrations.
The second half looked like an uphill battle for the Tribesmen when Waweru received a second yellow card in the 50th minute. But John Caulfield's side didn't falter as United's defence put in a tremendous shift to prevent City from getting an equaliser, in particular new Spanish signing Diego Portilla who put his body on the line to keep out waves of attacks by the home team.
United keeper Conor Kearns was called into action on numerous occasions throughout the 90 minutes – the shot-stopper was among the many heroes on the night after making vital saves to deny Ruairi Keating and Cian Bargary.
City did have the ball in the net with ten minutes to go in the game when Barry Coffey found a way past Kearns, but the linesman had his flag up to rule out the goal to the great relief of the United faithful.
It was a significant night for the club as it was the first time winning in Cork since 1993 (first time in Turner's Cross since 1988).
Post-match reaction from John Caulfield:
"You have to be counted when you come to a stadium with 5,000 people. It was a tough game, we played well at times and got a fantastic goal.

"The defending was superb and Conor Kearns made two very good saves. There was some last-ditch defending but you would expect that here when their crowd are willing them on. But our lads worked really hard and got the three points in the first game of the season.

"We had tremendous travelling support and there was a brilliant atmosphere. Our fans gave phenomenal support to the team. It is only the start of the season but we need everyone in the city and county to get behind the team. We need to make sure that we come out in huge numbers for our home games and create a fantastic atmosphere.

"Overall, when you go to Cork City in front of a full house and get the three points you have done a good job. We have an exciting home game against Waterford next week and we will need to go out and perform like we did tonight to have a chance of getting a result."
Teams:
Galway United
Kearns, O'Keeffe, Portilla, Brouder, Murphy, McCarthy, McCormack, Hurley (Lyons 90′), Rowe (Boylan 66′), Dimas (Adeyemo 66′), Waweru.
Goalscorer: Edward McCarthy (36′)
Cork City
Harrington, Hakkinen (Srbley 65′), Coleman, Gilchrist, O'Connor; Bargary, Bolger (Healy 75′), Coffey, McGlade (Doona 22′), Murphy, Keating.
Referee: Eoghan O'Shea
Our next First Division game is home to Waterford FC on March 4th.