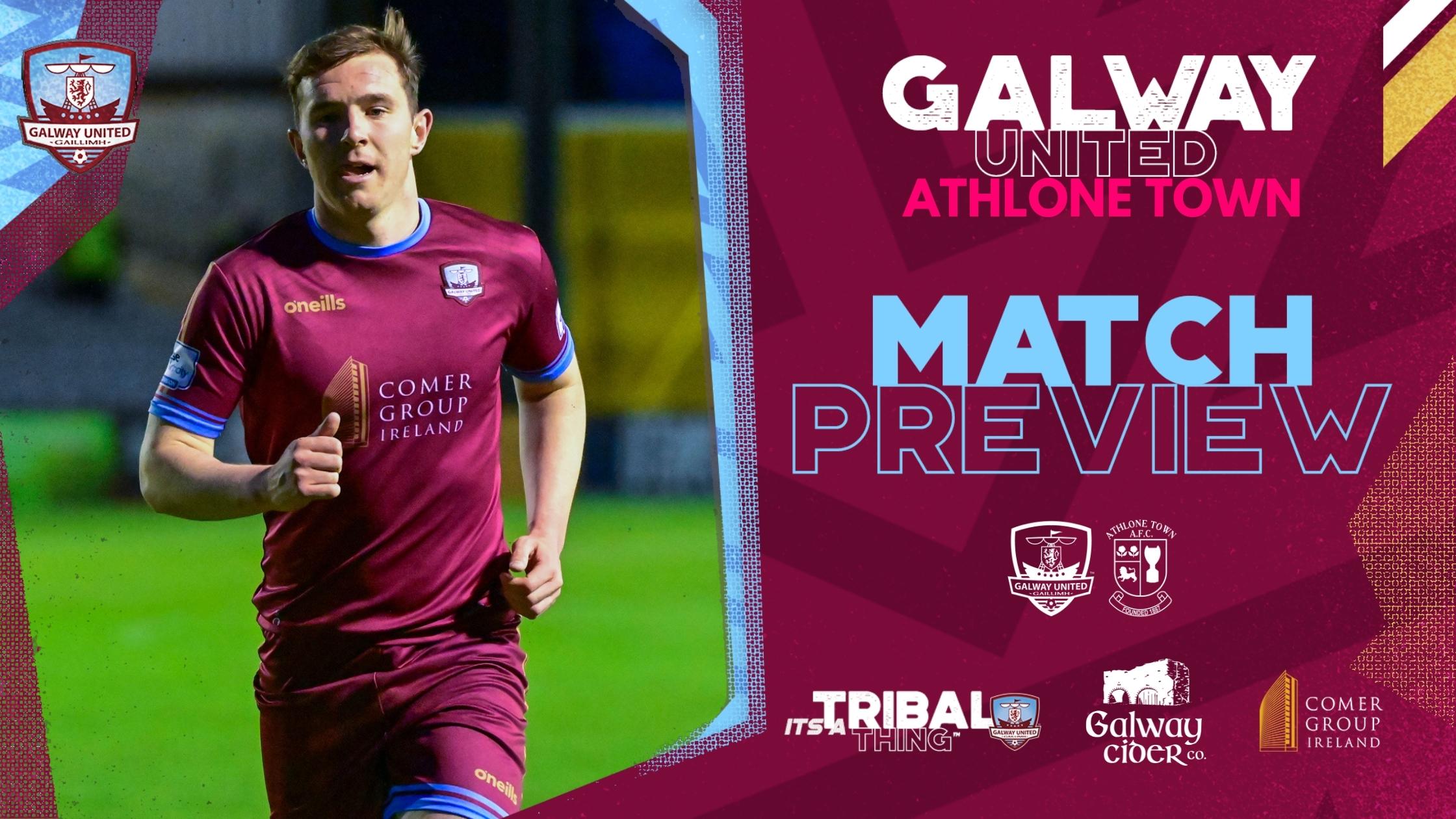 Preview | Galway United V Athlone Town (First Division)
"It is another massive challenge on Friday, Athlone are a very good side. We feel that after the break we need to get our performances right on the pitch." – John Caulfield, Manager
Galway United return to First Division action after the mid-season break to face Athlone Town at Eamonn Deacy Park on Friday with kick-off at 7.45pm.
The club received the welcome news that 100 supporters will be allowed to attend Friday's game against Athlone Town at Eamonn Deacy Park. The attendees will be picked at random from season ticket holders using a lotto system. Make sure to check your emails for further details and updates regarding the game.
The club are also aiming to virtually sell out the game in co-operation with Galway United Co-Op and 14 local charities. For more details and tickets follow this link: http://gufc-coop.com/unitedinspirit/
The Tribesmen face Athlone following a 4-0 away defeat by Shelbourne two weeks ago. United currently sit in 7th place on the First Division table and are two points off a play-off position going into this week's fixture.
Athlone Town are currently three points ahead of United going into the game and sit in 3rd position on the table. Adrian Carberry's outfit were defeated 3-2 at home by UCD before the break with the away side grabbing a late winner in the 92nd minute after both teams were down to ten men.
United manager John Caulfield is looking forward to tomorrow's clash against Athlone and is delighted that fans will be back in Terryland for the first time this season.
"After the first third of the season during the break we were simply hoping to recharge the batteries. When you get the break I think it is good for everyone to recharge, to reflect on where we are at," Caulfield told the club's media team.

"Once you get that rest you start to look ahead and we are excited about this week's game. Some of our injury situations have cleared up which is another positive for us.

"Athlone have started the season incredibly well. They won a good few of their early matches and this league is very competitive. At the start they blazed a trail to open a gap early on.

"This league has shown that week in, week out anyone can beat anyone else. At the moment we are trying to see can we get a win under our belt, to try to get some consistency into our game.

"One great thing is that we will have some supporters back at Eamonn Deacy Park which is a real boost. I have been up here since last August; we got a run to the playoffs, we had a couple of games where we had 200.

"Thankfully we will have 100 back, hopefully it is the start of getting crowds back over the next number of months. I'd love to be walking into Terryland with no restrictions; that you could have a couple of thousand people at a match. I think that would help our team – the sooner it happens the better. At least this is a step in the right direction.

"It is another massive challenge on Friday, Athlone are a very good side. We feel that after the break we need to get our performances right on the pitch."

John Caulfield is sponsored by McGinn's Hophouse, Woodquay, Galway.
Galway United 2021 Squad
Conor Kearns, Michael Garrihy, Conor O'Keeffe, Stephen Walsh, Gary Boylan, Killian Brouder, Maurice Nugent, Christopher Horgan, Shane Duggan, David Hurley, Shane Doherty, Stephen Christopher, Mikie Rowe, Carlton Ubaezuonu, Caoilfhionn O'Dea, Mikey Place, Conor McCormack, Ronan Manning, Ruairi Keating, Padraic Cunningham, Wilson Waweru, Francely Lomboto, Colin Kelly.
Team News
Francely Lomboto and Ronan Manning remain out of action due to long-term injuries.
Stephen Walsh will miss this Friday's game due to a three-game suspension.
Galway United Goalscorers
Ruairi Keating – 4
Padraic Cunningham – 2
Wilson Waweru – 2
David Hurley – 1
Maurice Nugent – 1
Galway United V Athlone Town
Eamonn Deacy Park, 7.45pm
Referee: Oliver Moran
Assistant 1: David Berry
Assistant 2: Ciaran Delaney
Fourth Official: Michael Connolly
Last Meeting (First Division)
02 April 2021 | Athlone Town 3-1 Galway United
The game will be live-streamed on the new LOITV platform. For all those supporters with Season Passes, LOITV will issue a new voucher code, which you must redeem at the new site. You must go through the registration process again before you can redeem the code. Click on First Division Pass where you will find Add Voucher and you can enter your code to access the pass. Non-pass holders can purchase a First Division pass for €49 or purchase a game pass for €5.

Match Day Sponsor

Match Ball Sponsor