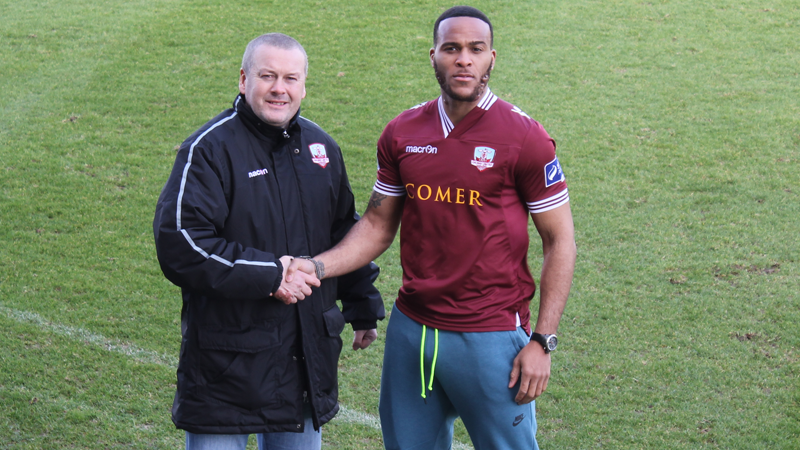 Sam Oji signs for United!
Galway United are delighted to announce the signing of Sam Oji.
Oji, 29, spent the last year and a half at Thomond Park playing for Limerick FC.
The commanding centre half started his career at Arsenal before moving onto Birmingham City. Whilst at Birmingham, Oji went on loan to Doncaster Rovers, Bristol Rovers and Leyton Orient. After moving on from Birmingham City, the Londoner had spells with Hereford United, Ljungskile SK in Sweden, Tamworth and most recently Limerick FC.
Standing at 6'1, Oji will bring some much needed height and physicality to United's back line.
Commenting shortly after signing his contract with the club, Oji expressed his relief at finally sorting out his future.
"It's been going on for a while now and a few things came up in the off-season, but I'm glad to say it's finally done and dusted and I'm ready to go now."
The vastly experienced centre half made 26 starts for Limerick FC last season, while also coming on as a substitute twice. He hopes to impart some of his experience on Galway United's young squad.
"There were a few young boys coming through the ranks at Limerick that I helped and it's the same here in Galway," Oji told www.galwayunitedfc.ie.
"If I can help them in any way, I will and I'll be actively looking to do that. I did quite well last year at Limerick, I formed a bond with a Galway boy Stephen Folan and he's gone on and done well for himself, so hopefully I find another person to do that with at Galway United."
Oji is looking forward to settling into Galway life.
"It's always good to settle into a new club as quickly as you possibly can and get to know the personalities, to build and gel together.
"Whoever I'm playing alongside in defence, I'll look to get a good connection going, it will stand us in good stead for the forthcoming year.
"For any club coming into the Premier Division the prerogative would be to stay in the division, to consolidate, but I don't think that will be the case this year.
"Obviously you want to amass a number of points that keeps you in this division as quickly as possible whilst trying to play and do things the right way. That's the ethos here and that's the ethos I have.
"My mantra is still to try and be the best in the division, I wanted a new challenge to keep the fire in my belly and continue the level of performances that I've put in for the year and half I've been playing in Ireland," Oji concluded.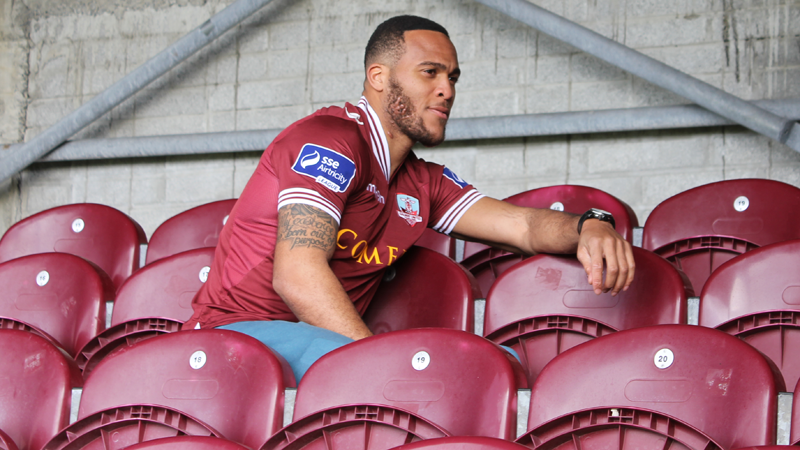 Galway United manager Tommy Dunne was delighted to add a player of Oji's calibre to his squad ahead of the 2015 SSE Airtricity League Premier Division season.
"It's important for everybody at the club, for the squad and supporters that we brought in experience and that we brought in somebody who would be regarded as one of the top central defenders in the country.
"I think it was needed to boost the squad and we've got a lot of young players, so we need some men and some guys with that experience to be able to help them through, especially in the Premier Division.
"We're absolutely delighted that Sam has come in, hopefully he can strike up a partnership with whoever it might be at the back, Stephen Walsh is there at the moment but we've hopefully got another body to come in, Kilian Cantwell who's injured at the minute, as well as Andy O'Connell, so we have a lot of options and with Sam coming in now it should help the guys push on."
2015 GALWAY UNITED SQUAD (20): Ger Hanley, Connor Gleeson, Colm Horgan, Sam Oji, Kilian Cantwell, Andy O'Connell, Stephen Walsh, Marc Ludden, Gary Shanahan, Paul Sinnott, Alex Byrne, David O'Leary, Ryan Connolly, Aaron McDonagh, Enda Curran, Cormac Raftery, Antaine O'Laoi, Conor Barry, Padraic Cunningham, Jake Keegan.
Get your Galway United season ticket and be ready for our opening fixture against Derry City at Eamonn Deacy Park on March 6!
[table id=1 /]
Purchasing a Galway United Season Ticket will allow supporters to make massive savings compared to paying in on a match by match basis, amounting to a total of at least six free games!
For further information on season ticket prices, outlets for purchasing and benefits, see HERE.