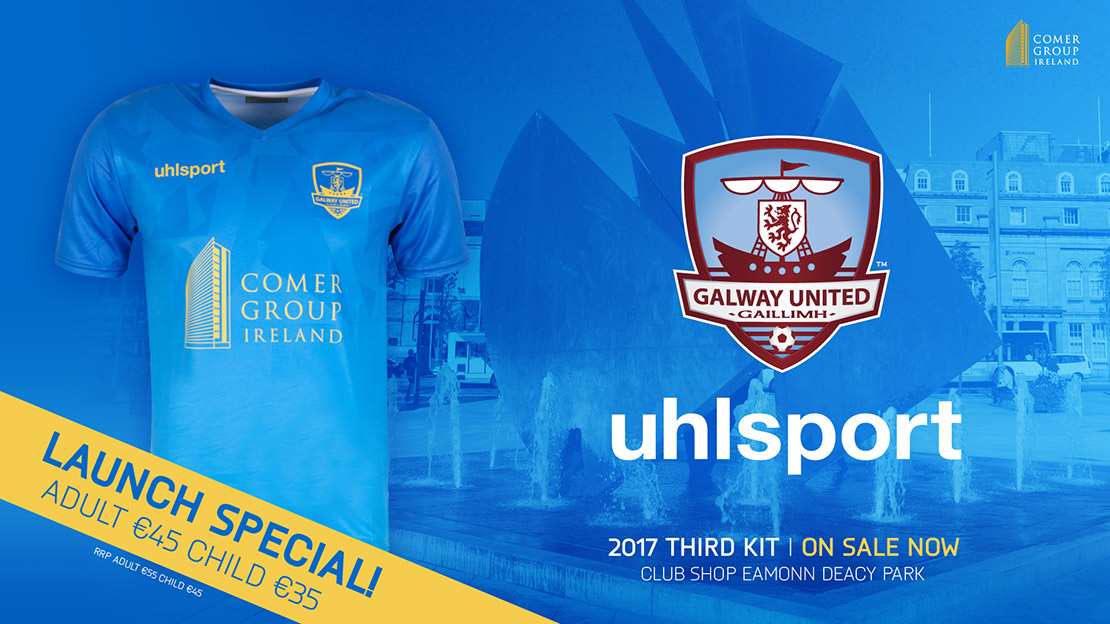 The 2017 Galway United third kit is now on sale, and for a limited time only, available for a special launch price at tonight's game against Bray Wanderers at Eamonn Deacy Park.
The jersey will be available for €45 for adults and €35 for children, from the Galway United club shop, located behind the goals at Eamonn Deacy Park.
Designed by Morgan O'Brien and created in conjunction with technical partner Uhlsport, the Galway United Third Kit draws inspiration from the iconic and immediately recognisable Galway Hooker Sculpture in Eyre Square.
The hooker sails were designed by renowned architect and sculptor Éamonn O'Doherty as part of a fountain erected to mark the quincentenary of Galway's incorporation as a city in 1984.
The shirt features a bold geometric pattern representing the sales of a Galway Hooker in a unique shade of 'Galway Bay Blue' with gold detailing.
Thematically the kit follows on from the 2017 Galway United Home Kit which also celebrates Galway's most recognisable and celebrated of icons the Galway Hooker. Galway United F.C. Home, Away and Third kits are all available to purchase in both adult and kids sizes from the Galway United Club shop in Eamonn Deacy Park.