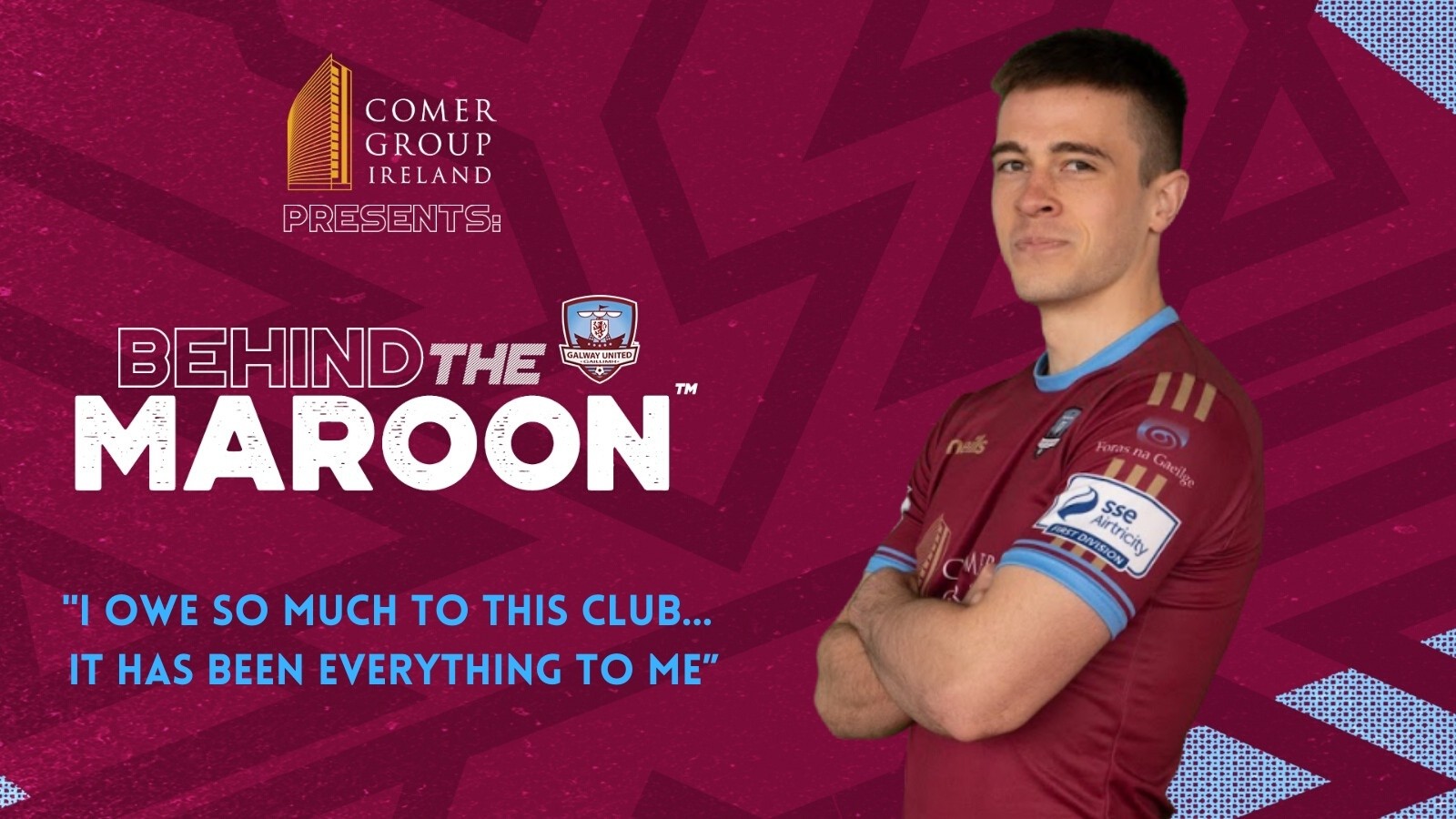 Behind The Maroon with Maurice Nugent
"I owe so much to this club… It has been everything to me"
Maurice Nugent is currently in his seventh season with Galway United. Club reporter Tom Byrne sat down with the versatile defender to discuss his pride in captaining his country at the University Games, progressing through United's academy and now being a stalwart in John Caulfield's defence.
As a boy growing up in Ennis, County Clare, Maurice Nugent joined Avenue United and looked up to a certain Serbian centre-half who influenced his decision to play a defensive role on the pitch.
"I started youth football with Avenue when I was five or six and played there until I was 14," says the 22-year-old. "The biggest idol for me growing up was always Manchester United's Nemanja Vidic. I thought he was unbelievable and threw his head in front of everything!"
Nugent appeared in the Kennedy Cup for Clare before moving to the coveted St Joseph Boys in the Dublin and District Schoolboy League (DDSL) when he was 15.
"Soccer in Clare doesn't really progress after the Kennedy Cup, although it is much better now than it was," he says. "I moved to Dublin side Joey's for a year, which was a very high standard in the DDSL. I then signed for Limerick's under-16 team for a season before joining Mervue United's under-19 squad."
After a year playing for Mervue, Nugent joined Galway United's academy at under-19 level. The developing defender would work under Johnny Glynn for two seasons, who he says progressed him "greatly" as a player.
"I enjoyed it immensely working under Johnny and then Nigel Keady for a year at under-19 level," he says. "Johnny is definitely one of the best managers I ever had. I have massive respect for him and whatever advice he gives, you listen. He taught me a lot about the game and that helped me to make the step up to the senior team.

"They have vastly improved the academy structure in the last few years," he adds. "Hopefully we can see the benefits of that in the next five years or so. Galway's academy is run very well and Johnny is the best man you can have running it, so hopefully we can reap the rewards as a club and bring a few more players through."
Nugent made the step up to senior football in 2017, where he got to work under former United boss Shane Keegan and trained with a Galway United squad that were "too strong" to get relegated from the Premier Division according to the Banner County native.
"I got the chance to train every day with the senior setup in Shane's first full year as manager," he says. "I was on the bench for a good few fixtures but I didn't get to play that year as I was still young and still playing under-19s.

"It was very tough to see the club get relegated that year, especially with the squad we had," he adds. "The players put everything into that season so it was a tough period to go through when we went down."
Maurice would make the breakthrough into the first-team in the following First Division campaign but his season was halted because of an unfortunate injury picked up against Longford Town.
"I got into the team that year and only played for half the season due to picking up an ankle ligaments injury," he says. "It was definitely a tough one to take as it was a slow healer, but it didn't require surgery so I was fully fit for the next campaign."
Along the way, Nugent's form at both club and college level (NUIG) earned him a call-up for the Irish University squad in Taiwan 2017 and Italy 2019, where he got to captain his side on the latter occasion.
"I was lucky to play with the Irish University team at two different tournaments," he says. "It was incredible to be playing countries like Mexico and France. It was an experience that has really stood to me.

"To captain my country in 2019 is something I will never forget," he adds. "We did very well that tournament too, losing to Russia in the quarter-finals. Any chance to go abroad and represent your country is a very proud moment for everyone involved."
Upon Alan Murphy's arrival as manager, Nugent was made the club's vice-captain for the 2019 campaign and was voted Player of the Year the same season. Nugent would exhibit his adaptability on the pitch by playing in both defence and midfield under Murphy.
"Alan is another man I have massive respect for," he says. "He gave me plenty of chances for game time which improved me significantly. I enjoyed my time in midfield under Alan and now I am loving my time in centre-half under John [Caulfield]. I like to see myself as a versatile player which has vastly improved my ball skills."
Nugent was ever-present in United's defence last season and pointed to how Caulfield brought real enthusiasm around the squad when he became United manager last August.
"It was a real statement of intent by the club when John was brought in," he says. "He is definitely the best manager I have worked under so far, he has everything running to a tee. The belief he gives you is incredible, so hopefully we can build on everything he has put together in the off-season.

"The full-time training was also a big factor in me re-signing this season," he adds. "I had initially planned to go working in England after completing my Engineering degree in NUIG last year. But when John offered me the chance to work full-time under him, there was no way I could turn that down."
Nugent has been impressed by the appointments of Lisa Fallon and Gary O'Connor in the off-season, two coaches that have brought a real "professionalism" to the table.
"Lisa is a very experienced coach, the detail she goes into is second to none," he says. "Every training session since pre-season and now has been excellent. It is definitely the best environment I have been involved in. Gary is great also, I would have known him well through the years. He brings the mood up in the camp and he is great to have around."
Maurice's belief in his teammates and the targets in place is unquestionable. The young but experienced United man says:
"It is a tough division to get out of but we wouldn't be here as a team if we didn't believe we couldn't get out of it. Once we keep our heads on and our feet on the ground, hopefully we can deliver. The main aim is to gain promotion.

"I owe so much to this club," he adds, smiling, thinking back to when he first joined the club in 2015. "Ever since I moved up, it has been everything to me. I have met so many brilliant people in the club and it has made me progress not only as a player but as a person as well. It is something that I am proud to be apart of and hopefully we can get this club back to where it belongs."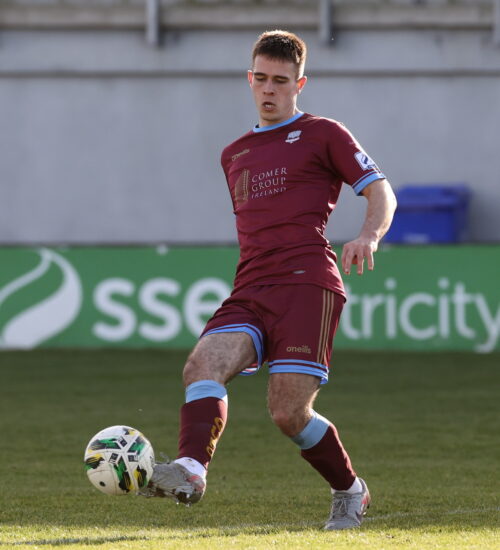 Maurice Nugent is sponsored by Rory Monaghan