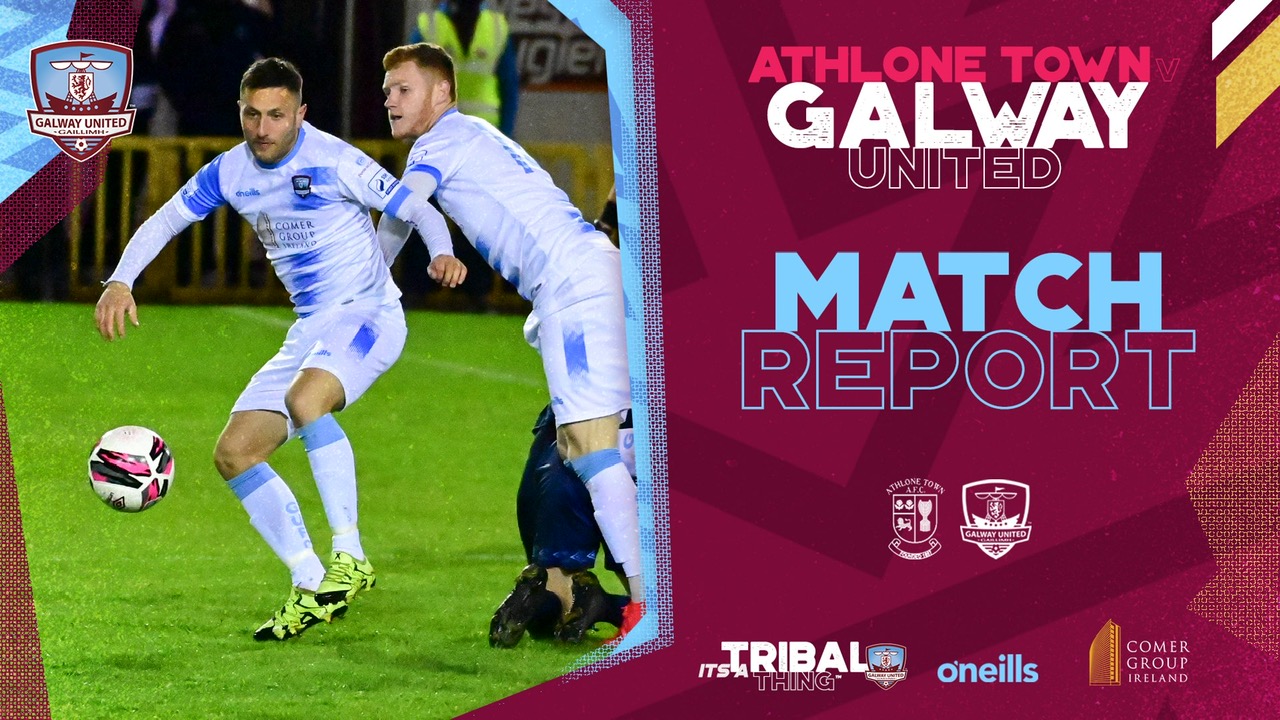 Match Report | Athlone Town V Galway United (First Division)
"The basic fundamentals of football is that you work hard, you are brave and you have the concentration. Without that, you will struggle." – John Caulfield, Manager.
Galway United defeated 3-1 by Athlone Town at Lissywollen.
Athlone's new-look team has some impressive players and they were superb in the first half, taking the lead somewhat against the run of play in the 11th minute.
Wixted, who was the best player on the park, played a lovely ball down the line to Aidan Friel whose fierce cross was headed into his own net by Gary Boylan.
Stephen Walsh's header on 15 minutes fell to Meaney but he shanked his effort, something he would not do three minutes later. This time, it seemed as though Shane Doherty might have been fouled in the Town box but the ball was cleared and, after a lovely Wixted pass, Meaney hammered the ball beyond a despairing Conor Kearns.
An outrageous Doherty flick, producing a Michael Schlingermann save, showcased the quality at both ends in this contest.
In the 26th minute, Meaney scored the goal of the game. Wixted and the hugely influential Curtis Byrne teamed up; Dan McKenna found James Doona, who ghosted in beyond Maurice Nugent; the task at the back post for Meaney was simple, who slotted home.
Galway United made two changes at the start of the second half, Wilson Waweru and Carlton Ubaezuonu replacing Padraic Cunningham and Stephen Walsh.
Waweru had a clear-cut opportunity in the 51st minute but was unable to finish and at the other end, Friel forced a fine Kearns save before Meaney blasted over in the hat-trick's pursuit.
United kept pressing but could have gone further behind 19 minutes into the half. Ubaezuonu did very well to clear in a one-v-three situation but it fell to Wixted who lashed a thunderbolt off the bar.
The Tribesmen got one back with 13 minutes left as Waweru hammered home after a Schlingermann spill under pressure.
United continued to push for another goal before the end, but Athlone were able to hold onto their two-goal advantage.
Post-match reaction from John Caulfield:
"The game was lost in the first 45 minutes. It was very disappointing for the club and for the supporters. The first-half was unacceptable and that won't happen again.

"The basic fundamentals of football is that you work hard, you are brave and you have the concentration. Without that, you will struggle.

"Athlone were outstanding tonight and they played great football. But at the same time, we were pulled apart which we shouldn't have been.

"Ultimately, Athlone played well and our performance was not acceptable. It was a reality check for us."
Teams:
Galway United
Kearns, O'Keeffe, Boylan, Nugent, Walsh (Ubaezuonu 46), Hurley (Place 33), Doherty (Rowe 82), Duggan, McCormack, Keating, Cunningham (Waweru 46)
Athlone Town
Schlingermann, Friel, Hand, Cantwell, Daly, Wixted, Hollywood (Watson 85), McKenna, Doona, Byrne, Meaney (Barnes 71)
Referee: Michael Connolly
Our next First Division game is away to Cabinteely on April 9th.