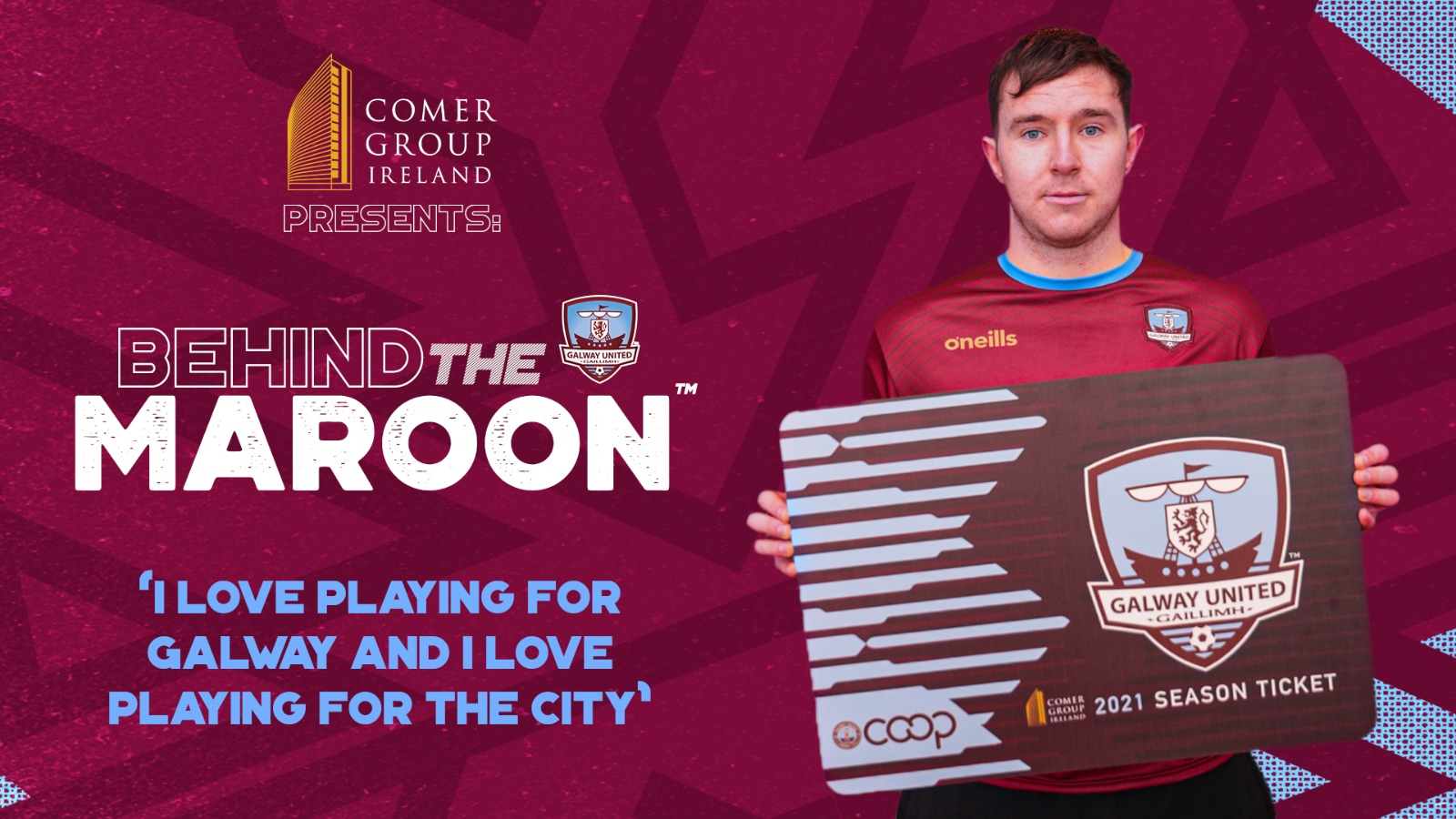 Behind The Maroon with Padraic Cunningham
"I love playing for Galway and I love playing for the city"
Padraic Cunningham has rejoined Galway United, having previously played for the club between 2014 and 2017. Club reporter Tom Byrne sat down with the striker to discuss his first spell at United, joining up with the Galway Gaelic footballers, and his hopes for the season ahead.
Padraic Cunningham says that as a kid playing underage football in Galway, a certain ex-Manchester United partnership was never far from his mind, inspiring how the striker has looked at the game ever since. 
"My idols growing up were always Wayne Rooney and Cristiano Ronaldo," he says. "The two of them built such a bond and that had a big impact on me, in terms of trying to be like them on the pitch."
Cunningham started out with local side Moyne Villa, before joining Mervue United while still in his first year at Presentation College, Headford.
"I left Moyne Villa at under-13s and went to Mervue United with two of my mates from Headford," he says. "I played with Mervue up until the League of Ireland under-19s team, whom I played two seasons for, and then I signed for Galway."
In Cunningham's first season with what was at that time Galway FC, his side secured promotion to the League of Ireland Premier Division under the guidance of Tommy Dunne. Galway defeated UCD in the 2014 play-off final, which Cunningham describes as a massive moment in his career.
"It was an excellent season," he says. "I was learning from great players there at the time like Jake Keegan, Enda Curran and Vinny Faherty. They are all top strikers and I learned a lot from them.

"Tommy was also a great coach," he adds. "He used to keep me behind in training sessions and did one-to-one work and trained me very well. That season was brilliant for me personally as well, because I was so young and I gained valuable experience."
Cunningham spent four seasons in his first spell at the club, which included three campaigns in the Premier Division.
"We had a great campaign under Tommy in the 2016 season before we, unfortunately, got relegated the following season," he says. "We actually had a great team that year we got relegated. The standard of players that were there was unbelievable. David Cawley, Ronan Murray and Gavin Holohan were three class players, and we also brought in a quality player in Rory Hale.

"Even though we went down, it was probably my most enjoyable year and I learned a lot during it," he adds. "I was learning from seasoned pros, which helped me progress as a player. You are coming up against top-quality sides like Dundalk, too, who were playing in Europe. Hopefully, those days will stand to me this year and help me to push on to develop in this league campaign."
When Cunningham left the club in 2017, the striker had a decision to make when it came to the career direction he would take. He opted to trade sports and play for Galway in Gaelic football, after turning down the opportunity to join John Caulfield's Cork City, who were playing in Europe that season.
"It was probably the most difficult decision I had to make yet," he says. "They [Cork] had just sold Seani Maguire and they were looking for a striker. I spoke with John and went down to Cork to spend a day at the training ground. I can see now that John has brought the same professionalism to Galway that he brought to Cork. It really did tear a hair out of my head for ages, trying to make a decision, but in the end I chose to give the GAA a go.

"I don't regret the decision I made and thoroughly enjoyed my time playing for Galway GAA," he adds. "I got to know some of my best mates, so it was a good few years. I did miss the football and was always keeping up to date with Galway United. I would have always tried to get to a match at Eamonn Deacy Park. I did miss it though, as I loved the scenario of training full-time and being a professional player."
After Caulfield took charge of United the pair spoke again, and "Podge," as he is better known, became the first signing made by United ahead of the 2021 League of Ireland season.
"I spoke with John and he is a very ambitious man which was a key factor for me to come back," he says. "He has the drive, the determination and he is also a winner. Listening to him, getting tips off him, is enormous for us as players. For myself as well, he was a great striker, so I try to take it all on board."
Cunningham has been impressed by the new coaching staff since his arrival and is keen to learn all he can during full-time training.
"All the coaching staff are brilliant," he says. "The training sessions and drills are very professional and very enjoyable. Learning from John, Lisa [Fallon], Gary [O'Connor] and Colin [Fortune] five days a week is much better than three times a week if it were part-time. You can really work off of each other every day, which is a great help."
On a personal level, the 24-year-old has given himself targets to hit for the upcoming campaign.
"Well, the obvious aim is to be in the first team, playing well and helping the team to reach the goal of promotion," he says. "I have given myself targets to hit. If I am in the team I need to be scoring goals, as that's my job as a striker. My main two goals would be working hard for the team and scoring as many goals as I can.

"We all know that this can be the business year for Galway," he adds. "We need to get out of the First Division and to be playing against the best teams in the country week in, week out. There are some great teams in the division so it's going to be a very competitive league, but we have to turn every screw ourselves and hope we are at the top of our game each week."
Cunningham is delighted to be back at United, and says he's proud to wear the maroon no matter what the sport.
"It is massive for me to have played for Galway in both sports," he says. "I am a local lad, grew up in Galway and I have always been playing with Galway town teams. That year we got relegated took a lot out of me as a player, but I want to bounce back. This is a huge year for Galway United and I want to help get the club back to the Premier Division. For me, I love playing for Galway and I love playing for the city."