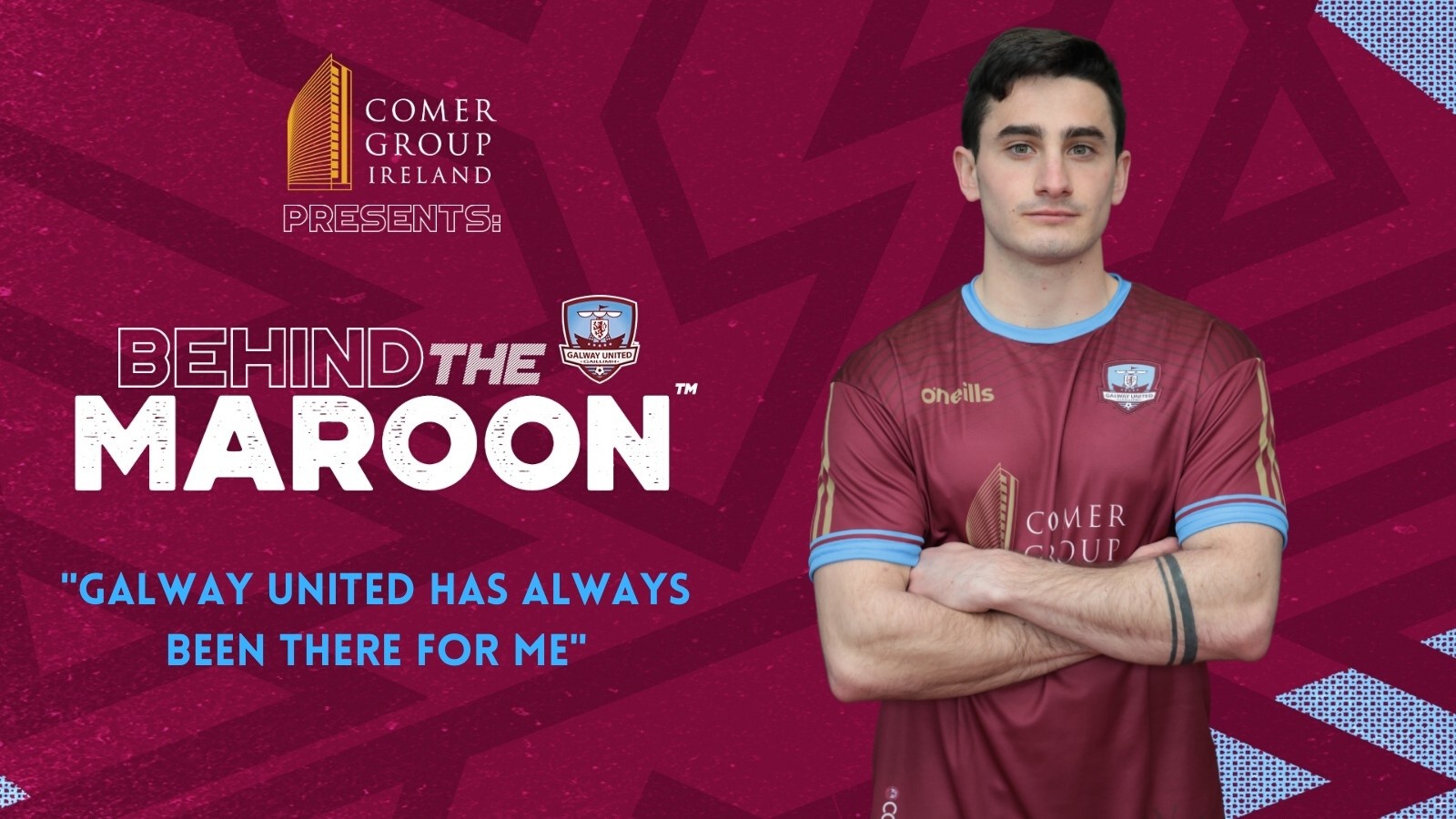 Behind The Maroon with Shane Doherty
"Galway United has always been there for me"
Everyone has a story. None comes much more moving than that of American-born Shane Doherty. Club reporter Tom Byrne sat down with Doherty to discuss his captivating journey through life so far and how he is currently living his dream of playing League of Ireland football.
Growing up in Delran, New Jersey, Doherty explains how he was always intrigued by his Irish heritage, a heritage that resulted in him supporting the Boys in Green.
"I'd be a Celtic fan but I certainly wouldn't be a die-hard," he says with a chuckle. "I have watched the Irish team since I was a child so I was a huge fan of Robbie Keane but as I got older my football inspiration was Wes Hoolahan. I honestly scoured the internet for every clip of him playing. He was such a baller and still is!

"In my first year with Galway United we played against Shelbourne at Tolka Park, Hoolahan's old club," he adds. "It was a very special moment for me as my Dad was there, who is my biggest idol of all time and always will be. Between that and it also being Wes' first club, it was a memorable occasion even though we lost the game."
Doherty began youth football with a Delran side, where his father John was his first coach. After playing with a number of underage teams in the area, he moved to Washington United, who are Doherty's player sponsor for the 2021 season.
"The town where I am from (Delran) is big into football," he says. "When I was younger I signed up for one-on-one training sessions with Carli Lloyd along with my brother and sister. Years later she would score a hat-trick for the USA at the World Cup, which is mad.

"The main sports in the US back then were American football, basketball and baseball," he adds. "I did play baseball and basketball but football was always my number-one sport. Nowadays, it is a top game in the country and there are a lot more academies around. The MLS has improved and grown in the last few years also."
After impressing for Washington United, Shane earned a scholarship for Rowan University, New Jersey. The speedy attacker earned various accolades in college football, including being selected on the All South Atlantic Region First Team, the NJAC All Conference First Team and the NSCAA All America Second Team.
"I enjoyed my time at Rowan, I made some fantastic memories," he says. "My most cherished memory from my time there was in 2016. My Dad had just been diagnosed with stage-four cancer and he came to my match the same day.

"I scored and we won the game so to see him there was something I will never forget, even though it was a tough day. I have a picture of us from that game as well so it was a special moment. There were probably bigger games and bigger moments while playing with Rowan but little things like that mean a lot to me."
Moving to Ireland to play League of Ireland football was always an ambition for Doherty. After finishing college, he bit the bullet and moved across the water to pursue his dream.
"I have family all over Ireland and they are always super supportive of what I do," he says. "My grandfather is from Donegal and he was always onto me to get my dual citizenship. I knew about the League of Ireland and I did a bit of research on it. After looking into the league, it became my goal to play for a club in Ireland. I finished University and left for Ireland immediately. I didn't even go to my graduation ceremony! All my eggs were in one basket."
Doherty's commitment to the cause was evident as he got a trial with a Premier Division club before Alan Murphy gave him the opportunity to join the Tribesmen.
"I was actually up at Finn Harps originally on trial," he says. "Things didn't work out at Harps but we played against Galway in a friendly. I got in contact with Alan Murphy and with all credit and respect to him, he gave me the chance I needed. He gave me another opportunity to re-sign when I came back to Ireland in 2020 also. I wouldn't be as lucky as I am without Alan giving me that chance.

"It was a crazy time as I was still living up with my cousin in Letterkenny," he adds. "I was taking a five-hour bus journey down to Galway to get to training. I would stay in a hostel and then get the bus back in the morning. I eventually got accommodation in Galway when I was working in Lifestyle Sports on Shop Street. I was willing to do the travelling as I wanted to make it. This was my only hope of making it in football. That is why it is special to be here, this is the club that gave me the chance."
Doherty's first campaign with United in 2019 was cut short due to a deterioration in his father's health. The Delran man went home in July to spend all his time with his father, a decision he needed and wanted to make.
"At that time, moving back home was the best decision I made," he says. "If anything, I wish I had more time with him. At the same time, Dad was upset that I had to come home and cut things short playing football for a while. It was what I needed to do.

"I was by my Dad's side every day before he passed away. I remember watching the Philadelphia Phillies with him. It was our team, win or lose. That's why I give it my all when playing for Galway United as I know there are fans that get enjoyment out of watching their team play, similar to what Dad and I had watching the 'Phillies'. Sport can bring everyone together."
The winger returned to the West of Ireland in July 2020 and signed back with United for the remainder of the campaign.
"I needed the time when my dad passed away before I came back to Ireland," he says. "At that time, I fell in and out of love with the game. There was probably a spell when I was ready to be done with it. My Dad was the one that went to all my games and when he's not there it doesn't feel the same. Even when something is going well, it doesn't feel as good. I wanted to give it another shot though and, once I got back, I fell back in love with it. Especially with the run we went on last year, how could you not fall back in love with that?"
The 24-year-old is keen to take it one game at a time under the guidance of John Caulfield and is pleased to be living his dream of being a full-time professional for Galway United.
"John's full focus is on us," he says. "Every match I've played under John, you have the feeling that we can win it. Even if it isn't going well, we still have the belief that we can bring it back. He always instils the confidence that we can get the goal that we need.

"A big thing for me is that I need to work on my game," he adds. "I'm under no impression that I'm some polished player. The full-time training has and will help with improving everyone's game, including my own. The more time I spend around the top coaches at training, the more I will grow as a player. At the end of the day, the goal is always going to be gaining promotion with the team. We are all very way aware of how tough of a division it is. Anyone can beat anyone on their day. The most important thing is to take it one game at a time."
It has been a rollercoaster journey for Doherty in the maroon jersey on and off the pitch to date. He hopes that he can deliver for a side that he is honoured to be playing for.
"Playing for Galway United is incredibly special," he states. "With everything that has happened to me in my personal life, there have been so many brilliant people to support me in this club. Galway United has always been there for me.

"I'm very lucky and very happy to play here. It means the world to me when I put on the United jersey. There is so much intertwined here, with my Dad, my family, which makes it all the more special. I realise how fortunate I am to be training every day and hopefully we can have the crowds back soon. Anytime you get to play in a League of Ireland match, it makes you feel very lucky."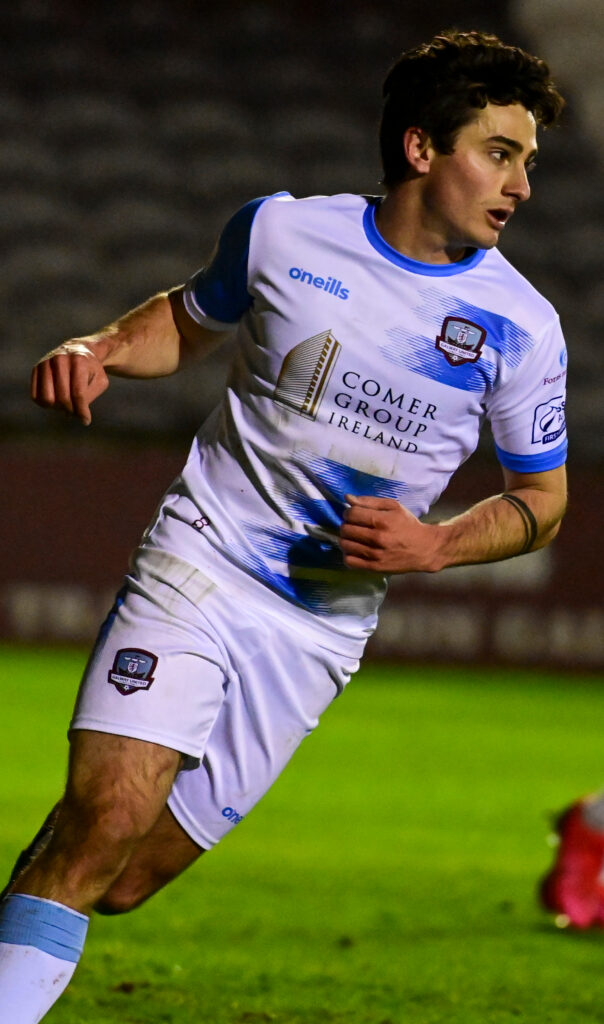 Shane Doherty is sponsored by Washington United