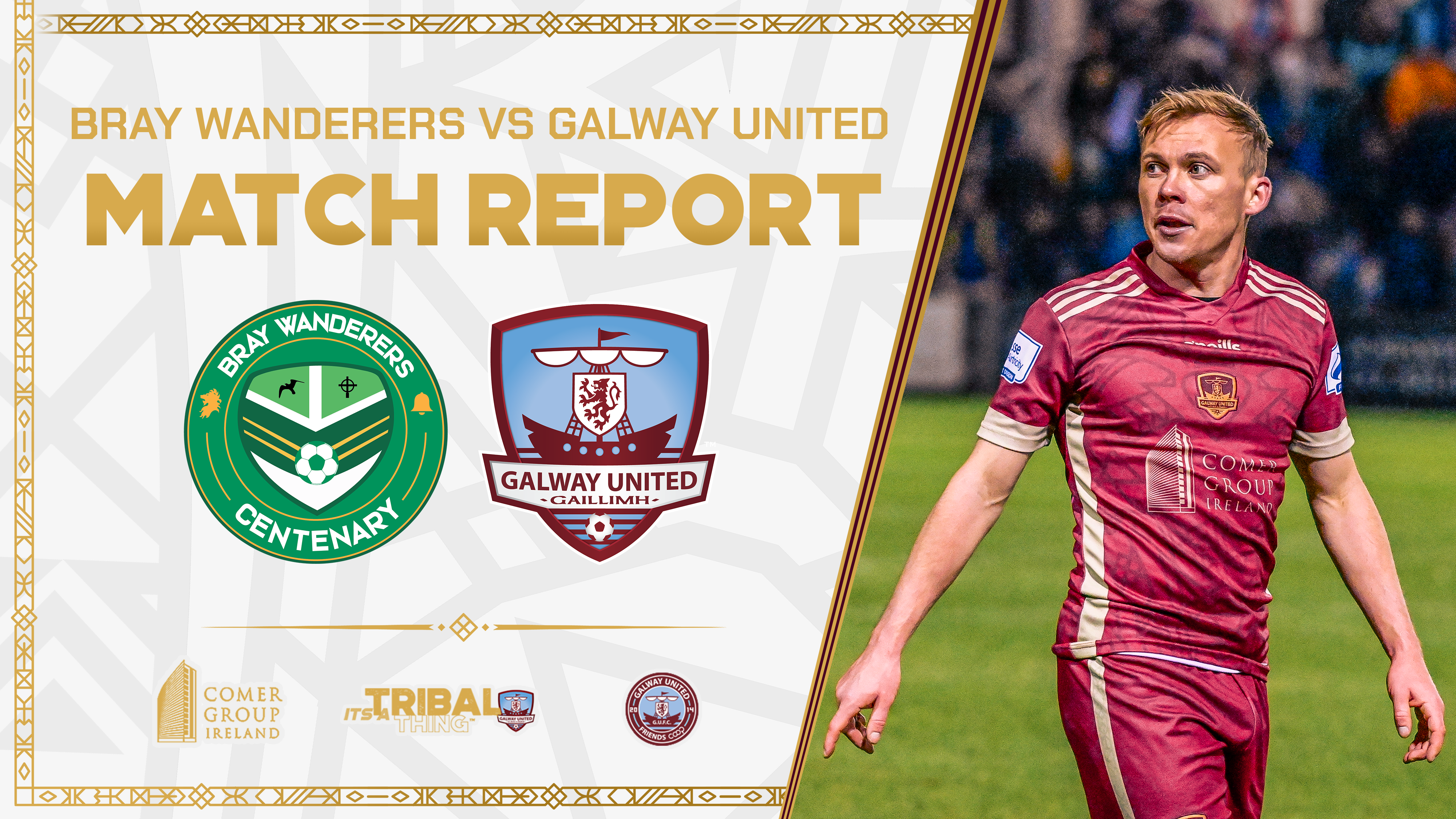 MATCH REPORT | BRAY WANDERERS 1-3 GALWAY UNITED (FIRST DIVISION)
"Yeah it was a tough, tough game but a great win because it's always going to be tough up here but we're delighted with the win" – Colin Fortune, Assistant Manager
Galway United grabbed a hard-fought 3-1 victory in The Carlisle Grounds as Dave Hurley, Stephen Walsh and Shane Doherty earn the goals for The Tribesmen.
A cagey opening half an hour saw both sides vying to get the ball under their control as there was a myriad of set pieces with no end product. Towards the tail end of the first half, United started to settle down and had the ball for long periods of time, as a huge chance came in the 41st minute, as Adeyemo was through on goal and Bray Goalkeeper Michael Kelly was caught in no man's land, Adeyemo shot towards goal and Kelly saved with his hands outside the box to deny the Tribesmen. United and Bray both looked to break the deadlock with no luck as the first half fizzled to an unsatisfying end.
As the referee blew the whistle to commence the second half, both teams improved and settled into the second half, as the result was still up for grabs. In the 52nd minute, Jordan Adeyemo was hauled down inside the box, and Galway United were rewarded for their positive start to the second half with a penalty. Dave Hurley calmly slotted the penalty away and set the catalyst to the rest of the game. Galway had found their rhythm, and in doing so, made some important changes, as Wilson Waweru and Stephen Walsh were brought on to add some experience to a game that Bray Wanderers were still very much in. Daragh Levingston came closest for the hosts, with a rasper of a shot worrying Conor Kearns in the Galway United goal.
Stephen Walsh's introduction led to a number of chances for Galway, and in the process led to Walsh's second goal of the league season. The two goal buffer didn't last long, as Bray Wanderers pulled a goal back through a header from Captain Hugh Douglas, which led to an intriguing final twenty minutes in The Carlisle Ground. Galway defended well, and in the process of Bray pushing for an illusive equaliser, they left themselves open on the counter, with the freshly introduced Shane Doherty adding a well deserved third goal to seal another win on the road for the men in maroon. 
Post-match reaction from Colin Fortune:
Yeah it was a tough, tough game but a great win because it's always gonna be tough up here but we're delighted with the win

Especially after last week, we didn't start well so we spoke about that during the week and spoke about staying in the game. We have quality that will create chances to stay in the game, it's important when these chances come to take them aswell. Bray made some chances and we defended well and put bodies on the line, and when our chances came too we took them, that's what wins games and it's great.

Dave (Hurley) is a great pro and practices penalties all week, every week and I had no doubt he'd bury that, it was a great finish because the keeper went the right side so buried into the corner,  a great goal

Walsh is doing very very well, you know it's funny because we speak about it every week, getting that impact from the bench, and Walshy is Galway United, it's great, he can play anywhere and harry the defenders, a great finish and a great goal.

Yeah absolutely, Bray never die, Pat had that in them, they got the goal very early after our second, which we're not happy with, but what we're really proud of is how we went after it, there's a bit of grit and experience to go after the result. Shane (Doherty) has been working so hard and it's great he could get that (goal) as well.
Teams:
GALWAY UNITED
Conor Kearns, Conor O'Keeffe, Killian Brouder, Diego Portilla, Alex Murphy, Conor McCormack [C], Mikie Rowe (Shane Doherty 87′), David Hurley, Manu Dimas (Stephen Walsh 61′), Jordan Adeyemo (Wilson Waweru 61′),
Edward McCarthy (Gary Boylan 73′),
Unused subs: Matthew Connor (GK), Charlie Lyons, Dean O'Shea, Francely Lomboto, Max Hemmings
Scorers:
David Hurley (pen) (53′), Stephen Walsh (67′), Shane Doherty (90'+3)
BRAY WANDERERS
Michael Kelly, Daniel Blackbyrne,
Kevin Knight, Hugh Douglas, Conor Clifford, Keith Dalton (Rob Manley 58′),
Kurtis Byrne, Kieran Marty Waters (Darragh Levingston 64′), Paul Fox, Jack Hudson, Dean Zambra (Darragh Lynch 84′)
Unused subs: Stephen McGuinness (GK), Sean Callan, Zak O'Neill, Dean Casey, Conor Knight,  Ugo Anny Nzekwue
Scorer:
Hughie Douglas (69′)
Referee: Mark Moynihan
Our next First Division game is at home to Treaty United on Monday at 7:45PM  🎟️Tickets