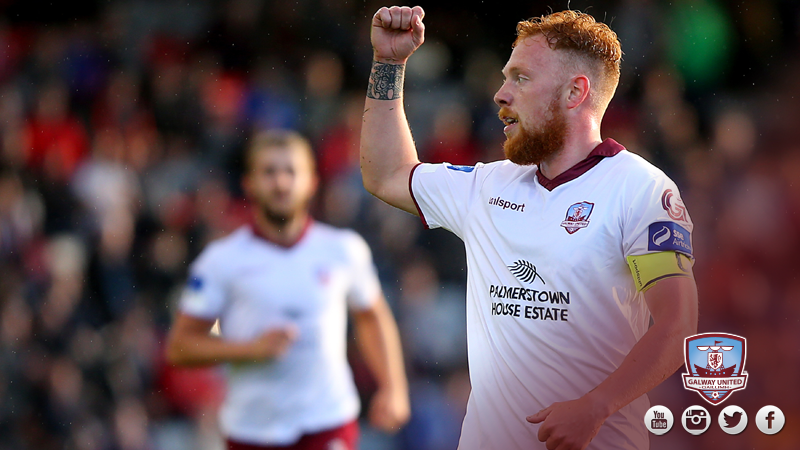 CONNOLLY: "It was a fair result."
Ryan Connolly's first goal of the 2016 season earned Galway United a hard-earned point at Dalymount Park.
The former Derby County man let fly from around 25 yards on the half hour mark and Dean Delany could only watch as the ball nestled in the bottom corner of the net.
Connolly, who has recently returned from a calf complaint, felt there were positives to take from the capital, in particular United's first half showing.
"We've got mixed feelings after the game," The Mayo man confessed.
"I thought we played really well in the first half, we started slowly and ended conceding a sloppy goal. Maybe somebody should've stood over the free-kick in the middle, then Walshy was unlucky to slip.
"After that, we picked it up really well and played well, we created a lot of chances. I don't know whether Stevie Folan's goal was offside, he doesn't think it was, but we played really well in the first half.
"Second half, it's difficult playing up the hill, it's harder to get out and they picked up their intensity and we stood still when maybe we should've picked it up. Overall it was a fair result in the end."
United's skipper was pleased with the battling qualities his teammates displayed at Dalymount Park against an in-form Bohemians team.
"You know what you're going to get when you're coming here, they're flying into tackles, they play long balls up to Akinade and play off him.
"We knew we had to stand up to the challenge and stand up the tackles and be accounted for. I think we did that well, our quality showed in the first half, not so much in the second half.
"There was a lot of positives to take from the first half, but we've got to work on why we didn't continue that in the second half."