CONOR O'KEEFFE RE-SIGNS FOR 2022
Defender Conor O'Keeffe has re-signed with Galway United for the 2022 season.
Conor, was delighted to put pen to paper to be the tribesmen's second player to re-sign for the 2022 campaign and caught up with the media team in Eamonn Deacy Park earlier today.
"I'm delighted everything is sorted and getting it all done so soon, I'm looking forward now to the off season and preparing now to be ready for next year"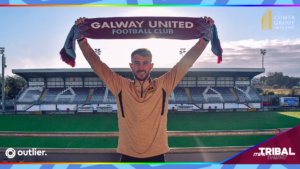 As a youth, Conor was on the books at the Drogheda academy, before moving to study and play at Carlow IT.
Conor played the 2016 season with Wexford Youths, then in October of that year, he made the trip south to Dunedin in New Zealand to sign for Southern United and Irish coach Paul O'Reilly. Conor was a popular figure at the club, captaining the side and earning the moniker "The Chief".
After his return to Ireland in the Summer of 2020, his stay with Newry City was brief, impacted by the Covid-19 outbreak as he joined Galway United in 2021.
The 2021 season saw some great defensive displays and also saw United break a club record for clean sheets, with the longest period the club hasn't conceded a goal being set at 516 minutes just after the mid-season break.
"It's part of your job as defender, we went on a great run in the second half of the season possibly picking up the most points in the league, unfortunately with the play-offs it didn't work out but we're looking to go one step further now next season now in 2022"

"It's a really good club, lot's of great people both on and off the pitch, the staff have been really good, the facilities and training ground have been brilliant, it's very enjoyable. The city itself is amazing too, with lockdown I have only got to explore it recently, it's one of the nicest in the country and I'm loving it here"
Conor is sponsored by Outlier.ie – Set up in 2012 Outlier initially started out as brand development company. Over the past 3-4 years they have developed into a full-service digital marketing and design studio. Who specialise in responsive web design, WordPress CMS, HTML5 and SEO. If you have any questions or need a quote for an upcoming project, contact Outlier at greatwork@outlier.ie.