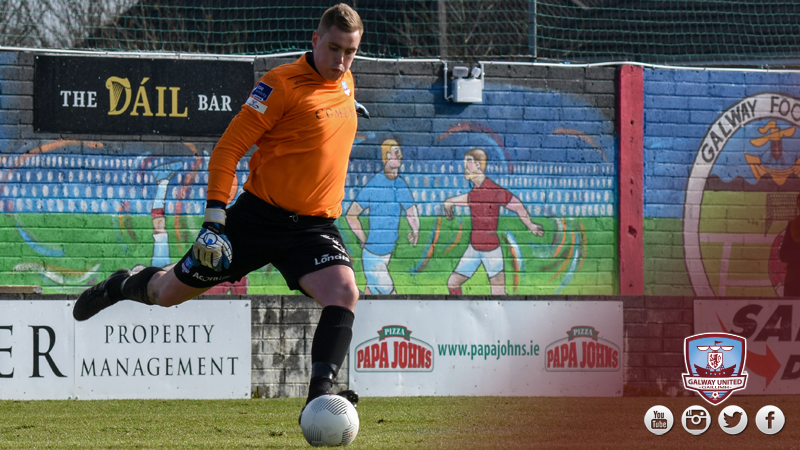 Conor Winn: "It's going to be a physical battle."
United 'keeper Conor Winn knows Friday's opponents better than most, he spent the 2014 season playing under Ollie Horgan at Finn Park.
Last week Winn missed Galway United's 2-0 loss against Shamrock Rovers with a hand complaint but he's expected to return to contention against his former club.
"I got the all clear. I got the doctors approval. I saw the x-ray, it was fine. I fractured a finger but I'm fit for selection and looking forward to it.
"Finn Harps are a physical team, I think they'll do well this year. People underestimate them. They're solid at the back, they won't let many goals in and they'll dominate set pieces and I think that's where we'll have to work hard against them.
"It's going to be a physical battle and I think Ollie Horgan will have his team well up for the game."
18-year-old goalkeeper Kevin Horgan deputised in his Winn's absence and he acknowledges he faces a tough task in getting back in the side.
"Kevin Horgan has pushed me all through pre-season, I wouldn't be doing as well as I was if it wasn't for him. Connor Gleeson and Aaron Dillon are also pushing hard. Kevin had a great game last week against Shamrock Rovers, I'm still hoping I'll play against Finn Harps, but it will be hard after his performance last week. There is serious competition in every position.
"We have our goals as a squad. At the start of last year, it was new for a lot of players. Our goal was to stay up. This year we're looking at top 5, we could even push a bit higher. We fear no team. Last year we feared going to some places but this year there's none of that. We just want to go out and play football and enjoy it."