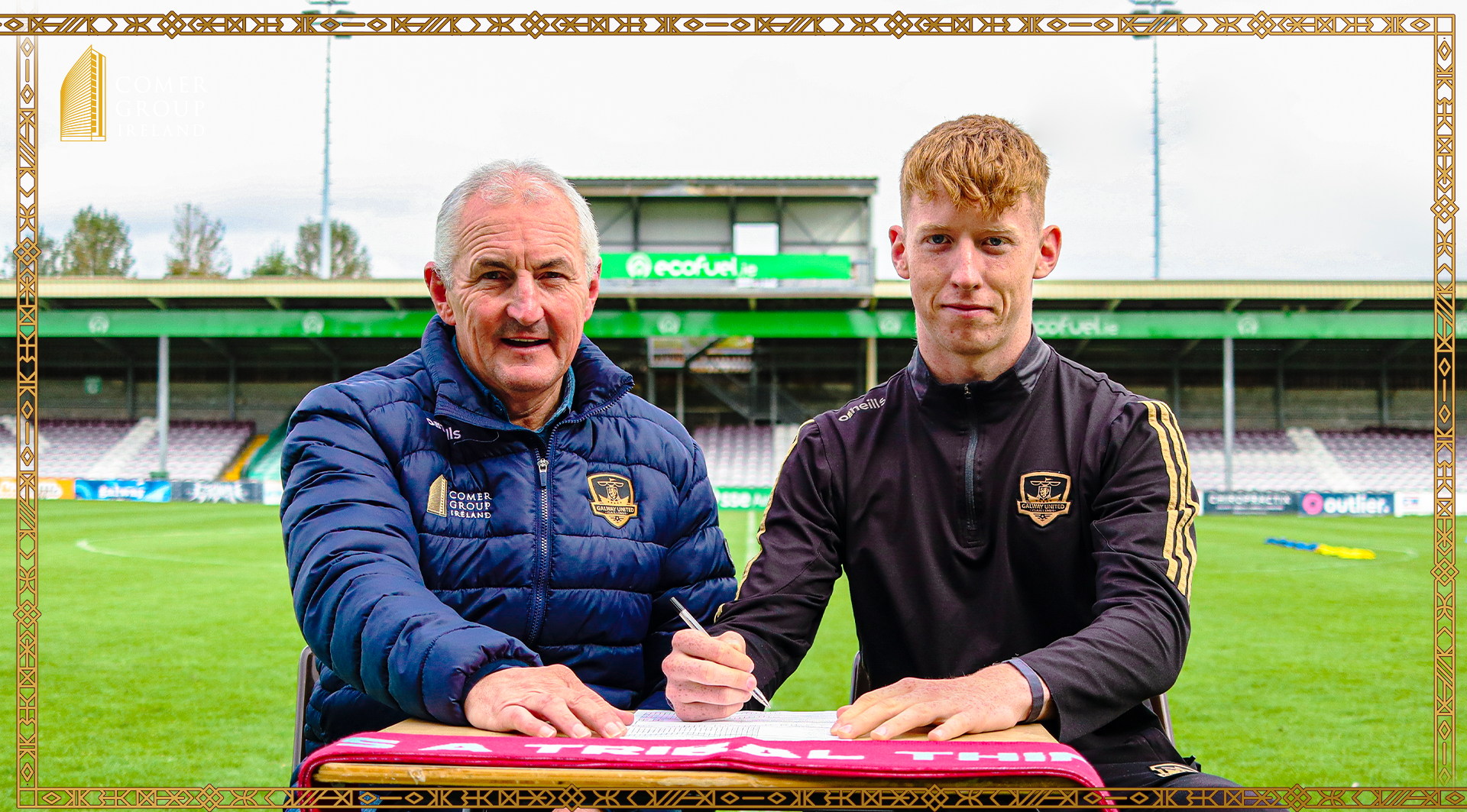 DAVID TARMEY SIGNS PROFESSIONAL CONTRACT
Galway United are delighted to announce that academy graduate David Tarmey has signed a professional contract with the club.
The former Cregmore Claregalway F.C. youngster has recently become a staple of the matchday squad. The 18-year-old has made five appearances for John Caulfield's side so far this season, scoring once.
Speaking on the day, Caulfield said: "You want to promote players from your academy, obviously, the step up is really challenging but David has come into us since he was 17 and we're really excited about him.

"He's a brilliant finisher, quick and skilful. Striker is the hardest position on the pitch, so it's great to have a lad like that coming through.

"We're very optimistic, and the most important thing for David is to keep his head down and work really hard."
David becomes the latest academy prospect to sign professional terms with the club and hopes to emulate the success of his friend and former teammate, Alex Murphy.
David told the club's media team: "It's a great feeling, I'm delighted to be involved. I've been training with the first team for about two months now and the squad have all made me feel very welcome.

"It's a good feeling, seeing where some of the other lads have ended up, like Alex Murphy, so the academy is a great pathway.

"My aim for the rest of the season is just to get as many minutes as possible, and hopefully get a few goals as well, that's my job really."
The exciting young forward was a late arrival to the United academy, only joining the club's under-17 side in July 2021, but quickly rose through the ranks after impressing coaches and Head of Academy Johnny Glynn at underage level.
Glynn enthused: "We're delighted for David, he came into the club very late, but it's great to see that there's a lot of talent out there that we haven't identified.

"At academy level, we're looking at players for a long period of time, and we're trying to identify the players who are best suited to the National League, but we won't always get it 100% right.

"The boys are all developing at different rates, and David is still developing. So, it's a long-term process that we have to be conscious of."
Having spent much of his development under the guidance of Cregmore Claregalway chairman Brian O'Riordan, his former coach is delighted to see David kick on and sign professional terms.
O'Riordan said: "It's absolutely brilliant from a local club perspective. At Cregmore Claregalway FC we've been developing players for a number of years, we've had a few that have gone across the waters and been very successful like Greg Cunningham and Ryan Manning.

"David is another player that has joined that line, and it's great to see him at Galway United now as well.

"David has worked hard, I've been coaching him since he was knee-high, so it's great."