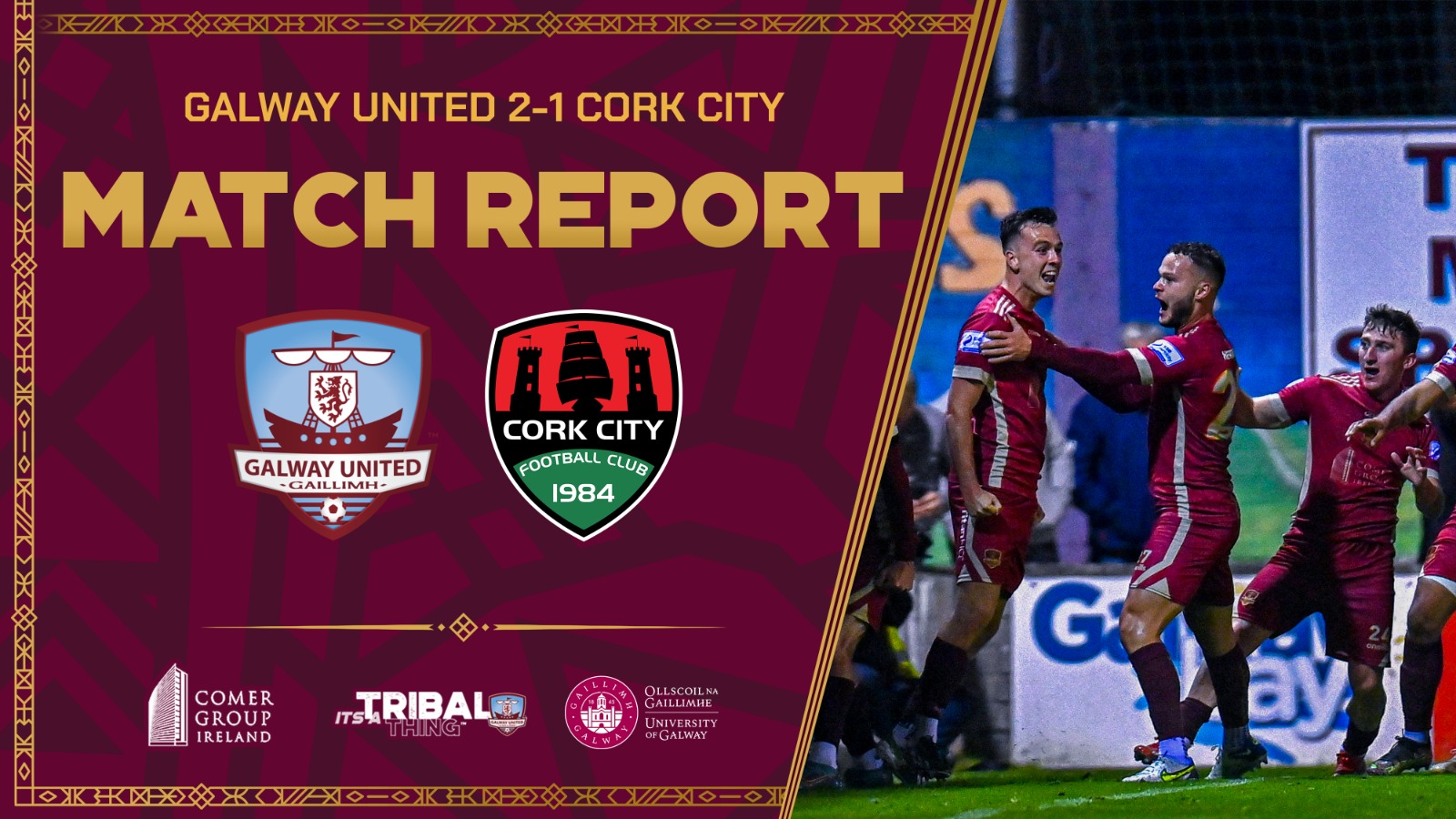 Match Report | Galway United 2-1 Cork City (First Division)
Former Cork City boss John Caulfield has already congratulated the Rebels on winning the title but the celebrations were delayed with Galway United coming from behind and beating City in Eamonn Deacy Park.
United had lost form at the wrong time and still have very little chance of catching city but they denied Colin Healy's men the opportunity to celebrate promotion in the west. With United likely bound for the playoffs, this is a huge boost to their confidence, and the behaviour of some of the Cork fans meant that this was celebrated quite raucously in Galway, even with not a great deal likely at stake.
Barry Coffey gave City a second-half lead but, the game seemingly fading away, United scored twice in a three-minute spell through Wilson Waweru and Charlie Lyons.
It is on nights like this that United, who trail City by seven points with a game in hand, will rue their failure to beat Bray, Wexford or Cobh in recent games. Cork should be fine but will wonder how they blew a lead here when seemingly in command.
A huge Cork crowd descended on Terryland as the sun set in Galway but, despite United's title challenge having seemingly derailed, there was decent home support.
Ex-City captain Conor McCormack missed out due to illness. In a scrappy start, there were few chances, but in-form Mikey Rowe's shot had to be cleared from a corner on 19 minutes.
Cork's first chance of note was when Aaron Bolger turned onto his left foot after a lovely Cian Bargary pass; Conor Kearns made a comfortable save.
Cork will wonder how they did not go ahead on 26 minutes. Matt Healy's corner had plenty of pace, Ally Gilchrist's header hit the bar and Jonas Hakkinen's follow-up, arrowed into the ground, did not trouble Kearns.
The game was coming to life now and Gilchrist made two incredible blocks to thwart Stephen Walsh after a Ronan Manning corner, Britain-bound goalkeeper David Harrington having spilt the ball, preceding the sort of ping-pong that has everyone on his or her feet.
Manning is a fine player and curled towards the top corner, Harrington reading his idea, on 39 minutes.
City hit the front five minutes into the second half.  Kearns played the ball out to Bohemians loanee James Finnerty, who lost his footing and the ball was laid off for Coffey, whose shot was deflected in.
The game was then delayed several minutes as Cork City fans came onto the pitch and flares were lit in the away section, with the Gardai intervening.
It appeared as though the FAI's Mark Scanlon was in conversation with referee Oliver Moran and there were fears the game would be abandoned but it continued after around six minutes of uncertainty.
Superb play by ex-United striker Ruairi Keating saw Cian Murphy race away on 58 minutes; he fed Coffey who fed Healy, who smacked the bar with a stunning strike.
A poor Lyons pass was easily intercepted by Coffey, who played Keating in towards the box but the Mayo native blasted over, United losing their way midway through the second half.
A double-substitution by Caulfield proved inspirational. Bastien Hery got on the ball a little but it was Wilson Waweru who proved more pivotal, superbly slotting home after Walsh's header with 20 minutes to go.
And United were ahead three minutes later, Lyons brilliantly improvising to hook home a Hurley cross, his backside all but touching the ground.
Caulfield was now in full vigour on the sideline, claiming that Healy had dived in front of the United dugout with 15 minutes to debate.
A sublime Walsh connection put Waweru in again in the 90th minute and, Harrington somehow miles off his line, Waweru missed what was a glorious chance. It mattered not.
Galway United: Kearns; Finnerty, Portilla (Hery 65), Lyons; Hemmings, O'Keeffe, Hurley; McCarthy, Walsh, Manning (Waweru 65).
Cork City: Harrington; Hakkinen, Coleman, Gilchrist; Crowley, Bolger, Coffey, Healy, Bargary (McGlade 89); Murphy (Britton 87), Keating.