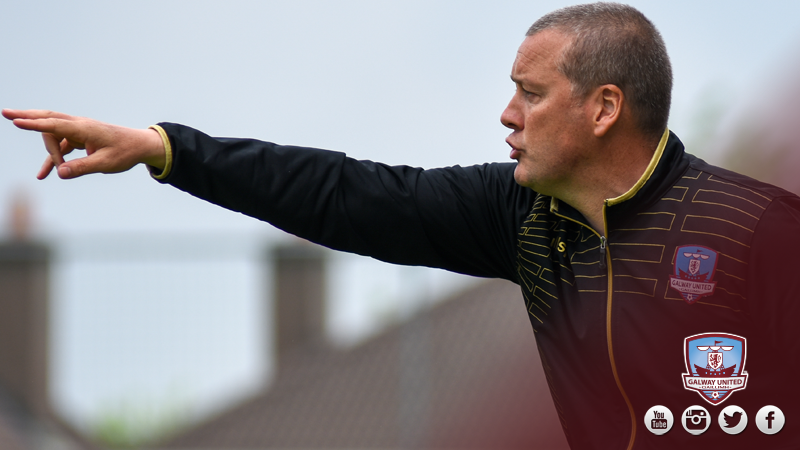 DUNNE: "It took us too long to get going."
Galway United were held by Longford Town for the second time this season on Saturday evening at the City Calling Stadium.
Kaleem Simon rifled De Town into an early lead in the second half before Paul Sinnott's 20 yard drive drew the Tribesmen level.
Speaking after the game, United boss Tommy Dunne felt his side dropped two points against Longford Town once again.
"I was disappointed when you consider the chances we had late on in the second half," he confessed.
"It took us too long to get going. When we conceded the goal, it was like a switch went on and we decided to kick in and get going.
"Overall, it just feels like it's two points dropped again."
Longford Town had the better of the first half exchanges, United finally grew into the game when Simon scored early in the second half, but no winning goal arrived at the City Calling Stadium for either outfit.
"Longford are fighting for their lives, the first time we played them, we were in the lead and we should've seen it out. This game, in the first half we didn't perform.
"They outworked us in the first half. In the second, we got back in the game and created a lot of chances to win it, but we didn't take them.
"I think it was down to Longford's desire to stop us from playing and it worked for them, because the two players they had up-front were quick, you've to work harder and be quicker with your play. We weren't as fluent as we were last week against Wexford, but in saying that, we were still able to dig out four or five chances and we should've won it. You've got to take your chances."
Table toppers Dundalk are the visitors to Eamonn Deacy Park on Friday night and Dunne has a number of injury concerns ahead of the game.
"Friday's game against Dundalk is on the box, we'll look to improve for that and it won't require much motivation. Games like tonight are the ones that our season will be determined on. There was an opportunity against Longford, and this is the second time we've let it slip.
"Unfortunately Stephen Folan has to get stitches in his knee, we'll have to assess him. There might be a bit of ligament damage, we're hoping he will be okay. Gary Shanahan got a belt off Conor Powell, it's bruising, so we'll get him in the sea and do some rehab with him. We're hoping that both players will be there or thereabouts for the Dundalk game."