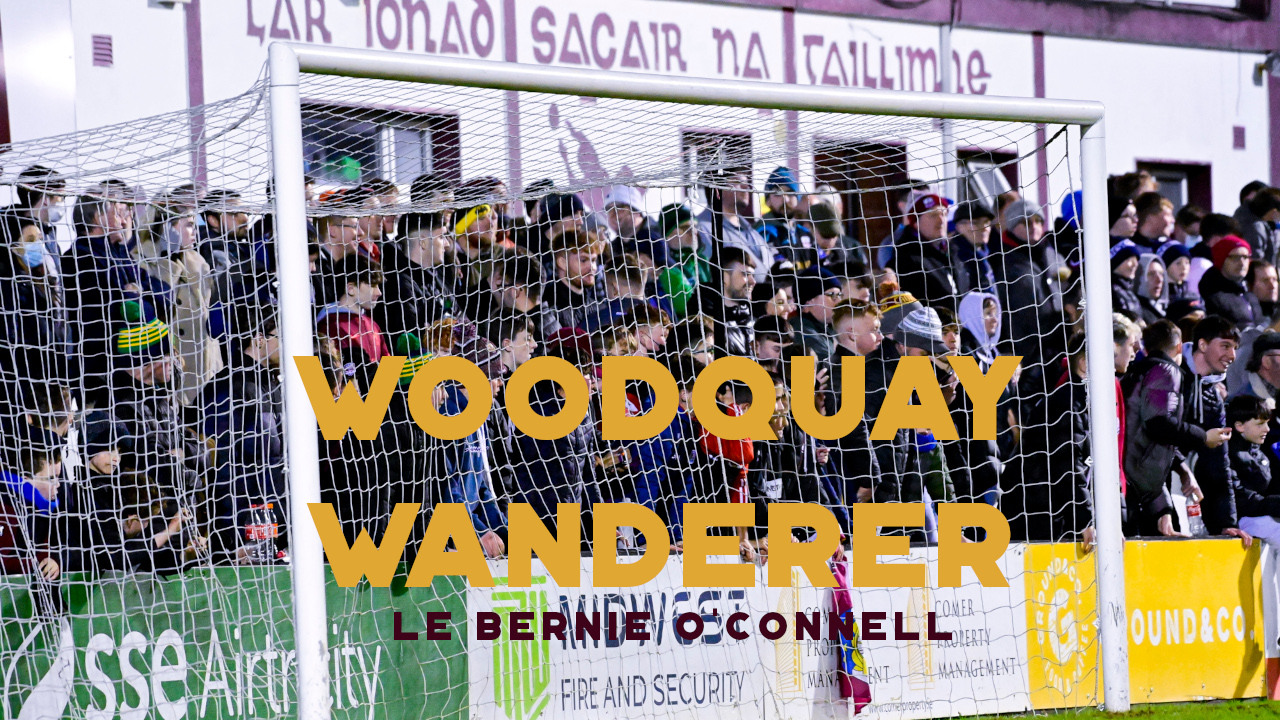 Is gearr a bhíonn an t-am ag imeacht a deirtear ach níl fhios agam an naontódh leantóirí sacair Gaillimh Aontaithe leis an ráiteas seo. Thóg sé píosa orainn díoma na cluichí cáilithe a chur dínn, feachtas fada réamh shéasúrach agus ansin seachtain dímhaoin ag tús na sraithe, faoi dheireadh turas spleodrach Cois Laoi sula noscailíonn an feachtas baile tráthnóna i bPáirc Eamonn Deacy. Fáilte roimh Port Láirige!
Ag trácht ar an máistir féin Chick tá sé deacair a chreidiúnt go bhfuil Eamonn imithe le deich mbliana anois. B'é Eamonn an imreoir is tábhachtaí ariamh a d'imir do Ghaillimh. Chuile áit a shiúil sé d'fhág sé marc. Ambasadóir peile, ambasadóir saol.
Ina chuid imeartha bhí bród agus paisean faoi leith aige do Ghaillimh. Bhí sé fíochmhar sa ngeansaí marún. Buail isteach chuige Tigh Ernie an lá t'éis cluiche agus ba deacair castáil le fear chomh séimh ,cneasta agus chomh honórach leis. Féith an ghrinn aige agus suim speisialta aige i saol a chomh Gaillimhigh.
Is maith an rud é go bhfuil fíor chaidreamh cothaithe idir a chlann agus a chairde peile anseo lena chomh imreoirí in Aston Villa. Is cosúil gur bhain daoine fíor shásamh as an gcuairt thall coicíos siar. An t-omós a bhí ag Eamonn mar imreoir thall maireann sé don duine uasal dhá scór bliain ar aghaidh.
Tá a scéal féin ag chuile dhuine faoi Eamonn Deacy. Is deacair a chaillteanas a chur i bhfocal ach tá sé soiléir gurb iad a bhean Mary O 'Connor agus a chuid gasúir Dawn agus Jake a iompraíonn an crois sin go laethúil. Léirigh a shocraid do chreidte an t-omós ollmhór atá do na Deacys uilig mar chlann sa gcathair seo.
Airím féin an comhluadar agus seanchas leis. An léargas ar an saol aige. Thug Tigh Ernie sort tearmann dom go laethúil ón obair. Seanchas, scéalta sacair, spórt agus cúrsaí an tsaoil. Cén luach a chuirtear ar chairdeas, ar an té a sheasfaidh leat, a éistfidh leat agus a chuireann suas leat? B'shoin Eamonn . Laoch ár linne. Leaba i measc na naomh agat, a chomrádaí.
De réir a chéile a thógtar na caisleáin. Ní shocróidh toradh an choimhlint seo tráthnóna cé a bhuafaidh an tsraith ag deireadh an tséasúir seo. Ag an am ceannan céanna bheadh díchéille ort díspeagadh a dhéanamh ar an tábhacht siceolaíochta a ghabhann leis. Port Láirge faoi stiúir Ian Morris réidh le filleadh ar ais gan aon ró mhoill ar an bPríomh Roinn. Tús cumasach acu in Átha Luain agus bua eile ag baile ansin ar Bhré.
Maidir linn féin is breá liom gur choinnigh muid formhór painéal na bliana seo caite. Leads chomh maith mar chairictéirí agus a bhí ariamh againn. D'ardódh sé do chroí breathnú ar an réiteach laethúil acu. Athrú cultúr agus athrú meon.
Le John Caulfield ag stiúriú cúrsaí chaithfeá a bheith dóchasach. Léigh muid i bhfad an iomarca isteach sna cluichí réamh shéasúrach anuraidh agus caithfear a bheith tomhaiste in aon bhreithiúnas faoi seasamh na foirne i mbliana.
I gCorcaigh Dé hAoine seo caite bhí sár tráthnóna peile againn ón bhfoireann nua . Bhí cúigear ag caitheamh geansaí an chumainn don chéad uair i gcomórtas. Léirigh an taispeántas an díocas, spiorad agus fuinneamh a ghabhann le foireann John Caulfield.
Traoslaím leo siúd a thaistil síos agus a thug scoth thacaíocht don fhoireann i nGaeilge agus i mBéarla. D'fhág siad marc ó dheas agus ba mhór an spórt a bheith ina measc. Trí ghlún againn féin agus seisear ón gclann s'againne. Ní le gaisce a scríobhaim seo ach le bród as an gclub agus mórtas clainne. Ní gá inseacht do Tommy Shields, Dermot Ryan, Peter Raftery, Caroline agus Kenny Keady cén tábhacht a bhí leis an mbua. Tús maith a deirtear leath na hoibre.
It may be beyond one in teenage times to appreciate the privilege of playing alongside the greats of the game. Time affords experience and more importantly perspective. Galway lost two of its greats last week and to have shared a pitch with them was indeed a privilege . Wonderful footballers and great men.
Jimmy Ward's energy and brio on the field was in evidence from his earliest days. There was commitment, energy and style about his football. Whether it be in the OLBC, Hibernians or Furbo jersey, Jimmy's passion and enthusiasm was an example to both colleagues and opponents alike.
Known also for his great prowess in the indoor football arena Jimmy had a great capacity for making friends throughout the county. His loyalty to the St Michael's jersey won him further regard.
After retirement his wise reading of the game was studied and the gentle fashion in which he proffered those opinions was a testament to the esteem in which he was held. Jimmy's son Keith soldiered with Galway United to real effect.
John Tierney was one of the most gifted footballers of the past three Galway generations. His vision, touch capacity to make space and bring colleagues into the game befitted a majestic football presence who lit up so many football occasions. He operated at a different level to most footballers.
Watching him operate in the Hibs jersey on a Sunday morning was a Sabbath well spent. Whether it be in the Hibernian or Galway Rovers jersey John was a Galway football icon who compared favourably with any other player in my lifetime. It was fitting that he should receive international recognition.
In reflecting on John Tierney's prowess one always reflects on the telepathic understanding he had with his boyhood comrade Colm Naughton. That special understanding reminded one so much of the football bond and play of other Hibernian and Galway greats namely the late Stephen Mannion and Brian Delargey. It was a source of real pride too for John to watch his son Michaél play at LOI level with a fine Mervue United side.
To have watched and marvelled at these icons is to have had a good football life. Much is written about the difference between LOI football and the junior game, all worthy and well intentioned maybe but I will always contend that Jimmy Warde and John Tierney were special players in any era or at any level.
Both men left Galway a richer, brighter place.
To their grieving families we send our sincere sympathies.
Leaba i measc na naomh acu beirt.