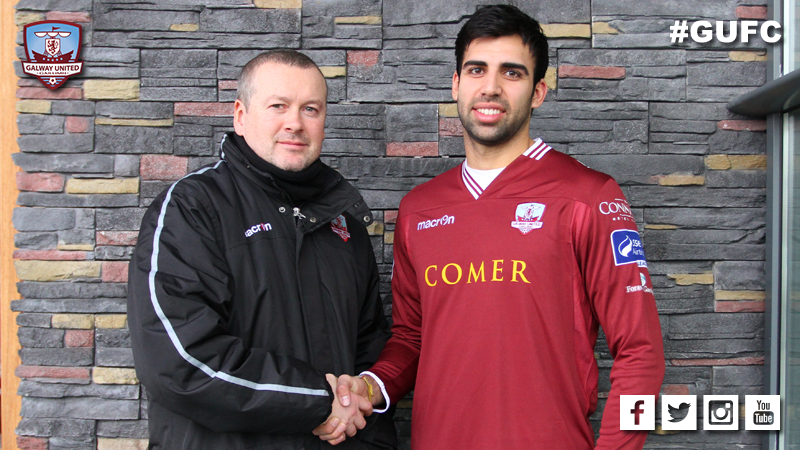 Galway United are delighted to announce the signing of American defender Kevin Garcia.
Garcia, 24, is originally from Queens in New York. He made his breakthrough in the US College leagues representing Villanova University before being drafted by MLS side New England Revolution in 2012.
Following spells of first team football at Long Island Rough Riders and Icon FC in New Jersey, Garcia secured a move to Sweden with IFK Luleå where he has been plying his trade since August 2013.
Garcia has been training with Galway United for a number of weeks and manager Tommy Dunne was pleased to finally conclude a deal for the versatile New Yorker.
"Kevin has come in and trained extremely well, he looks like a very steady player and he can play in defence or midfield so he gives us a lot of options.
"We know Kevin has played for a number of clubs in different countries so we're hoping he can bring a bit of experience to the group. He's a dynamic player, left footed, big and strong and I do think he will be a good addition.
"His first game could be against Cork City at Turners Cross, it doesn't get any tougher than that but we hope that once he gets settled in he'll be fine."
Speaking to www.galwayunitedfc.ie after putting pen to paper, Garcia revealed his relief at finally concluding the deal.
"It's been a long, tedious process," Garcia admitted.
"I've been in talks with Tommy Dunne since the end of January, I'm just glad that it's finally sorted itself out and now I'm ready to concentrate on my football and help the team out in anyway I can.
"Every week is better. In my first week I was a little tired, I was just getting my fitness back. I knew I needed to get myself back to where I was initially, I feel confident now and I'm looking forward to the match against Cork City on Tuesday.
"All the guys have been so welcoming, it's nice to have another American in the group too (Jake Keegan), it made the transition that bit easier but as I said, I have no complaints, all the guys have been very welcoming."
Garcia has been cleared in time for Galway United's away game against Cork City on Tuesday evening and the American is excited at the prospect of making his debut for the club.
"It's going be a big test," Garcia said.
"I'm excited to show what I can do. I have faith in our players and our play and we're going give it our best.
"We know it's going to be a difficult challenge but we're all looking forward to it," Garcia concluded.
Kevin Garica will wear the number 20 jersey for Galway United in 2015.