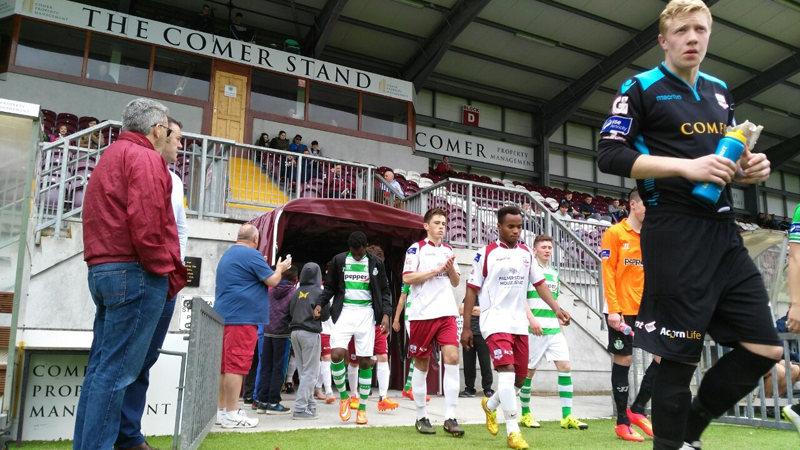 U19s: Horgan – "It was a bitter pill to swallow"
Galway United U19 captain Kevin Horgan rued a late penalty concession at Eamonn Deacy Park, which allowed Shamrock Rovers to take the lead with just two minutes remaining.
Horgan impressed between the sticks for United, pulling off a number of important saves, including Sean Boyd's 88th minute penalty but he could not keep out Eoghan Morgan's effort on the rebound.
United battled for 25 minutes with 10 men after Maurice Nugent received a second yellow and Horgan told www.galwayunitedfc.ie that he felt the Tribesmen were in a good position to go on and claim the 3 points.
"I'm very disappointed, I thought we deserved at least a draw. Before we got a man sent off, we were looking good and fairly strong," Horgan said.
"I really felt like we could have pushed on and won the game but even after we got a man sent off, Joe MaClean came on and he got the goal and we felt we could hold on, so it's gutting to concede so late. We'll have to regroup now, it's a big game against Shelbourne on Tuesday night.
"I think Maurice's sending off was unlucky, his first yellow card was a bit harsh. It was a bit of a changing point in the game. As a team, we all have to look at ourselves, we could've been ahead with some of the chances we created before that and Maurice was left isolated so we'll have to figure out what went wrong and make sure it doesn't happen again."
Horgan got down brilliantly to save Sean Boyd's penalty but Eoghan Morgan swept the rebound home in the 88th minute.
"It's one of the worst feelings to be honest," Horgan confessed. "I wasn't happy about it but on the whole, I felt I had an alright game. It's hard to be happy with your performance when you're beaten and I expect more of myself. I thought everyone was good. Over the course of the game, I thought we were the better side, so for us to get nothing from the game is hard to take.
"We're better off having no time to think about the game now, we'll be straight into getting prepared for Shelbourne on Tuesday now. It's a big game and we're looking to go and get our first win of the season there."