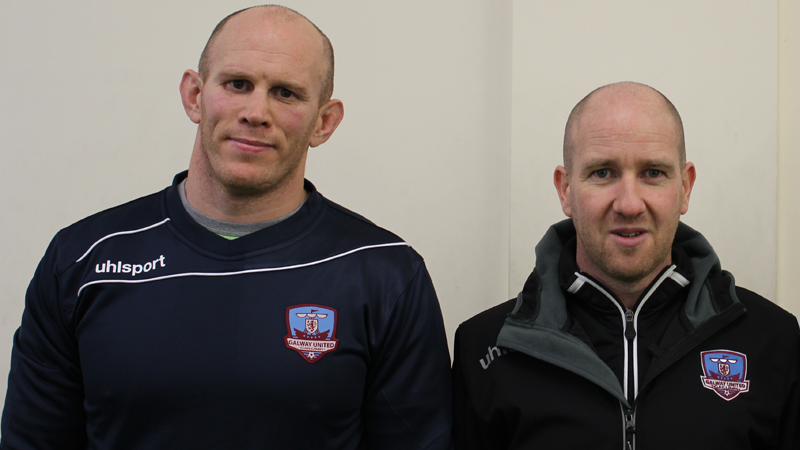 Johnny O'Connor joins United's backroom team
Galway United are delighted to announce that Johnny O'Connor has joined the club as strength and conditioning coach for the 2017 SSE Airtricity League season.
The former Connacht Rugby legend joins the Tribesmen from Premier League side Arsenal, where he spent the last three years working as a strength and conditioning coach for the Gunners academy side.
The 36-year-old Galwegian began his rugby career with Connacht, also enjoying a spell with English Premiership side Wasps.
O'Connor picked up 12 caps for Ireland during his successful playing career and was a member of the 2006 Triple Crown winning squad.
Having retired from professional rugby in 2013, O'Connor took up his first coaching role in football at Arsenal where he spent the last three seasons before returning home to Ireland. With the knowledge garnered from a top professional club in England, coupled with his rugby background, O'Connor believes he can use his varied experiences from professional sports to help bring his hometown club to the next level.
"Arsenal were changing structures and it was a great opportunity for me to get involved in a different sport. I learned an incredible amount about football, in terms of the technical element and how important it is, not just the physical aspect. Getting a player extremely fit isn't always the answer, you have to make sure you're ticking both boxes.
"Culture is a word that is thrown out there a bit and words can be powerful things if you live by them. There should be work ethic, humility, honesty and resilience. These are the types of characteristics that should be ingrained in a club. From my side, I feel I thrive on them and they're part of my philosophy. If you don't have those good values, you're not going to succeed and be as good as you can be."
O'Connor had not planned on such a swift return to coaching, but Shane Keegan's ideas for Galway United intrigued him.
"I thought I was going to take a complete year out, I was happy to do so. Shane got in touch with me, I wasn't seeking any opportunities. We met up and he got me interested. The commitment and the constraints of the League of Ireland, Shane was very helpful about that. He's very open and supportive of what we will be doing and he's given ownership of what happens which is very important.
"It's great to be back home, I thought long and hard about joining the club and it's an opportunity for me. Adrian Cradock was here before me and he did great work and now it's my job to build on that and put my own influence on it. The key thing was Shane was very supportive and he wanted to get someone involved not just for lip service but to actually make an impact in the club.
"There is a certain standard you have to set within the club physically and we want the players to reach those well and have an expectation to want to reach those as well. I've only got my foot in the door and I have to start building relationships with the players, but it's a two-way thing. I'll expect certain things of them but I want them to expect certain standards of me also.
JOHNNY O'CONNOR: "I believe you can match some of the best teams in the world with how you deal with your players. You have to be creative. It's about doing hard and smart work."
Shane Keegan was thrilled to add Johnny O'Connor to his backroom team for 2017 and he feels the former Connacht Rugby stalwart can make a massive impact at Eamonn Deacy Park.
"Getting Johnny is a real coup for the club, in terms of his mentality and the professionalism he brings from his own playing and coaching background, linked to the knowledge he has picked up through his qualifications and his tenure at Arsenal. He ticks every box for us. Johnny is an exciting addition to the club and the players should be looking forward to working with him.
"I would be a huge believer that there is massive gains to be made in this league from taking physical conditioning extremely seriously and pushing it to the highest level possible. I was looking for a guy to backbone that and drive it forward for me. I was extremely lucky in that Johnny had just arrived back in Galway and he was highly recommended. It's brilliant for the club.
"Everybody is that bit more aware of how important strength and conditioning is now. We want to do things to the highest possible level at the club. There should be no excuse about us not being able to do this to a high level. Johnny will be at the forefront of that.
"Johnny O'Connor brings that whole aura and personality with him. He's a great addition to the club. My backroom team is coming together nicely. He's going to be a big part of that. We hope to have the rest of our backroom team tied down in the next few days as well."