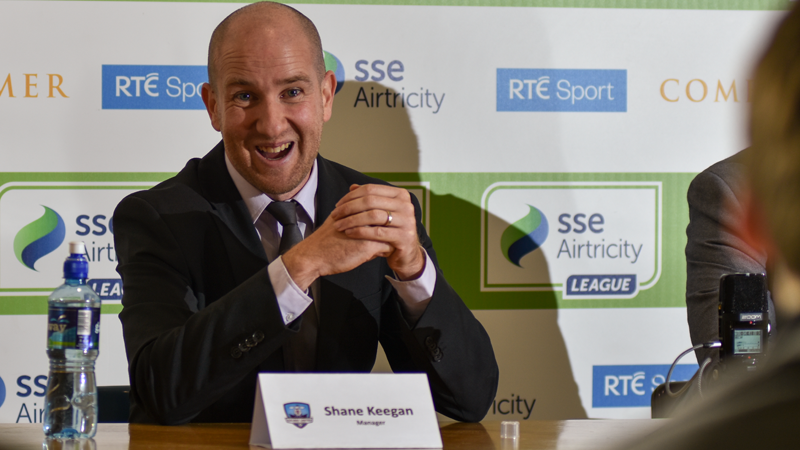 Keegan thrilled with new signings
Shane Keegan made his first new signings as Galway United boss this week, adding Mayo duo David Cawley and Ronan Murray to his squad for 2017.
The acquisitions of Cawley and Murray take United's squad number to 6 so far and Keegan has been in negotiations with new targets and members of the 2016 squad over the last number of weeks.
Speaking to www.galwayunitedfc.ie on Friday evening, Keegan could not hide his delight after getting both signings over the line.
"When you're trying to bring in new players, you're looking at trying to bring in a mixture of potential and the finished product, but there's always room for improvement," he explained.
"You want a senior player who is pretty much hitting his peak or at his peak. We will try and bring in one or two young players who we think have huge potential. It's so so important to get players that are almost the finished article and I think David Cawley ticks that box.
"He's been around, he knows the league inside out. He's had some fantastic seasons. By his own admission, he probably wouldn't be overly delighted with how last year went for him but again even that is a positive because he's arriving in Galway with the bit between his teeth and really dying for a top season like some of the ones he's had in the past.
"When we had a chat and he showed an interest, it became a no-brainer. I think he can be a huge addition to the setup."
Cawley arrives at Eamonn Deacy Park with an impressive résumé and Keegan feels he's been there and done it in the SSE Airtricity League.
"There will no such thing as an inferiority complex with him. He has won league titles, he has won cups, he's come up against the best and beaten them. That brings a sense of confidence in your own abilities.
"When we go to Tallaght to play Shamrock Rovers and when we go to Oriel Park to play Dundalk, David Cawley will be thinking I've been here loads of times and beaten these teams. That brings a great confidence in himself and it will exude around the rest of the squad from there.
"I've emphasised it quite a lot that my own recruitment policy has always been based on character and trying to do as much research into the background of players as possible. I don't know if there is anybody who has had a bad thing to say about David, I've spoken to in the region of 10 to 20 people about David trying to get as many opinions as possible and there wasn't a negative word that came back. That speaks for itself."
Former Ipswich Town and Notts County attacker Ronan Murray will also join Cawley at Eamonn Deacy Park and Keegan has high hopes for the 25-year-old.
"Sometimes luck does play a role in things to a certain extent. Looking back at last season, the team that probably overachieved the most was Derry City, they had a fantastic season. The main man, or certainly one of the main men in making that happen, was Aaron McEneff, and he appeared out of nowhere. He was a player from the area, who arrived back from England. They got him snapped up and he proved to be a revelation.
"Without wanting to put pressure on Ronan, we're looking at this as someone who has landed in our general vicinity of a huge pedigree, he had nine consecutive seasons in England in a full time set up. He's arriving here with a real calibre. There was one or two clubs very interested in him, we weren't his only choice, but we managed to get him over the line.
"Ronan will be quite comfortable playing anywhere in the final third of the field. His game is all about creativity. I'll be honest, it will probably be the first time I've signed a player that I haven't see in the flesh but on the flip-side, I've managed to get hours of video of his games and what I got to watch was very impressive.
"He's a player who can score goals and probably more importantly can be a huge man for assists also. He just gives you that spark."
Negotiations with players and staff are continuing apace and Keegan expects further announcements before the Christmas break.
"There are ongoing discussions with members of last year's squad, in addition to that, there has been second round and third round meetings with three or four of my transfer targets, which are hopefully nearing conclusion now. Over the next fortnight, we hope to be re-signing quite a few of last season's squad, along with announcing a few more exciting new signings.
"Things are starting to take shape, a couple of backroom staff that I would absolutely love to have on board are almost there, it's just a case of finalising agreements and responsibilities before we make that official. It looks like it will be an exciting backroom team as well."